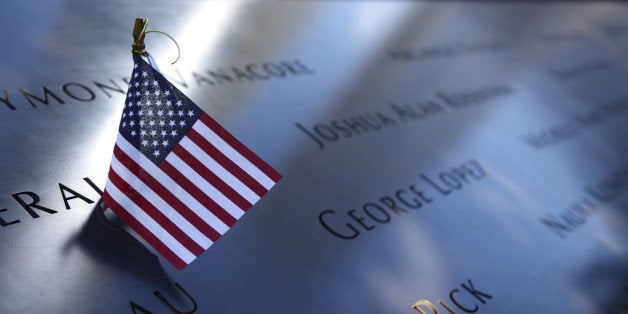 Everything changed that September 11th morning. Now, 15 years later, we still remember that day with such clarity... the victims whose lives were lost and the implausible stories of heroism and survival.
I woke up at the crack of dawn to catch a 6:45 AM flight from New York City to Pittsburgh for a business meeting, kissed my fiancé Adam goodbye, and jumped into a black Town Car (the Uber before Uber mode of transportation).
When my coworkers and I landed at the Pittsburgh Airport, we were welcomed with chaos and an announcement that "a plane just crashed into the World Trade Center." Not only was this news unbelievable, it was also terrifying to my team since several of their spouses and family members worked in the Twin Towers.
As I watched the catastrophic assault on our country unfold through live news coverage on the airport television, I could actually hear my heart pounding and feel my knees shaking. When the first tower collapsed, I gasped in sync with hundreds of other stranded strangers. I felt my body slip onto the cold floor when the news showed the ambulance of the hospital where Adam worked as a paramedic. I stared at the TV monitor clutching my cell phone, and didn't move or breathe until they evacuated us from the airport.
I was numb, but safe, while at the same time Adam was literally running for his life from the collapsing tower. When I was finally able to reach him at 4 PM that day, I learned that he was also frantic with worry about me and the fate of my plane since he heard about Flight 93 leaving out of the NY area and crashing near Pittsburgh. Adam was able to outrun the enormous black cloud of the North Tower advancing towards him and survived to tell his story. But the images of people jumping to their deaths and survivors covered in debris wandering the streets in shock will never fade. He and hundreds of other emergency workers will not forget spending the afternoon setting up beds at Chelsea Piers to triage the injured, only to witness the site transform into a morgue.
The world became speechless and scared, as did I, while driving the rental car back home to Manhattan with my co-workers the next day. I was captivated by the news reports on the radio with all my senses. Even though I had driven across the Pennsylvania Turnpike countless times in college, this time I was completely lost. The highway pulled strings in my memory, but seeing it abandoned with desolate rest stops made it unrecognizable to me.
I was desperate to get back home, only to discover that home had become an unfamiliar and unnerving scene. It no longer looked nor smelled like the city I left behind just one day earlier. I tried to resume some semblance of normalcy. Normalcy however, was elusive for months as the pictures of missing loved ones marked, "have you seen?" began to fall off trees and signs in subway stops. And once the infinite devastation and loss were revealed, the reality was incomprehensible.
Today my daughter asked me why the terrorists attacked our country, and her sister replied, "Because they hate Americans." I try to educate them about acceptance of all backgrounds, yet still make them aware that irrational hatred and ignorance exists and was in fact the stimulus behind the September 11th attacks. Every year we visit our local 9/11 memorial at the fire station and we talk about the historical significance of that day. But this year we will share our personal stories with them so they can truly understand just how lucky we are. How fortunate that I wasn't on one of the other planes leaving out of the NY area at the same time that morning. How miraculous that their dad was able to get a few feet ahead as the tower crumbled down.
Today we reflect on that tragic day of horror that occurred at Ground Zero, at the Pentagon, and in Shanksville, PA, and we remember and honor the 3,000 innocent victims and their families.
This post was originally published on Brand You.
Lori Axler is a Fortune 500 marketing executive turned entrepreneur, helping business owners and entrepreneurs launch and grow their brands. Connect with her at Brand You and on her group page, Entrepreneur Essentials.
Calling all HuffPost superfans!
Sign up for membership to become a founding member and help shape HuffPost's next chapter