WASHINGTON -- The American flag outside the office of Majority Leader Mitch McConnell (Ky.) in the Russell Senate Office Building was hanging a little off-kilter Wednesday morning.
So Paul Iannizzotto, a former New York City firefighter who was inside the north tower of the World Trade Center on Sept. 11, 2001, when the south tower collapsed, didn't like the way it looked.
"The pole was a little crooked, so I straightened it up," said Iannizzotto, 51, who also took care to make sure the folds of the nation's symbol draped properly after his rejiggering.
Iannizzotto, whose lungs no longer fully function and who now lives in South Florida, was among two dozen 9/11 responders who paid an uninvited visit to McConnell's office, a day after learning the Kentucky senator was being blamed for stalling legislation to reauthorize the expiring James Zadroga 9/11 Health and Compensation Act.
He didn't like what he heard from McConnell's staff, and the meeting was among the angriest that the cops, firefighters and construction workers can remember in years of pushing Congress to pay attention to the people who sacrificed themselves after the terrorist attacks.
But Iannizzotto still felt the need to neaten McConnell's flag.
"It's what you do. You see something that needs doing, you just do it," he said.
The 2010 Zadroga legislation that created a treatment program for Americans sickened by the 2001 attacks expired in September, and the program is slated to close in 2016. That same law funded a compensation program that can only pay about half of what is required, and is set to expire next year as well.
"I sign everything, 'Never forget.' Ya can't forget, but they do."
The responders want a permanent replacement. Bills that would give them one are backed by 66 senators and more than 250 members of the House, but neither has been allowed to advance. Still, it appeared Monday that a semi-permanent version extending health care and adding five years to the compensation program was about to be attached to the highway bill moving through Congress.
But McConnell balked. Multiple sources told The Huffington Post he wanted to use the 9/11 provisions as leverage to get other items added to the bill, including a measure to lift the U.S. ban on oil exports.
McConnell's office insists he did not block anything because there was no final 9/11 legislation written down on paper for him to accept. His spokesman also says that there are still negotiations going on across Capitol Hill over how to pay for it, although sources familiar with the talks said that funding streams were clearly identified and agreed to by relevant committee leaders.
The situation infuriated the responders. And they think McConnell and many lawmakers are not doing the right thing, the thing Iannizzotti and his colleagues would do.
"He wants to hold up our bill, and hijack it," said John Feal, a construction worker who lost half his foot at ground zero and launched the FealGood Foundation to advocate for 9/11 responders. "It's deplorable. It's disgusting."
"It's sheer delay, delay, delay. They say they're for us -- the staff says they're for us -- then get it done," said Anthony Flammia, a former NYPD officer. "We were here hoping to get a bill done. I mean, we're upset, we're visibly upset. It's typical, typical Washington, D.C., gridlock."
Richard Harmon, 59, has post-traumatic stress and a rare form of thyroid cancer that forced him to leave his job at Verizon. He was part of a crew that answered former President George W. Bush's demand to fix the wires in lower Manhattan and get Wall Street back online. Four other members of his crew also have cancer.
He's ready to stop fighting.
"I wanna go home. I've been doing this for months now. I want to just go home, be with my family, and live out whatever life God wants to give," Harmon said.
Former NYPD Officer Kenneth Anderson can recite the names of his friends and colleagues killed by 9/11's toxins. He needs a wheelchair because his lung capacity is down to 30 percent. He's also ready to rest, but he said he can't until he knows his family is taken care of.
"I don't need to bankrupt my family on my way out of this world," he said.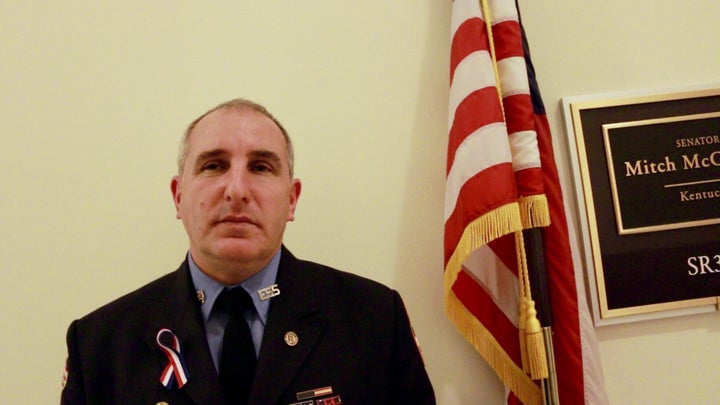 For Iannizzotto, who lost five members of his lower Manhattan engine company on Sept. 11, the idea that a 9/11 bill has been trapped in a round of Capitol Hill horse trading is especially hard to take.
It says to him, that in spite of the annual exhortations by politicians to never forget Sept. 11, they have.
"I've got stickers on my truck that say 'Never forget.' I sign everything, 'Never forget.' Ya can't forget, but they do. That's why we're here. That's why we're here today," he said, tears welling in his eyes.
He turned back toward McConnell's flag to get control of his emotions.
"I'm sorry," he said, as if he were the one who needed to apologize.
Rep. Fred Upton (R-Mich.), the chairman of the Energy and Commerce Committee, came out later Wednesday in favor of permanently extending the health care program, which is in the jurisdiction of his committee.
"The first responders who selflessly answered the call on 9/11 and their loved ones have gone through enough and the last thing they need to worry about is Congress playing games with vital health benefits they have duly earned by their sacrifice," said Upton in a statement announcing his plan. "Let's end the uncertainty by permanently and responsibly extending this critical program."
Democrats in the House took his position as a positive sign, but were concerned about how it would be paid for, absent the funding sources that would have been in the highway bill. Upton's new proposal calls for cuts to Medicaid, including ferreting out abuse and taxing millionaires, to raise the money.
"Chairman Upton and the majority agreement on a permanent health program shows that we have momentum on our side. We're working on the right way to pay for it," said Rep. Carolyn Maloney (D-N.Y.), the lead sponsor of a permanent Zadroga Act in the House.
A Democratic aide or familiar with the proposal cautioned that Democrats had rejected such plans before in other contexts. "These pay-fors are nonstarters and have already been rejected," the staffer said, as did two others.
This story has been updated to include statements from Upton and Maloney.
Michael McAuliff covers Congress and politics for The Huffington Post. Talk to him on Facebook.
Support HuffPost
The Stakes Have Never Been Higher
Popular in the Community