I was immediately impressed when I walked into the W New York - Downtown hotel. The lobby area was dressed with black leather sofas, colorful throw pillows, electric candles on the tables and black lacquer floors that offered an awesome reflection of the white sculptured ceiling. The lobby bar featured the quintessential W-inspired cocktails and black-and-white cookies for guests, a quintessential New York snack. But this wasn't just another W hotel - this particular hotel is one of the newest buildings open in New York's financial district and sits just steps away from the site of Ground Zero, offering views of everything from the construction to Ellis Island.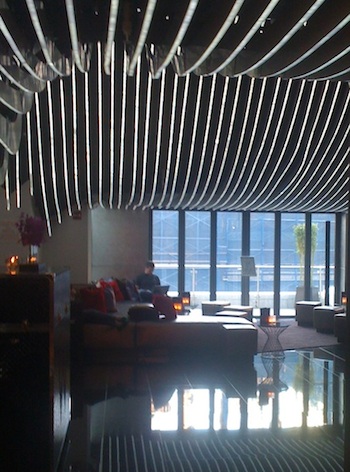 From just about anywhere you stand in the hotel you're reminded of what once was, and possibly inspired by what will be. From the proposed reflecting pools that sit on the spot of the World Trade Center towers, astonishing views of the Hudson and in some areas, direct views of the Statue of Liberty, the W Downtown is not just a place for business travelers to lay their head, but a tourist attraction in its own right.
My tour of the hotel continued to the 9th floor where I was shown a "Spectacular Room" - the 355 square foot space that offers everything from munchie boxes to iPod docking stations and of course, views of Ground Zero. But it was the room across the hall that took my breath away. Room 911. Ordinarily, I wouldn't be phased by this room number but knowing that the view from the bedroom of room 911 overlooked the site of the World Trade Center rendered me speechless.
I stood in the dark hallway of the hotel and wondered, what would I do if the hotel that overlooked Ground Zero handed me the keys to room 911 when I checked in? Admittedly, I would probably ask for another room. While I don't think the move was intentional by the W, it did strike me as odd. Did the hotel not consider potential reaction of some guests? Or, is this just a quiet motion to move on? It's not uncommon to skip floor 13 in buildings; should hotels with direct views of Ground Zero avoid room 911? Would it be so drastic to go from room 910 to 912? Would guests really notice?
Earlier this year I was on site to cover the opening of the World Center Hotel, the first new hotel in Lower Manhattan. It was my first time back to the site since before 2001 and admittedly, the hotel's marketing took a toll on my emotions. "Each room has views of Ground Zero," they boasted. For the life of me, I couldn't figure out why this would attract guests to the hotel. After meeting with the hotel employees I realized it was less about location and more about pride. They were excited to welcome guests back to an area that once was a mecca of optimism and vitality. Their marketing message was a bit off, in my opinion, but then again - is it any different that hosting room 911 with views of Ground Zero?
There's an energy to New York City that's undeniable and it's even more apparent in Lower Manhattan. As the rebuilding continues, hotels like the W New York - Downtown and the World Center Hotel are helping lead the revival efforts, but the question remains: can you
really move on from the view from room 911?
I hosted an impromptu poll consisting of customers at a hotel in Times Square, friends and followers on Twitter and Facebook - only one person said it wouldn't bother him to stay in room 911 overlooking the construction site of Ground Zero. General consensus was that in any other hotel, in any other part of Manhattan, this wouldn't be an issue. Readers, we want to know your thoughts: do you find this offensive, or do you think room 911 is just part of the rebuilding process?
Related