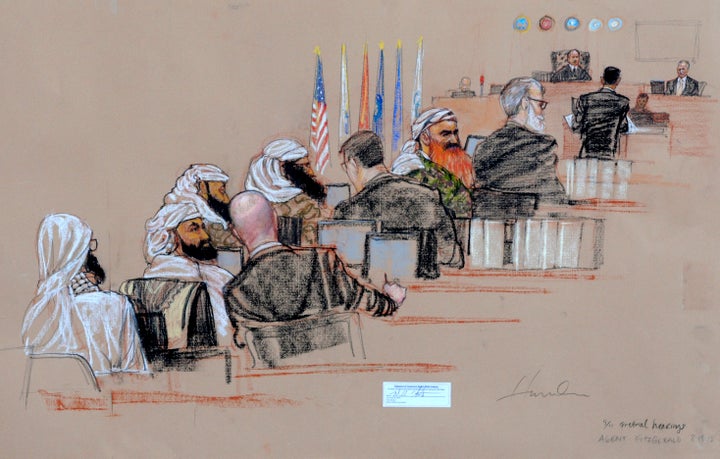 Fifteen years after the worst terrorist attacks in American history, five of the men accused of planning the assault still haven't faced trial, conviction or execution. They're supposed to be judged by a military tribunal at Guantanamo Bay, Cuba. But four years after they were arraigned, that trial hasn't even begun.
Many of the soldiers who now guard Khalid Sheikh Mohammed, Ramzi bin al-Shibh, Abd al Aziz Ali, Walid bin Attash and Mustafa Ahmed al-Hawsawi at Gitmo are too young to remember when the planes slammed into the World Trade Center.
If the accused 9/11 plotters had been tried in federal court, they "would be on death row as we speak," Attorney General Eric Holder said in 2013.
We decided to test that theory. HuffPost analyzed the length of time between crime and capture, capture and trial, trial and sentencing, and, where applicable, sentencing and execution for more than two dozen prominent alleged terrorists captured by the U.S. government over the past two decades. We didn't aim to be comprehensive, but we gathered a significant sample of major cases.
In every one of those cases, the regular court system took less time to convict the captured terrorists than the military commission system at Guantanamo has taken to even start trying the accused 9/11 plotters. (They're still going through pretrial motions in that case.) At least two prominent terrorists who committed their crimes after 9/11 — "underwear bomber" Umar Abdulmutallab and Boston Marathon bomber Dzhokhar Tsarnaev — have already been tried and convicted. The trial of accused Benghazi plotter Ahmed Abu Khattala is scheduled to begin next year.
Here's a look at what we found:
As you can see, in the years since 9/11, the U.S. government has regularly tried and convicted terrorists in federal courts. Juries have handed down life sentences for many of them. Some were sentenced to death.
But the nearly 800 prisoners who have spent time in Guantanamo since Sept. 11 are far more likely to have been released than tried or convicted. Around 90 percent of them were transferred to other countries ― where they were often set free. Just eight men have been convicted by the military commissions. Four of the eight were subsequently cleared on appeal. Five of the eight have been turned over to other countries. Seven other detainees are facing charges in cases that have not yet gone to trial. None of the Gitmo detainees has been sentenced to death or executed.
The men still locked up in Guantanamo may never stand trial. Hawkish defenders of the current system claim that federal courts would let alleged terrorists off easy. But there's no evidence that's true. If hawks want to sentence terrorists to the death penalty or life in prison, Guantanamo is a uniquely bad place to pursue that goal.
"That's the worst thing you could do to [Khalid Sheikh Mohammed] ― put him in the supermax in Colorado for the rest of his life, where you'd never hear from him again," said Col. Morris Davis, who was the chief military prosecutor at Guantanamo before he resigned in 2007. "The day he becomes totally irrelevant is the worst day of his life."
The Pentagon still defends the system at Gitmo.
"By law, military commissions are the only available forum for U.S. criminal trials of Guantanamo detainees," Defense Department spokeswoman Lt. Col. Valerie Henderson said in an email. "And while federal courts will and should objectively be the appropriate trial forum in many instances, certain procedural differences also make military commissions the better forum for certain cases."
"Justice doesn't have a time limit," Army Brig. Gen. Mark Martins, the current chief prosecutor for the Guantanamo military commissions, told reporters at the base last week.
Why has the military commission system been so inefficient in prosecuting those who allegedly planned the worst terror attack in U.S. history? The answer is complicated:
The military commission system is rarely used so there's not much established precedent.
The U.S. government last used military commissions shortly after World War II, when it prosecuted Nazi officials and a Japanese general for war crimes and violations of the laws of war. Because the system had been rarely used, the current cases raise an endless stream of issues of "first impression" — meaning those for which there are no established precedents.
"There have been endless situations in which logistical or legal novelties had to be dealt with, slowing things down in ways that almost certainly would not have dragged on so long in a regular federal trial," said Robert Chesney, a professor at the University of Texas School of Law who served on Obama's detention policy task force.
"An issue came up on what Khalid Sheikh Mohammed could wear to court. In federal court that's not an issue ― it was two or three days of debate at Guantanamo," recalled Davis, the former chief prosecutor. "All these little things, these little hiccups that keep coming up ― can they fire their attorney? Can they skip the proceedings? What can they wear? What can they say? All those issues aren't issues in federal court because you've got a lot of precedent."
Death penalty cases often take a long time.
It's not unusual for a capital case to drag out — whether the defendant is tried in a military commission or a regular court. Cheryl Bormann, who now represents bin Attash, headed the Capital Trial Assistance Unit in Illinois from 2008 to 2011. During that time, she said, capital cases typically took between three and five years to resolve.
"The defense's job [in a capital case] is to investigate and leave no stone unturned in determining what may have caused the person to do the acts they're charged with. You have to prepare for sentencing, just like you lost the trial, even though you haven't even tried the case yet," Bormann said.
"That's of course exacerbated by this situation because the investigation we have to do takes place in a different continent," she added. In capital cases, defense attorneys need to probe their clients' childhood, the circumstances in which they allegedly committed the crime and the conditions under which they were detained.
"The real reason this is taking so long is because it's a death penalty case," echoed Michael Schwartz, who also represents bin Attash. Schwartz estimates that the Sept. 11 case could be concluded in two to three years if the death penalty were taken off the table.
The U.S. government is committed to keeping details of the CIA torture program a secret.
The CIA imprisoned the five Sept. 11 defendants for three years at secret facilities, where the men were waterboarded, beaten, locked in coffin-sized boxes, subjected to extreme temperatures, kept awake for days at a time ― and, in some cases, anally penetrated with foreign objects. Hawsawi suffers from rectal prolapse as a result of his time in CIA custody, a condition his lawyers say has gone untreated.
The Senate torture report released December 2014 confirmed some details of the covert program, many of which had already been reported in the press over the previous decade. But the Obama administration has decided against holding anyone accountable for the torture, and the CIA is determined to keep details of the program — especially the names of the torturers — secret. For years, defense attorneys allege, the government has kept crucial information from their teams. (The prosecution plans to "comply with its affirmative discovery obligations" by the end of September, according to Henderson, the Pentagon spokeswoman.)
"What you're seeing here is the obsession with secrecy that's related to the torture," said David Nevin, who represents Mohammed. "It's designed to protect these people who committed these serious war crime and domestic law felonies and are subject to being prosecuted in places all over the world if the prosecutors could make a case."
The law requires military commission trials to be "free of outside influence," Henderson said in an email.
But although the tribunals at Guantanamo are ostensibly independent from the CIA, the intelligence agency's influence there became clear in 2013 when the Gitmo courtroom's audiovisual feed was suddenly cut off after Nevin mentioned a request to preserve the secret CIA facilities where his client was tortured. Documents later obtained by The Intercept revealed that the CIA had remotely cut the feed.
At one point, the government went beyond keeping relevant information from the defense and actually attempted to infiltrate one of the legal defense teams. In 2014, the FBI sought to turn a member of bin al-Shibh's defense team into a confidential informant. The potential conflict of interest created by that action stalled movement on the Sept. 11 case for over a year.
Walter Ruiz, who represents Hawsawi, is skeptical that things would be different if the case were tried in federal court. "There was a time when I did think that the form itself maybe could deliver a different process, but what I've learned since that time is that there are forces at play here that are exerted on this case that are beyond any judicial process," Ruiz said. "Those entities would continue to exert their influence in either form."
But Bormann is confident that, at the very least, a federal judge would have less patience with government interference in a trial. The CIA's censorship of the audiovisual feed, Bormann said, might have resulted in dismissal of charges rather than a stern order against a repeat episode.
"We know that in federal court, prosecutors tend to behave better because federal judges don't stand for nonsense," she said. "When the government does something stupid, the government has to pay the price."
Sign up for the HuffPost Must Reads newsletter. Each Sunday, we will bring you the best original reporting, longform writing and breaking news from The Huffington Post and around the web, plus behind-the-scenes looks at how it's all made. Click here to sign up!
Popular in the Community