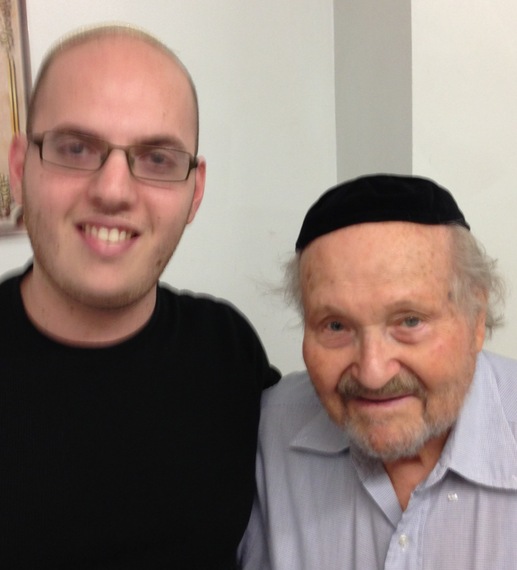 Efraim Margolin is the definition of a resilient entrepreneur, "a champion." He turned a series of challenges and failures into one of the leading employment and merger and acquisitions companies in New York City. Margolin Consultants has placed more than 10,000 professionals over the years.
Before moving to the United States several decades ago, Margolin was the chief engineer for the Israeli city of Beersheba, when it was first being built after Israel declared independence in 1948. It's since grown into one of the largest cities in Israel. At the age of 93, Margolin is an active entrepreneur, still running Margolin Consultants, and its several employees from his office in Midtown Manhattan.
This prominent Israeli-American businessman and philanthropist has become a good friend of mine. I wanted to interview Margolin, so I could share his wealth of knowledge and experience as an entrepreneur and innovator. Our discussion uncovered an intriguing tale of passion and determination that should inspire fellow entrepreneurs to never give up and always innovate. Here's a look inside Margolin's fascinating journey to success.
What brought you to the United States?
When my wife and I were living in Beersheba, she was pregnant and fell very ill. Food was scarce and she couldn't get the nutrients she needed to get better. Her doctor strongly advised that if we wanted a healthy delivery for her and the baby, we needed to move. In coming to the United States, my wife could finally receive the care she needed. I tried to keep the job I had in Beersheba, but they stopped paying me.
What did you do to make ends meet?
I thought, here I am. I'm in a foreign country and I have to support my wife and family. I had a successful job in Beersheba; it shouldn't be hard to land another job, right? I really struggled! My resume was terribly overqualified, and no one wanted to even talk to me. I reached a point where I didn't care what job it was. If it was licking stamps, I'd lick stamps.
How did you finally find employment?
In looking at the newspaper, I saw a job for a mechanical draftsman. That's what I did back in Israel; I even had 12 draftsmen working under me. So I thought, sure, I can definitely do that here. But everything was different -- the numbers, the writing -- it was a steep learning curve. I bought books and supplies and practiced for three weeks. I re-did my resume, making it much simpler, so I didn't appear overqualified. I applied for a job with a big company, and they tested me and accepted me on the spot. I was paid just $75 per week, but it was better than nothing.
What brought you back to the company you had originally worked for in Israel?
The company I had worked for in Beersheba finally decided that they would like to open an office in the United States. They were very happy that I was already here, and hired me as their office manager, where I purchased equipment for manufacturers in Israel. I worked for them for four years, but they never once gave me a raise or promotion. I knew the time had come where I needed to move on.
After you left, what did you do next?
It was 1974 when the American Technion Society, where I had previously studied, offered me a job as a purchasing agent to help build their organization in the U.S. They set up a small office for me on 5th Avenue and 80th Street in New York City with three employees, and I purchased lab equipment for them. I stayed with Technion for seven years, where I had a salary of $15,000. I was very happy, but I knew I had to again move on. My wife didn't understand why I would want to leave a stable job that paid well. Still, I knew this wasn't my future.
What did you envision for your future?
I envisioned a startup, and I finally got my first chance. I was approached by an Israeli contact who wanted me to come help them start a company in the United States to import products from Israel. It was backed by investors who gave us about $200,000 at a time. I knew manufactures in both Israel and the United States and, as the president of the company, felt confident I could make this business a success. But we went broke in just two years. I lost all my money and years of hard work.
Why did the business fail?
The Israeli company was not making the products according to our specifications. It was a heartbreaking experience. I had to completely start over.
Where did your next inspiration come from?
Well, after all of my success and experience, it was devastating to accept that I had to start back at zero. I immediately started looking for opportunities just as I had done before. I went to a staffing agency to try and find work, and the people interviewing me knew nothing about my profession. They were young kids, maybe 22 years old, making great money but doing a horrible job running a quality staffing agency. This is where I found my inspiration to work for a staffing business and focus on the technical jobs that weren't getting the same attention.
What did this job entail?
Well, I asked the staffing agency if they would let me do this for them. They set me up with a little desk and a phone. I sat down with the paper every day, and I would look for technical jobs. There were hundreds of jobs -- engineers, designers, mechanics. Then I sat down with a thick telephone book and started making cold calls to these companies one by one. I would call up the company who had the job opening and tell them I had a candidate for them. I would then advertise the job listing and pull in candidates that I would place with the jobs. The very first job I placed was for a mechanic position, the candidate fit like a glove!
How did you make money from this?
The staffing agencies at the time were taking five percent of the first year's salary for any job they placed. We made a deal where the agency and I would split this percentage. But as I secured more jobs, I began to think why am I splitting my commission with the agency? This was when I found the inspiration to start my own staffing business.
What helped to make your staffing business a success?
In just two years, I had saved $5,000, which was enough to get the business started. I had found a lot of success during those two years, and I knew this was the right business for me. The key is to focus on your expertise. I was an engineer and had a strong technical background. I knew I had to focus on technical jobs because that's what I understood and could do better than anyone else. I was able to interview candidates for technical jobs far more in-depth than people who did not have this same background. I took the two things I knew -- manufacturing and management -- and combined them into a new career.
What are four key pieces of advice do you have for entrepreneurs?
1. Be realistic about capital. Remember this: Money is only a fraction of what you will need to start a business.
2. Be comfortable with taking a risk. Entrepreneurship requires lots of risk taking to be truly successful. If you can't take risks, you won't be successful.
3. Always be on the lookout for new opportunities so you can expand yourself into new areas. Be thorough with your research of the industry so that you don't leave any stone unturned.
4. Be a champion. As an entrepreneur, you need to be bold and make decisions with a champion's mindset.
Most entrepreneurs will agree that often the biggest failures are followed by the next biggest success. Margolin's journey to entrepreneurship is an essential example of this truth. Navigating the challenges of a new country, employment struggles and startup failure, his journey finally ended with an immensely successful career doing what he is most passionate about.
What do you think? In what ways does Efraim's story inspire you?
Related
Popular in the Community