Dancing to Pitbull's "Fireball," 96-year-old Tao Porchon-Lynch and ballroom dance teacher Vard Margaryan wowed the "America's Got Talent" judges and audience on Tuesday, June 9, 2015. Those of us who have been following Tao for years know how incredible she is. I've been to dance competitions with her. Now even more of the world got a chance to see her in action.
Howard Stern said, "I'm very inspired. Being a 96-year-old dancing with somebody who is 70 years younger is just mind-blowing for words. I love it!" Howie Mandel added, "I don't think America will like them. I think America will love them!" Everyone apparently agreed, because Tao and Vard received a rousing standing ovation and a "yes" to move on in the competition from all four Season 10 judges -- Howard Stern, Heidi Klum, Mel B and Howie Mandel.
Initially, as Tao and Vard walked on stage, you could tell that the judges didn't know what to think. Tao had on a metallic fringe flapper-like party dress with hot pink heels. Vard was in a very dapper suit. Mel B started off with a welcome and, "Tell us a little bit about yourselves." Tao and Vard said hello with Vard adding, "I'm 26 years old and she is..." Tao chimed in with, "96!" Stunned, Mel Be asked, "You're going to be doing an act together?"
One hilarious moment was when Mel B asked, "How did you meet each other?" and Howie Mandel quickly said, "Tinder," referring to the online dating app that finds potential matches on their proximity to you. The audience went crazy! In reality, Vard was teaching a Mambo class at the Fred Astaire Dance Studio in Hartsdale, New York and Tao joined in. They have been dancing together for over six years. Tao started competitive ballroom dancing at Fred Astaire in 2005 at age 87. She said, "Dance is within us and it's through us. It's universal and full of beauty. It's the joy of my life."
From tame ballroom to Pitbull's "Fireball"
Tao and Vard started off making us think it was going to be simple ballroom steps -- maybe even a little sleepy. You could feel a sense of anticipation from the judges and audience as if they were thinking, "What is this 96-year-old really going to do?" The introduction package played up Tao's Old World elegance, juxtaposing it with some of the other outrageous acts. They were setting us up to believe it was going to be tame.
Suddenly, the music came to a halt like they made a mistake. Instead, they shocked everyone and turned up the heat! Rapper Pitbull's sexy song, "Fireball" came on and they started shaking things up. As the song says, "We gon' boogie oogie oogie, jiggle, wiggle and dance. Like the roof on fire," and that's what they did! Vard spun Tao around several times like she was twenty years old and Tao even playfully slapped Vard on the backside. Smiling eyes widened in the young audience as they gasped in amazement. The entire crowd went wild. The judges were in disbelief.
Conversation between supermodels
As a former actress under contract with MGM and top couture model, Tao knows how to don a dress and command a stage. Referring to Tao's stylish outfit, supermodel Heidi Klum said, "I was a little mad because you stole my dress out of my dressing room before you came out here. Tao, you really are an inspiration. It's unbelievable!" In the 1940s, Tao was voted "Girl with the Longest Legs" in Europe. She modeled for famous designers such as Jean Dessès, Jeanne Lanvin, Jean Patou, Marcel Rochas, Coco Chanel and Elsa Schiaparelli. The dress that Prince Phillip's mother, Princess Alice of Battenberg, wore for Prince Phillip's marriage to Queen Elizabeth II was draped on Tao by Jean Dessès.
Vard has his own impressive dance pedigree. Born in Armenia, he began dancing Armenian Folk at the age of 6. He eventually found ballroom dancing and added ballet training. Quickly excelling, he was included in the Armenian Ballet Company that toured in Dubai and Egypt. He came to the United States to hone his dance skills and compete. In 2011, he and his partner Kateryna Angelone won the United States DanceSport Championship in the Professional Mambo category.
"Dazzling Dancer" "Amazing!" "Inspirational!" "Unbelievable!"
Host Nick Cannon summed their performance up with, "That was amazing!" The next morning on the "Today Show's" Kathie Lee & Hoda the headline was "Dazzling Dancer." Hoda said, "'America's Got Talent' had quite the contestant yesterday. 96-year-old dancer. She shocked the judges. Her name is Tao Porchon-Lynch and she dances with a 26-year-old." Kathie added, "That's what keeps her young!"
Tao has already touched millions around the world and has the ability to inspire many more to reach their Highest Potential. Howard Stern said, "I know my parents will be sitting here watching this thinking maybe we should get off the couch." Tao has had three hip replacements and said, "I don't let anything get the better of me."
Tao's backstory is even more fascinating
Tao started practicing yoga in 1926 at age 8. In 2012, she was named Oldest Yoga Teacher by Guinness World Records. Her teachers were a Who's Who of the Spiritual World such as Sri Aurobindo, Mataji Indra Devi, Swami Prabhavananda, Dr. Roman Ostoja, Maharishi Mahesh Yogi, B.K.S. Iyengar and Pattabhi Jois. She has taught yoga at the Pentagon and spoken on peace panels with His Holiness the 14th Dalai Lama.
A lifelong activist, Tao is likely the only person still on the planet who marched with BOTH Mahatma Gandhi and Dr. Martin Luther King, Jr. During World War II, she performed nightly during the Nazi bombing Blitz of London and helped Jews escape the Germans as a French Resistance fighter. Close friend Marlene Dietrich helped her couture modeling career in Paris and Marilyn Monroe advised her about Hollywood. Later, Tao became a filmmaker and then an entrepreneur publishing the wine newspaper, Beverage Communicator, for over 30 years. She is a co-founder of the American Wine Society and still serves as Vice President of Southern New York.
"There is so much to do and so little time to do it!"
A source of Peter Pan-like endless youth and vitality, Tao says, "In my head I'm still in my 20's, and I have no intention of ever growing up." See "Is 96 the New 22? Seven Secrets to Vitality from Yoga Master Tao Porchon-Lynch" prompted by Tao's appearance on the Steve Harvey Show in January 2015. One of Tao's secrets to vitality is to keep dancing to her own rhythm each and every day. She does not believe in procrastination and is always looking for the next adventure. She says, "There is so much to do and so little time to do it!" Through the lenses of almost a century, Tao is a wellspring of hope and can give each of us an expanded vision of the possibilities in our own lives.
For more on the incredible Tao Porchon-Lynch, preorder her memoir, Dancing Light: The Spiritual Side of Being Through the Eyes of a Modern Yoga Master. The book already has endorsements from Dr. Deepak Chopra, Rodney Yee, Colleen Saidman Yee, Agapi Stassinopoulos, Dr. Suzanne Steinbaum, Beryl Bender Birch, Rama Jyoti Vernon, Sandip Soparrkar, Sushmita Sen, Hema Malini, among others. For more on Tao, go to www.TheTaoExperience.com.
If you get stuck in your own head, think of Tao and remember her mantra, "There Is Nothing You Cannot Do!"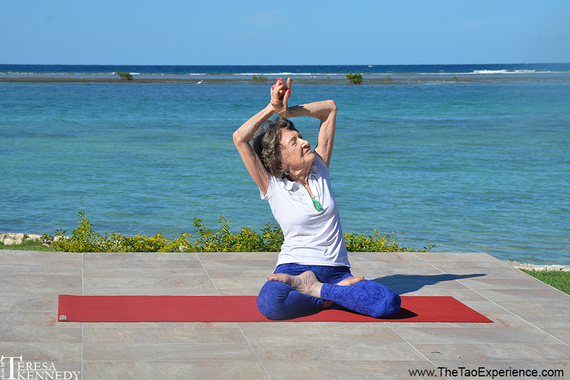 Disclosure: Dr. Kennedy is currently writing the biography of Tao Porchon-Lynch. For more by Dr. Terri Kennedy, click here.
Related
Popular in the Community