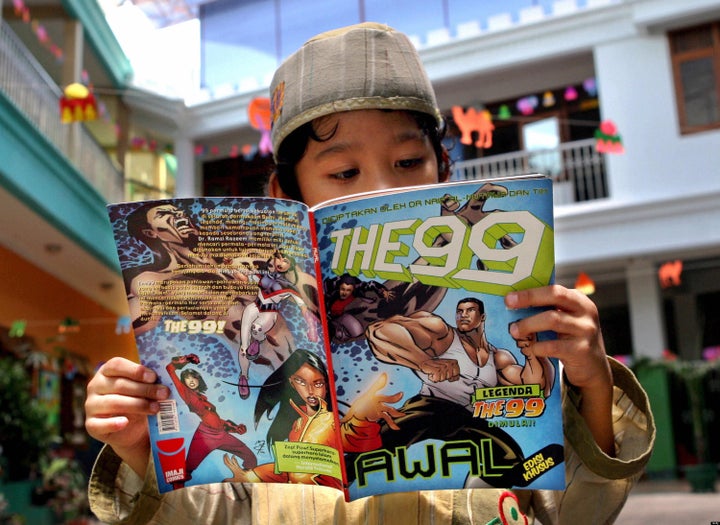 By Omar Sacirbey
Religion News Service
(RNS) After a drunk driver killed his parents and left him paralyzed, the fictional character John Weller was a bitter 22-year-old in St. Louis who sat in his wheelchair and watched television.
That all changed on a rainy night when he met two other characters from a new animated feature film, "The 99: Unbound."
Dana Ibrahim (a.k.a. Noora The Light) and Nawaf Al Bilali (a.k.a. Jabbar The Powerful) told Weller that the gemstone he received from a nurse endowed him with the powers of causing or reliving pain.
"Where are you from?" Weller asked.
"We're from all over," answered a man, calling himself Ramzi Razem, "but we have much in common."
The scene from "Unbound," which premiered Oct. 2 at the New York Film Festival, is based on "The 99," a popular Kuwaiti comic book series whose superheroes each represent one of Islam's 99 attributes of God.
An animated cartoon based on The 99 nearly made it in the U.S. when The Hub (a network owned by The Discovery Channel and Hasbro) bought the rights with plans to air the series last October. That ended after conservatives warned the series would indoctrinate children into Islam.
Creator Naif Al-Mutawa hoped his comic books would give Muslim kids their own set of superheroes while also appealing to non-Muslims and promote multiculturalism and acceptance.
To make it work, Al-Mutawa tried to avoid being overtly religious: characters are from different countries, some with Muslim names, some not. Fifty of The 99 are female, but only six wear headscarves. The characters never mention religion nor reveal their beliefs. For all the viewer knows, John Weller (a.k.a. Darr the Afflicter) could be just another Midwestern evangelical.
"They're inspired by my culture, but they're not in your face," said Al-Mutawa, 40, who first read comic books at a Jewish summer camp in New Hampshire and went to college and medical school in the U.S. He still spends a few months in America every year.
"The only way to beat extremism of any kind is to have secular content based on the underlying belief systems."
The comic books premiered in 2006 and are now translated into nine languages, including English, French, and Spanish. The animated television series currently runs in several Arabic countries, and the Cartoon Network bought broadcast rights for Europe, Asia and Australia.
The 99 received the ultimate stamp of comic book credibility last year when DC Comics produced six crossover issues that paired Superman, Batman and Wonder Woman with several of The 99.
But the series' entrance into U.S. markets came to a halt when it ran into a swift tide of post-9/11 Islamophobia.
"Be prepared for the latest exercise in Muslim propaganda," warned Adrian Morgan, editor at Family Security Matters, a conservative website, in a column last year. "Are we going to see ass-kicking Christian superhero nuns, called Faith, Hope and Charity, whooping sinner's butts and sending Satan into hell? It is doubtful."
A few weeks later, New York Post columnist Andrea Peyser griped that "Wonder Woman-style cleavage has been banned from the ladies," in "The 99," and "male and female characters are never alone together."
In fact, there are several scenes from "Unbound" in which male and female characters appear alone together.
Al-Mutawa says critics who accuse him of peddling Islamic extremism haven't actually seen "The 99." Neither Morgan nor Peyser answered emailed queries about whether they had watched or read "The 99."
Al-Mutawa said he was disappointed by the reaction, even if he wasn't surprised. "How cliche is it that something that's been created to promote tolerance is being shot down by haters?" he asked.
The series has become a hit with at least some Muslim American parents, although only a small number seem to know about it. Sadia Ashraf, a publicist in Chicago with two kids, 8 and 10, said she heard about "The 99" from her nieces in Canada, and bought a copy of the first issue. She now regularly reads the comics with her kids.
"The only fictional Muslim-like characters Muslim kids glimpse in the media are stereotypes, or hail from their parents' immigrant countries," Ashraf said. "A series like 'The 99' can be a great role model, even though there is no actual link with Islam."
Jack Shaheen, a retired professor of mass communication at Southern Illinois University, who has written about portrayals of Arabs, said Muslims and Arabs have long been cast as villains in American pop culture. Superman, Batman, Wonder Woman, and GI Joe have all taken on Middle Eastern enemies.
"The 99 is an amazing breakthrough," said Shaheen. "Up until now, kids have only been able to read stuff that says Arabs and Muslims are evil."
As a father of five boys, it's a problem Al-Mutawa said he understands.
"It's very important to me that my kids don't grow up hating themselves," he said. "If you tell a kid enough times that they're
stupid, they're going to believe they're stupid. If you tell them they're a terrorist, they're going to start believing they're a
terrorist."
As for The Hub, spokesman Mark Kern suggested the series may yet appear on American television screens, though he declined to go into detail.
"'The 99' is one of many series that The Hub is considering for our future schedule," he said, "but no scheduling decisions have been made."
Calling all HuffPost superfans!
Sign up for membership to become a founding member and help shape HuffPost's next chapter
BEFORE YOU GO