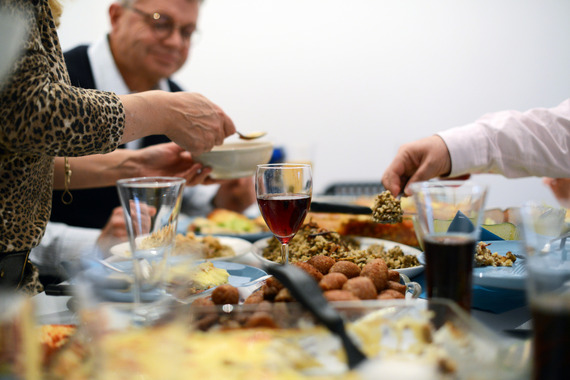 My name is Lina Makso, I came as a refugee to Sweden from Syria three years ago. I am a civil engineer and an expert in water structures. In my country, I was a lecturer at Aleppo University.
In April of 2014, in a suburb of Stockholm, I met Ebba Åkerman, who recently had started United Invitations (in Swedish: Invitationsdepartementet). She came to my class in the state-funded Swedish for immigrants language program and asked me and my classmates if we would like to have dinner with a Swedish family. I signed up for United Invitations because I liked this idea and I thought that this was a good way to start building a new life in Sweden. After a few days Ebba called me and invited me and my husband to a dinner. The hosts, Peter and Birgitta, lived on a very beautiful street where I had not been before. It was an unusual and fun dinner and I still remember the big library that Peter has and the story about a trip to Syria in his youth. That story made me proud and happy that there are Swedish people who care about my country.
Around that dinner table, with plates of food and glasses of wine, we talked about our families, educations, old jobs, war, immigration and hobbies. I believe that United Invitations is important for both Swedish people and immigrants.
For Swedish people, who are rather reserved and live a segregated life, United Invitations help them to meet people from other parts of the world and know more about their countries, cultures, educational systems, traditions and foods. For immigrants, who build small communities with their relatives and friends, United Invitations helps them acclimate in the society, have Swedish friends, practice Swedish, get to know more about the Swedish culture and taste Swedish food.
As the initiative was spreading throughout Sweden and Europe, I did an internship at United Invitations to understand more about the organization. For a year now, I've been employed there as "Head of performance", and among other things, track our results. Although I am a civil engineer I like to work at United Invitations, it creates an inclusive society through food, language and meetings. I think my job is important to the community.
The best thing for me is when participants thank United Invitations for an exciting or unexpected dinner and say they want to sign up for new dinners or that they have found new friends. I know that United Invitations spread joy amongst its participants, through it's simplicity and the sincere acts of welcome. Our post-dinner survey shows that 99% of immigrant participants feel more or much more welcome in Sweden. After one dinner.
We are all living busy lives full of routines, and to participate in a project like this makes it possible to try a fun activity. At United Invitations we believe that if we build our families and friendships around the dinner table, we can also build our societies around the dinner table.
This post is part of a series produced by The Huffington Post to mark the occasion of two critical conferences at the UN on the Refugee and Migrant crisis: the UN Summit for Refugees and Migrants (Sept. 19th, a UN conference) and the Leaders Summit on Refugees (Sept. 20th, hosted by U.S. Pres. Barack Obama, at the UN). To see all the posts in the series, visit here. To follow the conversation on Twitter, see #UN4RefugeesMigrants.
Support HuffPost
The Stakes Have Never Been Higher
Related
Popular in the Community