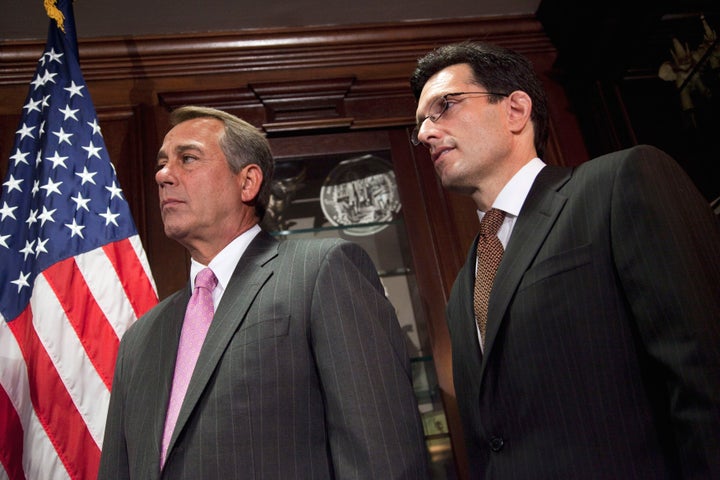 WASHINGTON -- Republican leaders in the House of Representatives have agreed to meet with two Democrats to discuss longshot legislation for the long-term unemployed, the members' offices confirmed Tuesday.
Reps. Barbara Lee (D-Calif.) and Bobby Scott (D-Va.) introduced legislation earlier this year to provide 14 additional weeks of unemployment benefits to Americans who've been out of work for six months or longer. Lee and Scott have spoken frequently about the struggles of so-called "99ers" -- people who still haven't found work after exhausting the maximum 99 weeks of benefits available in some states.
The Lee-Scott proposal received zero initial support from Republicans because it would add roughly $16 billion to the federal budget deficit. Lee and Scott later announced they'd be open to finding budget cuts to offset the cost of the benefits, something Democrats have generally refused to do for federal extended jobless aid typically enacted during recessions.
Given that concession, House Speaker John Boehner (R-Ohio) and Majority Leader Eric Cantor (R-Va.) have agreed to meet with Lee and Scott sometime in the next few weeks to discuss possible cuts to fund the benefits.
"Speaker Boehner has said he would have an 'open door' policy for Members of both parties in the Peoples' House, and he meant it," Boehner spokesman Michael Steel said in an email. "He is looking forward to hearing Rep. Lee's ideas for spending cuts that a majority in the House of Representatives can support."
HuffPost readers: Unemployed a long time? Tell us about it -- email arthur@huffingtonpost.com. Please include your phone number if you're willing to do an interview.
Cantor's office suggested he would steer the conversation toward job creation instead of just providing another 14 weeks of benefits.
"Leader Cantor looks forward to the meeting and would like to broaden the conversation to focus on ways to grow the economy, spur investment and create jobs rather than simply extending unemployment benefits in some instance beyond the maximum of 99 weeks currently permitted," a Cantor spokesman said Monday in a statement to the OC Register.
Cantor spokesman Brad Dayspring elaborated in an email to HuffPost: "The point was basically that the Leader believes that the best unemployment program in America is a job, so rather than only talking about extending benefits, we should be having a broader conversation about growing the economy, spurring investment, and allowing businesses to hire."
Lee and Scott haven't suggested what they'd be willing to cut, and House Democratic leaders have remained silent about the prospect of offsetting the cost of unemployment benefits. Last year, then-Speaker Nancy Pelosi (D-Calif.) told HuffPost she considered offsetting benefits "a completely bad idea," though many conservative Democrats have said they support doing so.
"Rep. Lee is encouraged that the Speaker has agreed to meet within the next few weeks to discuss how to provide emergency benefits for millions of long-term unemployed workers," Lee spokesman Joel Payne said. "Despite her strong belief that this should be considered emergency spending, the Congresswoman is committed to exhausting every possible option for passing this bill."

Popular in the Community