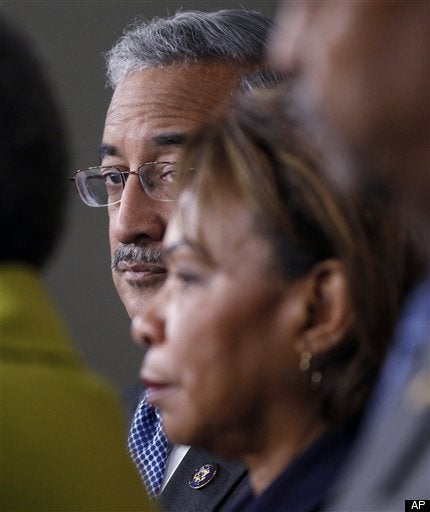 WASHINGTON -- A dozen jobless U.S. workers carpooled to the nation's capital on Wednesday to show their support for a Democratic bill that would provide additional weeks of unemployment insurance benefits.
These workers, led by laid-off marketing executive Gregg Rosen, are "99ers" -- people who've exhausted the 99 maximum weeks of jobless aid without finding work. As of October 2010, there were 1.4 million Americans who have been out of work that long, according to the Congressional Research Service.
Besides food stamps and charity, there's not much help for people still jobless after exhausting unemployment benefits, a reality unlikely to change under a Republican-controlled House of Representatives. Several 99ers told HuffPost they wanted to show their faces on Capitol Hill anyway.
"We're just trying to let them see that we're real live human beings," said laid-off accountant Gerry DePietro, 65. A 99er, she carpooled from the Philadelphia suburbs with her friends Patty Fraschetta and Bob Stroop, both of whom have been out of work for more than a year.
They joined Reps. Barbara Lee (D-Calif.) and Bobby Scott (D-Va.) at a press conference announcing proposed legislation that would give an additional 14 weeks of benefits to anyone who's been out of work for longer than six months.
"People want to enjoy the dignity of work instead of collecting unemployment check," Scott said. "Critics of unemployment compensation believe it gives people incentive not to work, but the fact is ... that there are more people looking for work than there are jobs."
Heidi Shierholz, an economist with the progressive Economic Policy Institute, said there were 3.1 million job openings in December. "Sounds good, until you remember there were 14.5 million unemployed workers in December," she said. "The economic case for this bill is absolutely overwhelming."
The 14 weeks would be added to the Emergency Unemployment Compensation program, which provides up to 53 weeks of federally-funded benefits to workers who exhaust 26 weeks of regular state benefits without finding work. In some states, federally-funded Extended Benefits add up to 20 more weeks of aid, for 99 total.
Democrats have barely managed to preserve the EUC and EB programs, which lapsed briefly every time they needed congressional reauthorization last year as Republicans objected that deficit spending for the benefits was not being offset with cuts elsewhere.
Lee said her office estimated this bill would cost $16 billion. She said she would look for budget cuts to offset its cost if Republicans refused to allow the bill to reach the floor under an emergency designation excepting it from pay-as-you-go rules.
HuffPost asked Lee why she would push a bill that has so little chance of becoming a law.
"We're not going to just sit around for the next two years and do nothing," Lee said. "We have the president, we have the Senate, and we have many Republicans who have 99ers, chronically unemployed, who live in their districts. And I think when they hear from the people who this affects, who are their constituents, I have to be hopeful there's some sense of morality there."
Lee constituent Stuart Koplowitz, a 99er who did not attend Wednesday's press conference, told HuffPost this week he appreciated Lee's effort even if it didn't result in legislation.
"I follow politics pretty closely, and with the current Republican House of Representatives, I don't think it's got any chance," said Koplowitz, a former sales director in Oakland. "I'm happy for the effort. I'm happy representatives like Barbara Lee keep bringing it up, keeping it as a subject, not letting it get lost in the background."
Rosen, who co-founded an online group called the American 99ers Union, said long-term unemployment can affect a wide range of people who don't expect to have trouble finding a job. The Congressional Research Service report supports that assertion -- according to its data, high school dropouts and college graduates are equally represented in the ranks of 99ers.
"If we learned anything from the recession of 2007, it's that unemployment is a disease and it's an equal-opportunity offender," Rosen said. "No one is immune. And it can strike any one of you at any time."
Gerry DePietro said she ran out of unemployment benefits in September and has been selling her jewelry to get by. She said she got $20 for a gold ring that had been given to her by her late husband 37 years ago, before they married.
"It was like losing a million-dollar ring," she said.

REAL LIFE. REAL NEWS. REAL VOICES.
Help us tell more of the stories that matter from voices that too often remain unheard.