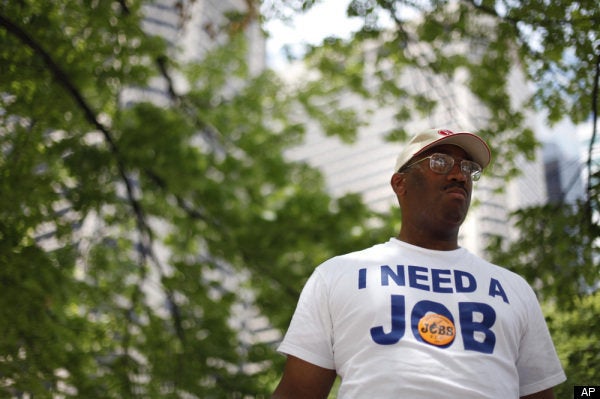 WASHINGTON -- Audrey Porreca said she began drawing unemployment insurance after losing her job at an architecture firm in June of 2008. After 99 weeks of aid, her jobless benefits ran out this year. She thinks it's ridiculous that she can't find a job.
"It's very weird. You feel unwanted. You feel like you don't fit anymore," said Porreca, who lives with her husband in Rockville Centre, N.Y. "You don't even know if you can walk back into an office and work again because you've been out of work for so long. And nobody seems to be paying attention to any of this. Nobody talks about it."
The plight of people who have exhausted all 99 weeks of unemployment insurance available in some states -- the "99ers" -- has received some attention from Congress and the media, but mostly their predicament is regarded as an intractable and pitiful part of a bigger problem.
One obstacle to helping 99ers is a lack of basic data. How many people can't find work after nearly two years of searching? How many 99ers are there? Nobody even knows.
The Department of Labor told HuffPost that it does not have the micro-level or individual claimant data to make an accurate estimate. With federally-funded extended benefits broken into four "tiers," the different number of weeks available in different states, and individual workers' potential stops and starts -- not to mention the congressional lapses in federal benefits -- nobody has figured out a reliable way to track the people who've used 99 weeks of benefits and still haven't found work.
Congress started giving layoff victims extra weeks of federally-funded benefits in July 2008 on top of the 26 weeks provided by states. As the recession deepened, benefits have been made more and more generous, to the point where in hardest-hit states, people laid off through no fault of their own are eligible for 53 weeks of four-tiered "Emergency Unemployment Compensation" and then 20 weeks of "Extended Benefits."
It's dreadfully confusing: All states offer Tiers 1 and 2, which provide 20 and 14 weeks of aid. Forty-nine states offer Tier 3, which provides 13 weeks of benefits, and 27 states offer Tier 4, which provides six weeks. Thirty-seven states offer Extended Benefits, which provides either 13 or 20 weeks. Which states provide which benefits changes every month, as the different levels of EUC and EB trigger on and off depending on individual states' unemployment rates.
In Montana, for instance, EB triggered off on June 19, so people who didn't reach EB before then can only become 79ers.
The Labor Department, using data provided by states, tracks the number of people who receive initial and final payments in each tier. Since July 2008, 1.7 million people have received final payments under EB. But that doesn't mean there are 1.7 million 99ers, because EB is triggered in some states that lack all four tiers, and because some layoff victims began collecting EB before all four tiers had even been created.
The government's data does allow groups like the National Employment Law Project to put together estimates of how many people won't advance to the next tier of benefits if Congress fails to reauthorize EUC and EB before they expire in November.
If that happens, NELP estimates that two million people will be ineligible for further benefits by the end of the year. (On Thursday NELP revised its initial estimate that 1.2 million would face a cutoff.)
Bills to create a fifth tier of benefits have been introduced in both the House and the Senate, but there's little chance they'll pass as Congress will have only a very short time to reauthorize the existing benefits after it reconvenes on Nov. 15.
Porreca, 53, told HuffPost that she and her husband were grateful to be able to sell their house. She said he's picked up part-time work since his layoff in January and that she is going back to school for nursing. She thought "60 Minutes" did an excellent job in its Sunday report on 99ers.
"It's about time somebody was talking about it," she said, adding that she wished "60 Minutes" addressed possible solutions for the extra-long-term unemployed. "Nobody is ever talking about what they can do to help these people."

Popular in the Community