 [UPDATE]: 9gag.com has responded to the alleged posts, telling The Huffington Post that they are indeed a hoax and do not exist:
The Colorado 'Dark Knight' shooting is a devastating tragedy, and our thoughts and prayers go out the victims and their families. When we initially heard the rumor that one of our users may have been involved, we did an immediate and thorough search of the site and found absolutely zero evidence that any of the alleged posts ever appeared on 9GAG. Any reports otherwise are completely untrue and we ask your help in putting this incredibly insensitive hoax to rest. Our hearts go out to the victims and their families and, as the investigation continues, we will certainly help in any way we can.

-- Kim Barsi, 9gag.com representative
Did message board users at 9gag.com taunt the Colorado theater shooter in the weeks leading up to this morning's massacre?
A screenshot of two alleged posts is going viral today (photos below), appearing to make light of the horrific shooting at midnight in a crowded Denver theater that killed 12 and injured dozens more. Rumors that users "egged on" a 9gag poster who was threatening to "shoot up" the theater are likely part of a hoax.
Here's one example of the rumor, which refers to the shooting suspect, James Holmes:


"The whole 9gag community egged him on and gave him tips on what to wear, etc.," wrote the blogger. "They give [sic] him tips on sharp-shooting and sent him messages on how to take as much lifes [sic] as possible."
Later, two pictures made the rounds on Facebook and Twitter featuring alleged posts by 9gag users. One appears to poke fun at the shooter, with a picture of a theater and the line, "TOMORROW I WILL KILL EVERYONE DURING THE NEW BATMAN PREMIER IN COLORADO/PEOPLE WILL DIE/FOR THE GLORY OF LE 9GAG ARMY !!!"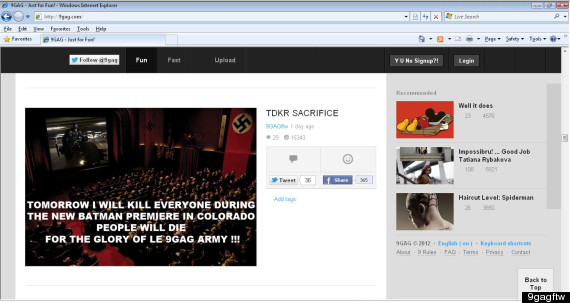 Then, a picture surfaced of an alleged post that reads, "WE DID IT! WE GOT HIM TO ACTUALLY SHOOT IN THE THEATRE!"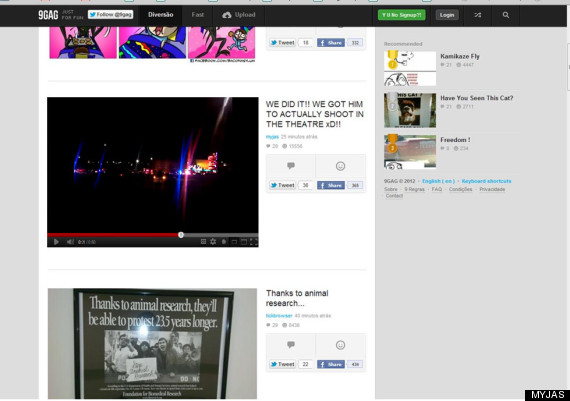 But as Gawker points out, they're probably fake. Forums like 9gag and 4chan are known for churning out hoaxes in the wake of big news events.
"I am 99 percent certain this is fake. Because this is an old 4chan trick. Often after a notable shooting happens, 4chan users spread fake screenshots that show the perpetrator was a 4chan user and had posted of his plans beforehand on 4chan. Recently, for example a 4chan user trolled the media by pretending to be posting from inside a home that was besieged by police. It's sort of an instant online urban legend."
Still, the pictures are drawing anger and sadness from YouTube, Facebook and Twitter users. Some now even blame 9gag for the murders, in which 24-year-old James E. Holmes allegedly strapped on a bullet-proof vest and used several weapons to systematically kill as many people in the Aurora theater as he could.
Though the flak directed at 9gag is likely unwarranted, the discussion has already begun. One YouTube user, under a news video covering the event, wrote, "WHY DID YOU DO THIS, 9GAG?"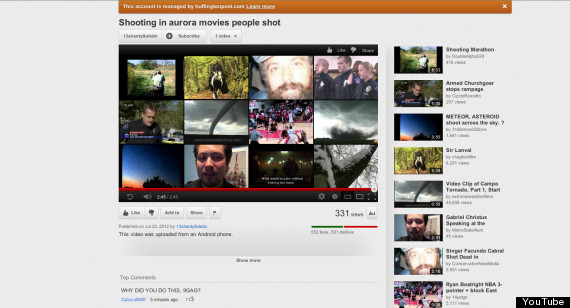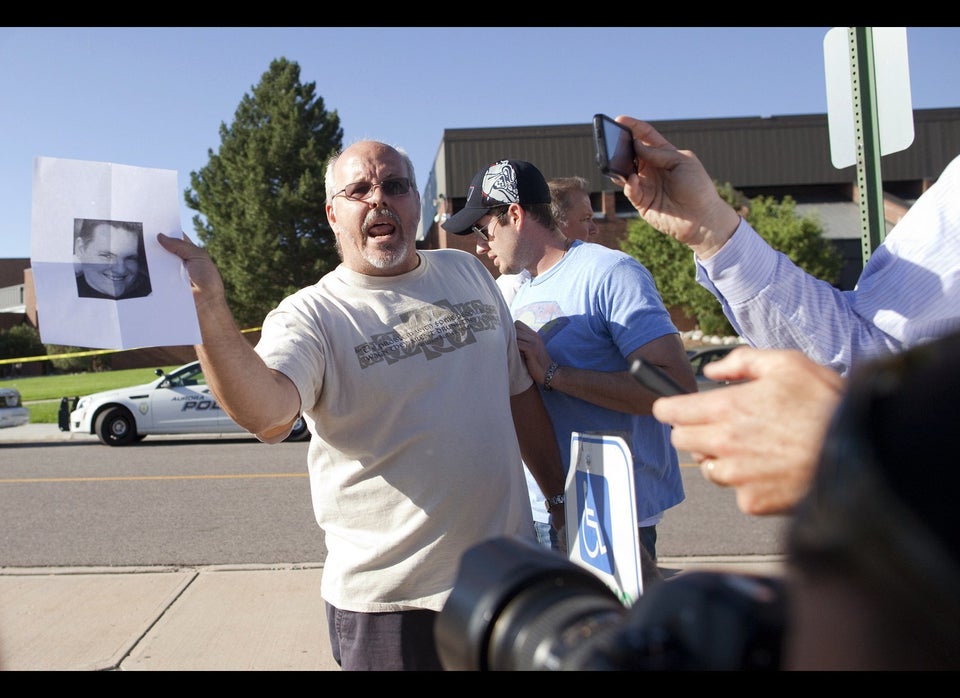 Batman Premiere Shooting At Century 16 Cinema
Related
Popular in the Community