A ninth-grade student in Irving, Texas, was arrested and sent to juvenile detention Monday after bringing a homemade clock to school, according to The Dallas Morning News.
Ahmed Mohamed, a 14-year-old at MacArthur High School who is Muslim, told the outlet he's passionate about robotics and decided to link a circuit board, power supply and digital clock display together inside a pencil case. He brought the device to school hoping to impress some teachers, but the first one who saw the clock immediately told him "not to show any other teachers."
Later that day, Ahmed was pulled out of class and taken to the principal's office. He says he was threatened with expulsion, asked if he tried "to make a bomb" and led out of the school in handcuffs by police officers.
"They were like, 'So you tried to make a bomb?'" the student told the Morning News.
"I told them no, I was trying to make a clock."
"He said, 'It looks like a movie bomb to me.'"
After his arrest, Ahmed was transferred to juvenile detention, where he was fingerprinted and then released to his parents. He is currently serving a three-day suspension from school.
During a press conference Wednesday -- held after the incident had generated outrage on social media and elicited responses from Democratic presidential front-runner Hillary Clinton and a NASA engineer -- the Irving Police Department said there was no evidence of intent to create harm and any case against Ahmed would be dropped.
The police also passed out a photograph of the clock he built.
Alia Salem, the director of the North Texas chapter of the Council on American-Islamic Relations, called the arrest an egregious and inappropriate response. Her group is meeting with an attorney Wednesday morning to consider legal action.
"The fact remains this kid is a really bright student, an award-winning robotics inventor and tinkerer," she told The Huffington Post. "They automatically jumped to a conclusion that I don't believe they would've jumped to had he been 'Jimmy.'"
A letter sent out to parents by the Irving Independent School District on Tuesday didn't mention that Ahmed brought a clock to school, but said the police department found a "suspicious-looking item." They urged parents to speak with their students about the district's code of conduct, specifically the section on items prohibited from school.
That list of items includes weapons, fireworks, knives and pepper spray, as well as "look-alike" weapons, but makes no mention of clocks being forbidden.
The hashtag #IStandWithAhmed began trending on Twitter after Ahmed's arrest was first reported Tuesday, with thousands chastising the arrest and suspension. His family soon created a Twitter account with the same name, from which Momahed tweeted thanks Wednesday morning.
The Huffington Post has reached out to the Irving Police Department and the Irving Independent School District for comment.
This story has been updated to include information from the police press conference.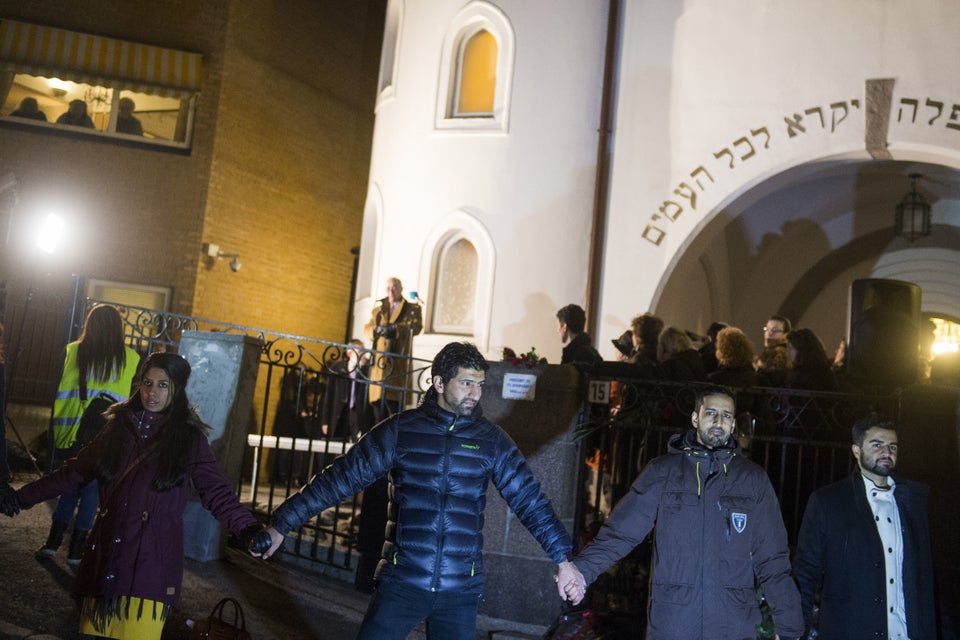 Oslo Muslims Form 'Peace Ring'
Popular in the Community