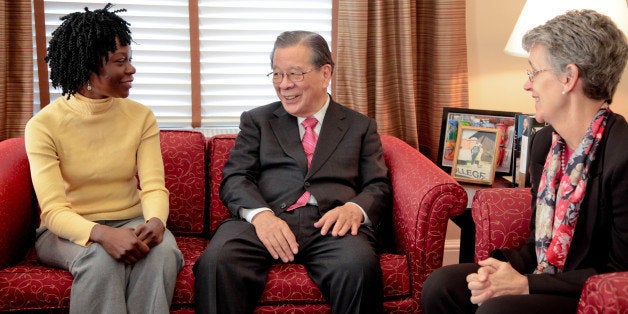 Growing up in Nansana, Uganda, Ritah Nabukenya was sometimes unable to study at night because she could not afford to buy a candle. She was only 7 years old when she lost her father to the HIV/AIDS epidemic that was devastating an entire generation in her country. As a result, her mother had to work day and night simply to support Ritah and her younger brother while Ritah tried her best to keep up with the cleaning, washing and caring for her brother.
Ritah was not only a hard worker, but also a good student. Though the family budget was very tight, her mother, strongly believing in the power of education, managed to stretch the household budget to pay for Ritah's schooling. But it could only go so far -- after Ritah successfully passed the entrance examination for a Ugandan national university, she had to give up her dream of entering the university, because she could not afford to pay the tuition fees.
That was ten years ago. This month, Ritah Nabukenya -- who now speaks three languages, Luganda, English and Japanese -- will be awarded a master's degree by Waseda University in Tokyo, Japan, having already achieved her undergraduate degree there, followed by a year of postgraduate study at Vassar College in the United States. The transformation of her life is a testament to the power of education in which her mother (who will attend her graduation) put such trust -- and to the work of Japan's Ashinaga foundation, which has supported the education of 95,000 children who have lost one or more parents with over $1 billion over the past 45 years.

Rita's story spotlights an improbable twist of fate that has brought together our organizations, Ashinaga and Vassar, which at first may seem to be an unlikely pair.
A little more than 100 years ago, Vassar graduate Jean Webster published a novel called Daddy-Long-Legs about an orphan girl whose college education is underwritten by an anonymous benefactor, set on a campus bearing a striking resemblance to Vassar in those times. The book proved immensely popular, nowhere more than in Japan, where its appeal has endured today - even inspiring an anime retelling of the story. So when it came time to name a foundation for children who have lost parents, Ashinaga, which translates as "long legs," proved to be a natural choice.
A dozen years ago, having long established itself as the premier charity for children who have lost parents in Japan, Ashinaga decided to extend its reach to Sub-Saharan Africa, specifically Uganda, which was among the nations hardest hit by the HIV/AIDS epidemic. It was a local Ashinaga staff member in Uganda who recommended Ritah for an entrance examination for Waseda -- and it was an Ashinaga scholarship that allowed her to attend once she had passed the exam. During the year of postgraduate study at Vassar, she researched human rights in pre-colonial Africa.
Ritah Nabukenya's story is in the vanguard of more such stories to come. Ashinaga is committed to creating opportunities for children who have lost parents in Sub-Saharan African countries -- one of the most underrepresented populations in the world in terms of higher education - to study at colleges all over the world, especially in the United States and Europe. Indeed, the foundation is already doing so, with three students placed by Ashinaga this year in American universities, and many more at universities in Europe, Japan and Brazil. Within a couple of years, Ashinaga plans to identify and select one gifted but needy student who has lost one or both parents from each of Africa's 49 Sub-Saharan nations -- and to support these students to attend the world's top-ranked universities and colleges, by providing them with necessary scholarships and living expenses for four years of education.
Ashinaga and Vassar share a common vision of education as the key to greater global understanding and improving the lives of young people. Vassar was founded on the ideal of offering a first-rate education to students who previously had been denied that opportunity. In 1861, that group was women. Today, Ashinaga looks to give young men and young women in places such as Sub-Saharan Africa the opportunity to improve their lives, and the lives of those around them, through education.
We believe that with education, young people enhance their understanding of this world and deepen their ability to give back, like Ritah Nabukenya. In the experiences of both our institutions, it is only then that we can cultivate a generation of truly global citizens.
Calling all HuffPost superfans!
Sign up for membership to become a founding member and help shape HuffPost's next chapter