Until late last year, people who wanted to participate in a forum at The City Club of Cleveland had to drive to 850 Euclid Avenue in Cleveland, Ohio, park the car, take the elevator to the second floor, sit down in a chair, and wait for the mike.
If you've never heard of The City Club of Cleveland, it is not a private social club for smoking cigars or drinking martinis. Established in 1912, The City Club is the oldest continuously operating free speech forum in the United States. It has hosted thousands of outstanding speakers during its history, including Babe Ruth, Franklin D. Roosevelt, Rosa Parks, Robert F. Kennedy, W.E.B. Du Bois, Bill Clinton, George W. Bush, and Archbishop Desmond Tutu.
They've had a live broadcast for years--since the 1940s, and there were times when The City Club would turn to the phone lines for questions from listeners. In recent years, Twitter has brought in a new dimension to audience engagement. But those efforts have all been local. After 102 years, that all changed.
Through a partnership with Case Western Reserve University, The City Club is adding a new level of global reach.
In April 2014, I developed a free massive open online course (MOOC) for Case Western Reserve University called Beyond Silicon Valley: Growing Entrepreneurship in Transitioning Economies. Cleveland's entrepreneurial and economic strength catapulted during the Rockefeller era at the turn of the 20th century, but by the early 2000s, the city had lost thousands of residents and jobs and was ranked 61st out of 61 cities in the US by Entrepreneur Magazine in support of entrepreneurship in 2002. I examine how Cleveland's government, foundation and private sector leaders have helped revive the faltering economy in the last decade through supporting entrepreneurs in a variety of initiatives.
As a part of the course, I host weekly live online discussions, giving students the opportunity to engage with a panel of local and international experts. A few weeks ago, The City Club of Cleveland graciously offered to host one of these discussions.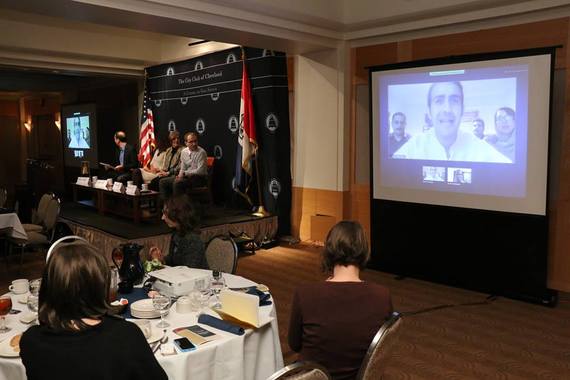 Case Western Reserve University's Michael Goldberg moderating panel on supporting growth of entrepreneurship on November 12, 2014 at The City Club of Cleveland with Jacqueline Acho (Cleveland), Dorothy Baunach (Cleveland), Martin Duda (Ostrava, Czech Republic), Jovani Ntabgoba (via WebEx from Rwanda) and Medhi Sadeghpour (via WebEx from Iran). Photo Credit: The City Club of Cleveland
The City Club's CEO Dan Moulthrop reflected on the impact of the forum: "We've long been a convener of civic dialogue, and what this taught us is that while civic life continues to be rooted in geography, it can transcend that geography at the same time. These startup community conversations aren't just about tech or software--they're about making communities stronger, thriving places. And when Cleveland is talking to Tehran or wherever, we're all growing stronger."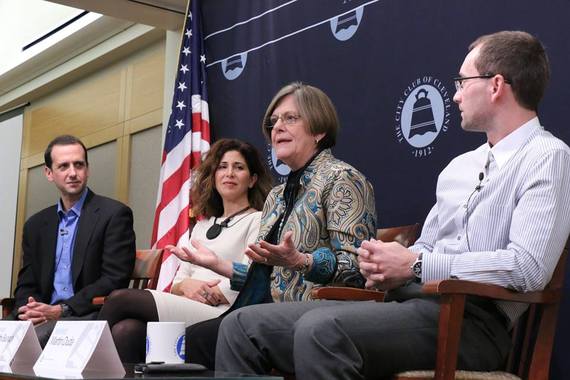 Case Western Reserve University's Michael Goldberg with Jacqueline Acho, Dorothy Baunach, and Martin Duda at The City Club of Cleveland. Photo Credit: The City Club of Cleveland
More than 36,000 students representing 183 countries registered for my course to date. 85% of the students are from outside the US, and the course has been translated into 10 languages (making it the most translated course on Coursera), The City Club was a perfect place to bring together ideas from around the globe. I am glad we could elevate The City Club's platform to an international audience and we are planning future collaborative forums in 2015 around upcoming sessions of my Beyond Silicon Valley course.
Calling all HuffPost superfans!
Sign up for membership to become a founding member and help shape HuffPost's next chapter