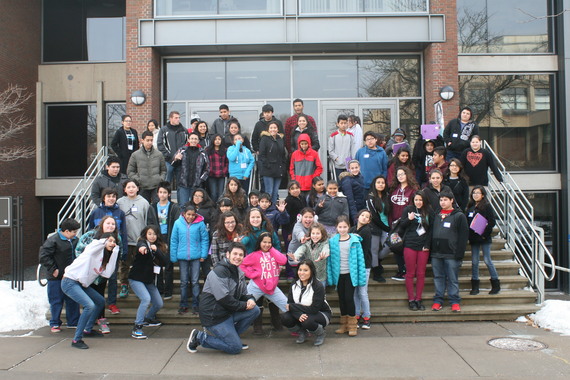 On February 7, 2015, Casa de Esperanza: National Latin@ Network held its Latin@ Youth Conference: Together We Are Stronger. Youth leaders facilitated workshops and discussions with their peers about healthy relationships, gender roles, and Latin@ portrayals in the media. The event took place at Macalester College in St. Paul, MN. Below, our readers can find a reflection from Olivia, a twelve-year old who attended this event and who offered feedback. Her unedited words are a powerful reminder of why it is important we engage youth in violence prevention and the meaningful impact this work can have in their lives.
My experience with the conference was very enjoyable. I did once have experience with domestic violence. I was around 3-4 years old. My mom and dad did have their issues but it didn't get to the point to where she had gotten hurt. Well, that I knew of.

I noticed [the violence] one day when we were on our trip in Puerto Rico. My two siblings also noticed but didn't say anything. My mom had gotten the courage to divorce him after a few months of him hurting her.

My mom gives me hope because she struggled hard to be both parents to three kids. My mom still does struggle now that she's started her second year of college. My mom is unbelievable imperfect, so she says, but to me and my family she's amazing.

The conference was enjoyable because I got to experience many things, like how 1 in 3 people experience abusive relationships. I did get a bit annoyed when we'd have to stop the class and move to another but it was worth it.

I'd never really thought that I would feel happier than I did when I left, because it now helps me notice that just because you see a couple on the street that look normal doesn't mean that they're happy together and aren't going through bad times. Since the conference I've actually been trying to observe things like that, sometimes my sister thinks I'm weird for staring at a couple for too long.

I'm thankful for Casa de Esperanza for encouraging me to come. I think that I might have to go again with my sister just to show her how it's like.

Olivia
What is impactful for those of us who work in the field of violence prevention is that Olivia, for the first time, had an opportunity not only to really understand what her mother went through years ago but also to process what she witnessed in silence. We know Olivia's attendance to the conference opened the door for her and her mother to have conversations about the abuse and to recognize warning signs in future relationships.
The words of this twelve year-old also highlight children's resiliency and strength when they encounter pain. Too often, we have seen parents not speak to their children about abuse because "they are too little to understand." Olivia's mature reflection shows us that children recall abuse from an early age and that they, too, need support in processing distressing memories of the past.
This piece was co-written with Ivette Izea-Martinez, Community Engagement Manager at Casa de Esperanza.
This piece was co-written with Ivette Izea-Martinez, Community Engagement Manager at Casa de Esperanza. Olivia's name and identifying information have been edited to protect her and her family's privacy.
Calling all HuffPost superfans!
Sign up for membership to become a founding member and help shape HuffPost's next chapter