Last November, the American Heart Association issued a huge challenge, the biggest single offer in our 92-year history.
We went looking for one person with a radically different approach to curing one of the most devastating cardiovascular diseases, coronary heart disease. And to show how committed we were to finding a new solution to an old problem, we were among the funders putting up a combined $75 million to give it a try.
We dubbed this opportunity "One Brave Idea" and on Wednesday we unveiled the winner: Dr. Calum MacRae, the Chief of Cardiovascular Medicine at Brigham and Women's Hospital in Boston, one of the main training hospitals for Harvard Medical School, where he is also an associate professor.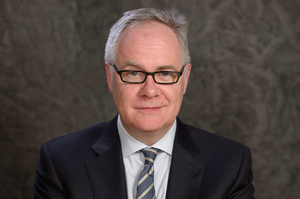 MacRae beat out 348 other applicants from 22 countries, doing so with a formula that could prove to be applicable to all sorts of diseases. Its first application will be on coronary heart disease.
While cardiovascular diseases are the No. 1 killer in the world, claiming about 17.3 million lives annually, more than 7 million of those are caused by coronary heart disease, making it among the biggest issues worldwide. Coronary heart disease is essentially the buildup of plaque that causes heart attacks.
The gist of One Brave Idea is that the buildup doesn't necessarily begin in the heart and it certainly doesn't happen all at once, so let's find its earliest traces in hopes that we can stop the disease from ever emerging.

At first glance, MacRae's idea of following the problem back to its roots may not seem too far outside the box. The unusual part is where and how his team will search.
Rather than limiting themselves to tried-and-true areas such as cholesterol and blood pressure, they'll be conducting a scavenger hunt, of sorts. They will examine aspects their predecessors have rarely considered.
For instance, MacRae believes answers could be found in your skin. Or your nails. Maybe in your hair or according to the length of a particular bone. Key markers could emerge from the food you eat, the air you breathe or the neighborhood where you live.
"Nobody knows," MacRae says with a wide grin and a Scottish accent. "This is about moving the goal posts. We're no longer going to wait for a patient to show up with complaints or symptoms or something I recognize as a problem. We're going to actively go out and look for their problems earlier and earlier, and find the most fundamental mechanisms of the disease."
MacRae also surrounded himself with an all-star team of scientists. They come from a variety of specialties and are all leaders at world-class institutions. It's worth noting that he, too, holds a prominent position within an esteemed organization.
The One Brave Idea team's first task will be setting up their "scavenger hunt." That is, they must decide which areas will comprise the starting points for their quest.
Investigations will begin with people whose family histories make them most likely to have coronary heart disease. Over time, researchers will expand what they screen for and whom they screen. The research will embrace cell biology, wearable devices and other modern tools, everything from geospatial mapping to social media.
Answers are likely to come from a variety of places. It's also likely that some areas they investigate yield no meaningful clues. That's OK. Thomas Edison didn't create the light bulb on his first try, either.
Another layer in this process is the role of the patient and, perhaps even more importantly, their family.
Over his 25-year career as a researcher and clinician, MacRae has seen countless cases where relatives believe they could tell which members of a younger generation were likely to suffer the same ailments as their elders. For instance, a child who had the same specific symptoms as a grandfather who suffered a heart attack at a young age grows into an adult who also has a heart attack at a young age. By engaging patients themselves, it may be possible to find completely new indicators of disease.
This is obviously a simplified breakdown of how this $75 million, five-year project will play out. Still, I hope you find it specific enough to excite you about the possibilities.
I was meeting with Dr. Andy Conrad, the CEO of Verily. He questioned why cardiovascular research is usually broken into small areas of emphasis, with clusters of people at a handful of institutions and budgets of a few million dollars.
What if, he asked, we put a whole bunch of money into one team with one big idea?