On 9/11 the worst terrorist
attack perpetrated against America left over 2970 dead, including 343
firefighters and 72 law enforcement officers. The full story, however, is not
about hijacked airliners, intelligence failures, fanatic murderers or conspiracy
theorists. Its about lives well lived that were cut painfully short and the
endurance of the human spirit. One
way to begin to understand the magnitude of a numbing mass tragedy like 9/11,
is not in numbers, but rather, in stories. Today's focus here is one story of
many that demand to be told. One life. One set of hearts that were unfairly
broken. Out of the mosaic of thousands of colorful remembered lives today are countless stories of loveslost and heroes big and small. Too often at the
wrenching intersection of goodand evil, we expend too much time on the latter—
but not today.
The only thing Staten
Island native son FDNY Lt. Chuck Margiotta didn't achieve in his 44 years was a
long life. As his young daughter clutched her father's service helmet at a New
York Catholic church eight years ago she heard from another kind of hero, her
schoolteacher Uncle Mike, who from that day to this diligently watches over his
extended family like a lion over his pride. Mike Margiotta summed up the spirit
of this day for many Americans:
According to Webster,
"bravery" is defined as combining confidence with firm resolution in
the presence of danger. "Courageous" however is more than brave! It
adds a moral element. The courageous man steadily encounters perils to which he
may be keenly sensitive at the call of duty. At no time do either of these
definitions mention being fearless. Fearless is just the inability to recognize
danger.
On September 11th, Chuck had fears…recognized them…called home…and then performed his job with Bravery and Courage; as did all our firefighters and police officers. We thank them all
and love them all for being heroes every day.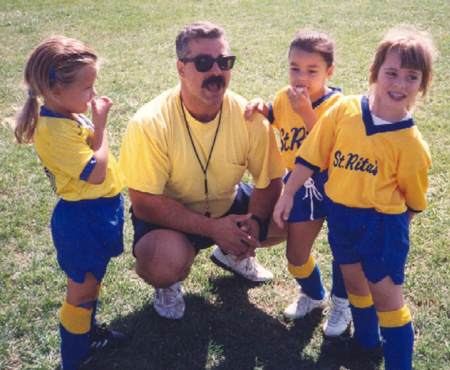 Packed into those compressed
decades of Chuck Margiotta's time on Earth was a love of people and an
unquenchable, if not dizzying, zeal for accomplishment. It's hard to believe
everything this veteran firefighter crammed into his way too short life: Ivy
League football stand out at Brown University, substitute public school
teacher, church leader, philanthropist, youth sports coach, television and
movie actor and stuntman (Hannibal, Malcolm X, Law and Order), family man, and
don't forget-gardener and voracious reader. His brother Mike observed to a
reporter, "He wasn't happy unless he was doing four things at once, plus one
more thing."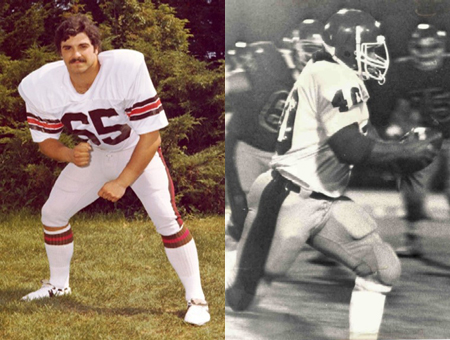 It was that
one more thing that took him from us. On 9/11 the devoted married father of a
beautiful son, 11, and daughter, 13, had just completed a 24 hour shift in
Brooklyn filling in for another firefighter. As he was safely headed home, he
saw the orange flames engulf the World Trade Center, turned around, and
instinctively went to the nearest firehouse. There he immediately hopped on to Staten Island's Rescue 5
FDNY truck as it sped to save civilians from the chaotic scene. Right before he
reached the inferno he phoned his mother to tell her what turned out to be his
last words to her: "Ma, it's bad, I love
you. I'll call you later."
Even before 9/11 Chuck was a
beloved fixture on the family friendly borough of Staten Island. After
impressing Staten Islanders with his football prowess at Monsignor Farrell High
School, Chuck attended Brown University, easily one of the nation's most
selective universities. After helping Brown win its first of only two Ivy
League football championships in 1976, he graduated in 1979 with two
degrees—one in English and one in Sociology. He and his team eventually ended
up in the Brown Sports Hall of Fame. Like he always promised, he came back to
New York to be a firefighter and graduated, not surprisingly, at the top of his
1981 FDNY class.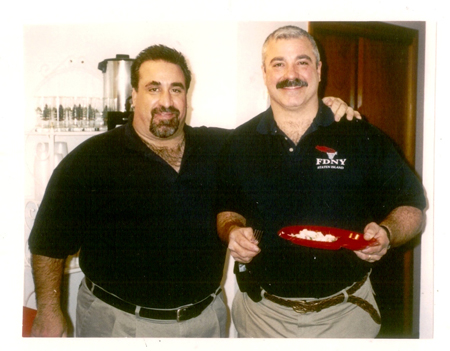 He left his big footprints all over New York City. Twenty years as a firefighter, fifteen in Harlem, with several years as a running back for the acclaimed FDNY football team. Even after he rose in rank to Lieutenant, he ruffled a few bosses because he was more comfortable with the rank and file folks.
For twenty years, on top of his fire duties, he substitute taught at least two days a week. He was also a private investigator for two decades. He was CYO Athletic Director at his parish and coached kids in four different sports. He was a key organizer of innumerable charity events. He did acting and stunt work across New York in numerous television and movie productions, while still finding time to plant a garden at his firehouse.
As busy as he was, he was devoted to his family. He'd check on his parents—who lived next door, justabout every day to make sure
they were all right. The hole in his parents'hearts never really healed.
His dad misses the family vacations in themountains, watching sports on television,
as well as the tailgate gatherings atGiants games. His mom even misses cleaning up the constant stream of pretzelcrumbs he would leave after helping with chores or home repairs.
He adored his wife and kids.
Chuck
Margiotta at about 6 feet and over 200 muscled pounds, was simply put, one of
those old school New Yorkers who really was bigger than life--the kind of
stunningly handsome renaissance guy who is better suited for a lyric by his
musical idol, Bruce Springsteen, than this short web posting.
While terrorists, steel, and concrete extinguished his life;
Chuck's spirit, like those of others lost that
day, is very much alive in his parents, wife, kids and others. A garden he
planted flourished, and years later his bother Mike, raises thousands in a
scholarship in his name for a deserving student at his old high school. His
children and nephew and niece all went to college and follow Chuck's zeal for
education, music, and public service. Violence harms the innocent, but as shown
here it does not define them. As Bobby Kennedy said the night of Martin Luther
King's death, who coincidently shares Chuck's January 15 birthday:
Let us dedicate ourselves to what the Greeks wrote so many
years ago: to tame the savageness of man and make gentle the life of this
world.
Popular in the Community