My dad was the quintessential Cubs fan. He had a 92-year love affair with his Cubs. Years ago, when he was 80, as the Cubs made the playoffs, he reminisced. Now with the Cubs in the World Series, or as we Chicago fans say "Hell frozen over," it feels appropriate to share his story.
The year was 1927 and Calvin Coolidge was President. Charles Lindberg flies his first solo flight from New York to Paris. The Model A car debuted and the mechanical cotton picker was invented. That was also the year my father's love affair with the Chicago Cubs began.
"I was four years old," said Sheldon Sternberg, 80, and former Wilmette resident. "I sat on my father's lap for my first Cub's game and Hack Wilson autographed a baseball for me."
When asked if he kept the autographed ball, Sternberg said, "I probably used it."
Hack Wilson held the National League home run record of 56 home runs, a record that would not be broken for 68 years.
Over the next seven decades, there were many changes in my father's life. He grew up in the Austin neighborhood of Chicago, attended DePaul University for two years and enlisted in the Air Force when he was 19. He flew seven bombing missions in World War II and received an Air Medal and four bronze stars. He married Elaine Oscherwitz, whose father started Best Kosher Sausage Company and went on to run the business. They had four children and 13 grandchildren and 7 great-grandchildren.
But the one constant in my dad's life was his love for the Cubs.
"The last time my dad and I went to a game, we saw Don Cardwell pitch a no-hitter. It was 1960. We sat in the bleachers," Sternberg said.
This love for the Cubbies was something all of us Sternberg children inherited. If I close my eyes, I see my dad with his transistor radio, sitting on the patio, listening to the game. I can still hear the voices of Lou Boudreaux, Jack Brickhouse and Harry Caray. And I can still remember our summer weekend ritual.
On Sundays, my dad's first stop would be the now defunct Ricky's Deli in Skokie. There he would order three large loaves of rye bread.
"What, no corned beef or pastrami to go with that?" the counter men said each week.
My father would bring home Best Kosher corned beef, salami, bologna for the sandwiches we would take to the Cubs game. Along with my brothers, Michael and David and sister, Nancy we would begin our assembly line. One person laid out the bread, the next slapped on the mustard, then someone added the meat and last person cut the sandwich.
And so we would enter Wrigley field with two dozen sandwiches. More, if there was a doubleheader.
Each summer, we all worked at Best Kosher. But the best part about our job was that often, on a moments notice, we would leave at 1:00 p.m. and head out to Wrigley Field. We attended so many games, that I have clear memories of Ernie Banks, Don Kessinger, Ron Santo, Fergie Jenkins, Ted Abernathy's submarine pitch, Adolpho Phillips and Randy Hundley. They were, after all, almost family.
In 1962, my dad and mom went to Spring Training in Mesa, Arizona. There they were greeted by Charles Grimm who escorted them to their seats.
In 1969, I remember having dinner on a Friday night when the phone ring. I answered. It was for my dad and when I asked who was calling, the voice said, Maury Wills of the LA Dodgers.
I replied, "Sure Uncle Jerry (the family prankster) and I'm the Queen of England."
It was in fact Maury Wills who was a representative for Best Kosher in L.A. Later that year we were his guests at a game and had front row dugout seats.
My siblings and I made a sign that read, "Go Cubs Go". The sign caused such a commotion that ushers told us if we didn't put it down we would have to leave.
My friends all thought my father had a hearing problem since the always had an earphone in his ear listening to baseball. In 1975, I got married on a Sunday afternoon, a day the Cubs had an important (well, they were all important) doubleheader. Everyone took bets that my dad would walk me down the aisle with an earphone.
In 1984, my dad and David sat in the bleachers for the playoffs. And in 1985, another thrill. My dad was invited to be on the Cubs Care committee to raise funds for Nothwestern Memorial. Ron Santo chaired the committee.
My father's love for his team never wavered. In spite of sometimes calling someone a bum for striking out, it was pure loyalty. When I asked my dad to explain where that came from, his answer was simple.
"It's the fact that the Cubs are the Cubs. And for years, when I was a kid, the Cubs were a great team," he said. And then he surprised me with statistics which he easily rattled off.
"They were in the World Series in 1929, 1932, 1935, 1938 and 1945," he said without skipping a beat.
Just last week, my husband Billy and I hurried back from a quick trip in time for Yom Kippur services. My dad planned to go with us to Temple.
I called my dad as soon as we got home. Services were at 6 p.m. and the Cubs were playing the Braves in the playoffs.
"Dad, what are we going to do?" I said. "It's Yom Kippur. We have never missed that service."
And my father's reply still has me laughing.
"Susan," he said. "A prayer for the Cubs is a Yom Kippur prayer."

Postscript: My dad passed away April 9, 2015 at age 92. But not before rallying in his hospital room with all his children, grandchildren and great-grandchildren to watch opening day. I remember him with his oxygen mask and Cubs hat. Someone had Arietta send him a personal video thanking him for his years of dedication to the Cubs:
And here is his headstone: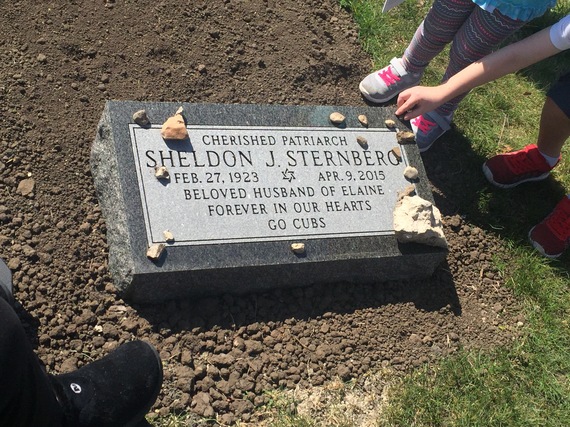 Calling all HuffPost superfans!
Sign up for membership to become a founding member and help shape HuffPost's next chapter