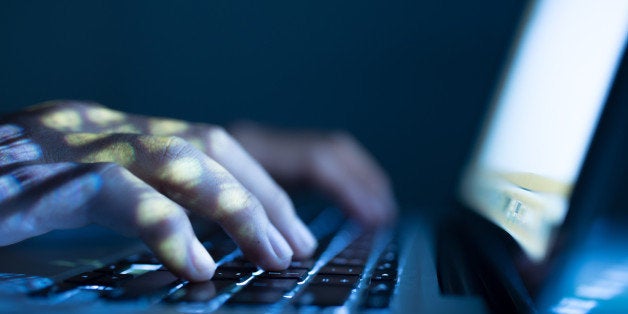 In the end, we had a celebration that lasted only a few minutes. Many anti-trafficking advocates were delighted to learn Tuesday morning that Backpage.com had shuttered its adult ads section, long a large and profitable online marketplace for youth exploited in the sex trade. No longer would the trafficked teenagers who come to our Covenant House shelters, shattered by repeated rapes and violence, be bought and sold through online ads that Backpage claimed were protected by the First Amendment.
We cheered the hard work of the U.S. Senate Permanent Subcommittee on Investigations, which issued a report Monday showing that Backpage had heavily edited millions of its ads to scrub out any terms that would indicate that children were being sold for sex -- terms like "lolita," "teenage," "rape," "young," "amber alert," "little girl," "teen," "fresh," "innocent," and "school girl." The children were still sold, of course, but the ads looked legal, and helped keep about $150 million in annual revenue flowing in to the website.
The revelations will make it harder for Backpage to defend any First Amendment rights in court. Noting that several of his peers had also been to law school, Senator Rob Portman, R-OH, chair of the subcommittee, told Backpage's General Counsel, Elizabeth McDougall, "We don't remember instructions to cover up a crime being protected speech." He also asked her if she had been aware of the extensive editing - effectively covering up crimes -- when Backpage filed court briefs claiming the website was immune from prosecution under the Communications Decency Act. The act, in part, protects internet service providers from liability for the legality of content that individual posters put online.
She and four executives from Backpage refused to answer any questions at a subcommittee hearing Tuesday, citing their First and Fifth Amendment rights against self-recrimination. And despite the urging of the committee chairs, they walked out of the hearing en masse before three parents of victims testified.
Free speech is crucial to our nation, but does not cover yelling "Fire!" in a crowded theater. And it does not protect someone urging "Rape her!" on a crowded website, or middle school playground. (Yes, it's rape if the teenager is too young to consent.)
Alas, before the hearings were even completed, we realized Backpage had already simply moved prostitution ads over to its dating site, using terms like "Young" and "Fresh." As if no one would notice. For all we know, Backpage simply shuttered their adult sites to defuse the hearing, and will reopen for business in a matter of hours.
And Senate investigators found that Backpage owns three other websites that "contain graphic male and female nudity, which Backpage purports not to allow on Backpage.com." Those continued to offer people for sale on Tuesday as well.
Company representatives have vowed to continue to fight for their First Amendment rights to publish content others produce, content they allege is protected by the Communications Decency Act. That will be more difficult now that the committee report has shown the extent of editing the company did on its ads.
As the 9th Circuit Court of Appeals ruled in a similar case over an internet service provider's responsibility for the content it publishes:
a website operator who edits in a manner that contributes to the alleged illgality ... is directly involved in the alleged illegality and thus not immune.
We do know that the appetite for exploiting young bodies will not disappear when one website goes dark, and that advocates for trafficking survivors will face a game of online Whack-a-Mole, as sex sites proliferate. Backpage has warned that such sites would be far less willing to report violations, as Backpage did, to the National Center for Missing and Exploited Children. That non-profit reported that three quarters of the child sex trafficking victims they work with have been sold through Backpage.com.
But Backpage's vaunted cooperation with the Center turns out to be a bit of a sham. Backpage appeared to have a quota of reports of suspicious ads it would send to the Center. According to one email in the subpoenaed documents, from Andrew Padilla, the head of Backpage's moderation department, to a moderator, "if we don't want to blow past 500 this month, we shouldn't be doing more than 16 a day." Keep in mind that Backpage had habitually deleted the original ads, with the offensive terminology, that appeared to sell children for sex. The originals would clearly have been more useful to law enforcement officers trying to rescue sex trafficking victims.
The Senate subcommittee fought Backpage all the way to the Supreme Court to obtain 1.1 million pages of documents for its report, which reached three shocking conclusions:
Backpage has knowingly concealed evidence of criminality by systematically editing its "adult" ads.
Backpage knows that it facilitates prostitution and child sex trafficking.
Despite the reported sale of Backpage to an undisclosed foreign company in 2014, the true beneficial owners of the company are James Larkin, Michael Lacey, and Carl Ferrer.
That sale appears to be an elaborate $600 million shell game, by its chief executive officer, Mr. Ferrrer, and original owners, Mr. Lacey and Mr. Larkin. Senators said these financial machinations were likely intended to launder funds and maneuver around the decision by major credit card companies to refuse to support financial transactions on Backpage.
Congress's next steps may include pursuing changes in the Communications Decency Act, which was, after all, written to protect young people from online obscenities. While many internet platforms and public bulletin boards have bona fide reasons to preserve the protections they enjoy from the bill, those need not disappear with carefully drawn amendments.
In heartbreaking testimony about the ordeal her 15-year-old daughter, an honor student, experienced when advertised on Backpage.com, one woman pleaded with the committee:
Please don't let another innocent child be sold in an online advertisement and let their spirit be crushed. I've heard many times that the CDA doesn't need a rewrite to prevent another tragedy like the one that befell my family. It would take just a few words, carefully crafted, to end online child sex trafficking in our country, so we can honestly and with pride say we live in the land of the free.

And more battles remain, in the courts, where Backpage has usually prevailed. On December 23, California's attorney general, Kamala Harris, now the state's junior U.S. Senator, brought new charges against Mr. Ferrer, Mr. Lacey, and Mr. Larkin. They were charged with 13 counts of pimping and 26 counts of money laundering, for allegedly creating a variety of corporate entities to get around major credit card companies, which refused to do business with Backpage.com. The three were scheduled to be arraigned in Sacramento on Wednesday.
"By creating an online brothel - a hotbed of illicit and exploitative activity - Carl Ferrer, Michael Lacey and James Larkin preyed on vulnerable victims, including children, and profited from their exploitation," Ms. Harris said in a written statement last month. "My office will not turn a blind eye to this criminal behavior simply because the defendants are exploiting and pimping victims on the internet rather than on a street corner."
We hope that without CDA immunity, great strides can be made in protecting young people from online marketplaces. A law that was knocked down Washington State four years ago, which would have made advertising young people for sex a felony, might be viable once again.
It has never made sense that someone could sell a child online without being punished. I hope that justice can finally prevail online, and modern slavery will recede into history, where it belongs.
Calling all HuffPost superfans!
Sign up for membership to become a founding member and help shape HuffPost's next chapter