I was in New York Monday for the close of internet week and work. I woke up early for a press event at Victoria's Secret so that I'd have a few minutes to myself before the day started. I got up at 7, which actually feels like sleeping in... it's crazy how early you have to get up when you have a baby! I stopped for some breakfast on the way to the store -- my favorite, a bacon, egg and cheese sandwich and a cappuccino with extra foam. With a full stomach and the extra kick of caffeine, I was ready to start hair and make-up. I had a photo op with Doutzen (Doutzen Kroes) for the launch of the Victoria's Secret Facebook Fan page. We played around a bit on the website to see what fans had written us followed by a poking war with the foam fingers from the photo shoot (we couldn't help ourselves J ).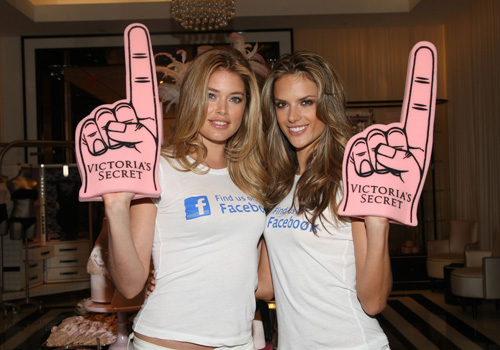 Alessandra with Doutzen Kroes (left)
By the time I left the store, I was already in need of another coffee break, so I picked up my second cappuccino at Starbucks on the way to my next meeting. I had a few hours of downtime in the afternoon so I headed back to my apartment for lunch with my sister. I love having her around... she's my biggest supporter and best friend. She made a huge salad for us and then joined me for my afternoon yoga class. I always try to get yoga in when I have some time to myself because it can get so crazy with my daughter Anja around. I made a call home to check in on her and then took a quick nap to re-energize before the night. I woke up around 4pm to find Doutzen outside my apartment door. It was already time for touch ups. I hosted a little beauty party in my apartment with our hair and make-up team helping us get ready for the Webby Awards later that night. I chose the most beautiful white Pierre Balmain dress with silver detailing on the top. I loved my dress...it makes a statement and you can't help but feel a little bit like a princess in it!
We accepted the People's Voice Webby Award for the Victoria's Secret Fashion Show Online Video Series. Since the fans themselves voted on this award, winning it felt like such an honor. I saw Sarah Silverman, Cameron Diaz and Jimmy Fallon won Webby Person of the Year. He looks much younger in person! I had a great time but by the end of the night I was definitely ready to get back home and just lounge on the couch. Not a bad way to end the day ;)
Popular in the Community