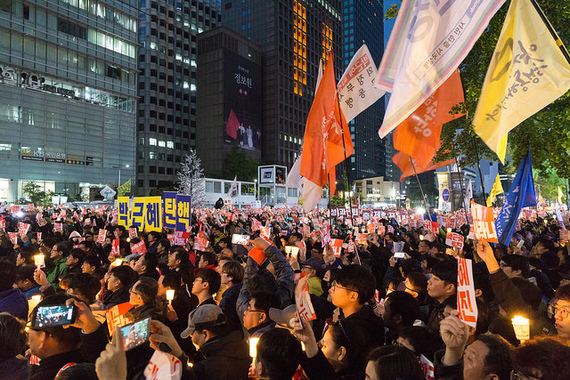 Cheonggye Plaza protest via Teddy Cross on FlickrSince news first broke about Park Geun-Hye's influence peddling scandal in October, overwhelming popular opposition meant that her impeachment was inevitable. It is a delicate time for South Korea to throw a presidential election into the mix, but that's exactly what Park's impeachment has achieved. President-elect Donald Trump has injected ambivalence into America's continued military support for regional allies, Pyongyang is getting increasingly bellicose as it barrels ahead with its efforts to develop nuclear missiles, and the historic "comfort women" agreement clinched last year between Tokyo and Seoul is now teetering on the brink. Worse, the impeachment opens the door for opposition figure Moon Jae-in to become South Korea's next president - a prospect that will see him overturn key aspects of Park's foreign policy commitments and throw the region into disarray.
While most South Koreans continue to celebrate the December 10 impeachment vote in parliament, the country's political leaders are sharpening their knives in anticipation of an early election, probably in the first quarter of 2017. Recent polls show that the two most likely contenders to win that election are the former Secretary General of the UN Ban Ki-moon, and Moon Jae-in, who until January 2016 was the chairman of the opposition Minjoo Party. While Ban Ki-moon has yet to officially throw his hat into the ring, Moon Jae-in will certainly be out to seek his revenge on Park and her conservative Saenuri party for the close defeat he suffered in 2012, which saw Park take the presidency.
With the Saenuri Party in disarray in the wake of Park's impeachment and the strong showing for Moon's Minjoo Party in parliamentary elections in April, there is a strong possibility that Moon could be the next president. Seeing how Moon harbors highly revisionist attitudes that pose dangers for the current trilateral alliance between the U.S., Japan and South Korea, tensions in the already volatile region can only rise.
Of particular concern is Moon's record of appeasing North Korea. According to the biography of Song Min-soon, who served as foreign minister under former president Roh Moo-hyun (to whom Moon was Chief of Staff), Roh's administration sought North Korea's opinion before abstaining from a UN vote in 2007 condemning Pyongyang's human rights abuses. Song alleges that Moon supported the idea - although when confronted, the latter has been evasive and has claimed that he does not remember how the decision was made. That Roh's Chief of Staff would not have been instrumental in this decision - which amounted to nothing short of a peace offering to Kim Jong-il's regime - stretches credulity.
While the Minjoo Party was founded some two and half years ago, most of its leaders are the same leaders that for 11 years opposed passing the North Korean Human Rights Act, choosing instead to direct their criticism at the opposition for "inciting" the North. This is especially worrisome given that during this time the North had shown nothing but bad faith in the six-party talks, continuing to stage nuclear tests and openly working towards developing intercontinental ballistic missiles. Taken in conjunction with the fact that Moon called for sanctions imposed on the North after the 2010 sinking of a South Korean warship to be dropped, at a time when the Kim Jong-un regime has been extraordinarily unruly, it is legitimate to wonder where Moon's loyalties reside.
Moon also seems to favor better relations with China. While Trump has softened his inflammatory stance towards South Korea and Japan over their perceived unwillingness to foot the bill for American troops stationed in the region, Moon has displayed a worrying disregard for it. The Minjoo Party is known for its criticism of the American security umbrella, but a recent delegation of Minjoo lawmakers who met in Beijing with their Chinese counterparts was particularly enraging. The topic discussed? Finding out "Chinese sentiments regarding THAAD", according to one of the lawmakers. The move attests that Minjoo is still susceptible to consult with foreign powers on matters of South Korean policy, thereby making South Korea susceptible to foreign pressure. To say the least, it is disconcerting to see Moon putting Beijing's concerns about the defense system threatening China's security above the security of South Koreans themselves.
When it comes to regional allies, on the other hand, Moon takes a hawkish stance. He has declared the 2015 "comfort women" agreement struck between South Korea and Japan after lengthy negotiations to be "null and void". Incidentally, Minjoo is in agreement with Pyongyang, which has called the deal "humiliating". By rejecting Tokyo's offer of one billion yen (US$8.3 million) in compensation for the remaining victims of Japan's wartime behavior during its colonial rule of Korea, Moon is rebuffing Japan's bid to present a united front against the shared enemy beyond the 38th parallel and driving a worrisome wedge between two strategic American allies.
If Moon comes to power, North Korea will have little incentive to halt its rapidly advancing nuclear program, and China may be in a stronger position to pressure Seoul into getting its way. Moon may prove himself incapable or unwilling to stand up to the North and defend his own people, undermining the stability and security of the region. As Park's impeachment has plunged Seoul into chaos, South Koreans may be in for a truly humiliating government indeed.
Related
Popular in the Community