It was a very bad week for the Army Corps of Engineers.
First, Bunnatine "Bunny" Greenhouse, former chief oversight official of contracts for Corps operations in Iraq received nearly a million dollar settlement after she was demoted 6 years ago for blowing the whistle on unfair awarding of a contract to Halliburton.
Days later, an academic watchdog group released a report excoriating Louisiana State University (LSU) for firing Dr. Ivor van Heerden who, immediately after Katrina, blamed the Corps of Engineers for the failure of the levees and the drowning of New Orleans.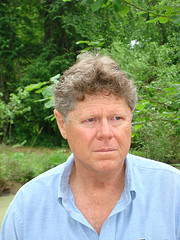 Dr. van Heerden claimed LSU officials retaliated against him because they feared losing funding.

Louisiana State University receives large federal grants from the Corps of Engineers.
The 30-page report prepared by the American Association of University Professionals (AAUP) revealed that LSU had a 'prevailing position' on the cause of the flooding and that Dr. van Heerden's research and public stance ran contrary to that position. In November 2005, Vice Chancellor Michael Ruffner wrote,

"...LSU will engage in helping with [the] recovery of Louisiana, not in pointing blame. The chancellor has begun initiatives toward this goal, and it would not be useful to have the university associated, intentionally or not, with efforts aimed at causation."
The AAUP report observed: "One such chancellor's initiative was published that same month, produced by Dr. Ruffner's office: LSU in the Eye of the Storm. Although the book concentrates on LSU's considerable contributions to relief efforts in the immediate aftermath of Katrina, it attributes the deaths and destruction to a "natural disaster.""
LSU's apparent 'prevailing position' that the flooding was a natural disaster was in direct conflict with the findings of the investigation, called Team Louisiana that Dr. van Heerden was leading with funding from the Louisiana State Department of Transportation.
Marcia Cooke, an adjunct math professor at Loyola University and a high school math teacher was surprised to hear that LSU had a 'prevailing position' at all regarding the deadly flooding.
"That remark both surprised and confused me, said Ms. Cooke. "I didn't think a state university had a job to promote a 'prevailing position.'"
She felt that it should be the opposite, that a university should be the arena where ideas are discussed, debated and researched.
"The university should be the referee making sure people do honest research and all ideas are heard," she said. "For a university to have a 'prevailing position' is a dangerous idea to society and is contrary to my notion of institutes of higher learning."
The full report by the AAUP can be found here.
Popular in the Community