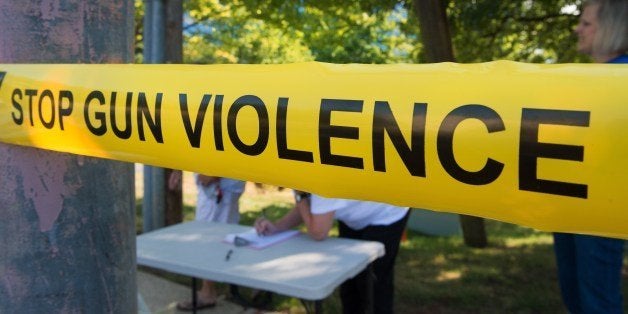 The NRA wants people to believe that its agenda -- guns for anyone, anywhere, anytime -- is as American as apple pie.
Only, the American public isn't buying it.
This week, gun lobby extremism went down to defeat in a number of venues, in a number of states.
Guns for anyone? Not in California.
Guns anywhere? Not in Arkansas.
Guns anytime? Not in Florida.
It's been a bad week for the NRA.
Consider what happened in California. You'd think we could all agree that someone who poses a significant danger to himself or herself or others shouldn't have a gun. At the same time, that person is entitled to due process.
That's why the particulars of California's new gun violence restraining order law are important. Lawmakers -- following the lead of states as diverse as Connecticut, Indiana, and Texas -- got it right.
California's law, which the governor signed on Tuesday, allows law enforcement or immediate family members to present evidence to a judge, who can order the police to take temporary custody of a person's guns for an emergency period. Unless there's a petition to hold the guns longer, the person will have his or her guns back after 21 days.
Now, both the police and family members can intervene in dangerous situations. More gun deaths -- both homicides and suicides -- can be prevented.
Of course, the NRA opposed the bill.
In California, no one was talking about banning guns -- just temporarily keeping guns away from people who have given police and/or loved ones cause for significant concern.
But according to the NRA, letting everyone -- felons, domestic abusers, the seriously mentally ill -- have guns is just the price we pay for our Second Amendment rights. According to the NRA, life-saving restrictions on gun ownership -- even court-ordered, temporary restrictions -- are unacceptable.
While the NRA has had success pushing its agenda in state legislatures over the years, it's met resistance on college campuses, where law enforcement and administrators agree that guns don't belong.
You can understand the reasons college officials don't want guns on campus. Think of those college ratings that magazines publish -- and parents consult --every year. Colleges don't want to be known as party schools, let alone places where people are carrying guns in classrooms and cafeterias.
The Arkansas legislature, in the NRA's infinite wisdom, last year passed a law permitting university faculty and staff to carry guns on campus. Schools in the state do have the right to opt out of campus carry. But if only to make opting out more onerous, Arkansas requires schools to take that step and opt out every year.
For the second straight year, the vote on campus was unanimous. Once again, the governing boards of every Arkansas college, university, and technical institute chose to prohibit guns.
And that's part of a pattern we're seeing across the country. The gun lobby makes a dedicated push in state legislatures to pass campus carry laws. Then, when schools can opt out of allowing guns on their property, they almost uniformly do so.
Guns for anyone, anywhere, anytime might sound good to the NRA and gun manufacturers -- but for the rest of us, it's not a sound or an appealing public policy.
An argument over loud music, for example, isn't the time to shoot someone. Justice was done in Florida this week, when a jury rejected Michael Dunn's "Stand Your Ground" defense and found him guilty of first-degree murder -- another high-profile blow to the "shoot first, ask questions later" mentality that NRA-backed Stand Your Ground laws help create.
With its losses adding up, the NRA's political arm is getting desperate. On Wednesday, PolitiFact gave a "Pants on Fire" rating to the ad the NRA is running against Senator Mary Landrieu of Louisiana. The Washington Post'sFact Checker gave it "Four Pinocchios" -- a perfect score for a perfectly misleading ad.
When you see or hear an NRA ad talking about someone trying to take away your gun rights, it's not true. As PolitiFact put it, it's fear mongering, plain and simple.
The truth is that the NRA's agenda is more guns, in more places, all the time. It's dangerous and deeply irresponsible -- and an ideology that elected officials, school administrators, and concerned citizens alike are increasingly rejecting.
And every time the NRA has a week as bad as this one, the American public wins.
Popular in the Community