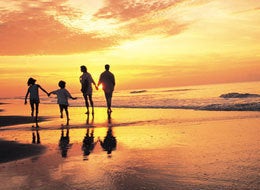 One of my goals for my Happiness Project is to do a better job of learning from experience. How can I do things better, next time? Also, one of my Twelve Commandments is to "Identify the problem," so I'm trying to be more mindful as I have experiences, so I can take steps to make myself happier, in the moment.
Here are some tips from my recent family trip to Denmark:
1.Start packing early. I made the odious task of packing for myself and my two daughters easier by starting a week in advance (the Big Man packed at 10 pm the night before we left). I brought the big suitcase into my bedroom, and whenever I thought of something (sunscreen, passports, adapter) I put it in. However, if you start packing early, you must...
2.Keep a list. I didn't, and that was a mistake. Because I was packing over the course of the week, by the end, I'd forgotten what I'd already put in. Had I packed the bathing suits, or not? In the end, I forgot to pack any socks for myself. I'd thought about doing it so many times, but I'd never actually done it. So make a list and check things off. This is a good idea, anyway.
3.Spend money where it helps. I was in utter bliss because I bought a new large backpack to use as my plane bag, which, because I was traveling with my kids, weighed about 100 pounds. Several years ago, my mother gave me a large, attractive bag to use as a plane bag, and I've used it ever since. But on my last trip, I realized: I would much prefer to use a backpack, that I could wear comfortably on my back, than to carry a heavy bag that pulls on one shoulder. I looked a bit silly, but I didn't care.
4.Pack almonds. Several months ago, on a family trip with my in-laws, I realized that my periodic bouts of crabbiness were related to hunger. I seem to get hungry much more often than most adults, and I'm also a very picky eater. For this trip, I packed a bag of almonds, and it made a huge difference in being able to maintain my mood. Almonds made a great travel snack, because they're light, don't crumble, don't stain, don't need preparation, and are filling and nutritious. The one downside: it's tempting to eat the entire bag at one sitting. I had to use some self-control to keep the bag going for the whole trip.
5.Return a day early. When I was growing up, we always returned from trips at the last minute, to eke out as much time as possible at whatever place we were visiting. But my in-laws plan their trips differently, and I've converted to their approach: they build in a re-entry day. On this trip, we came back on Saturday, so we had a day to sleep late, do errands, catch up on mail and email, re-stock the fridge, etc. The re-entry day made the trip shorter, but it made the overall vacation experience more enjoyable. It's no fun to go away for a relaxing week, but then find yourself stressed out again a few hours after you're back at home.
6.Unpack right away. The Big Man is adamant about this. The last thing I felt like doing when we arrived home from a week away was to tackle the unpacking, but he was right, we both felt much better when we'd put that task behind us. It made it a lot easier to unwind and enjoy being home.
What else? What have you learned about how to approach trips so that they're more fun?
Related