The azure Adriatic Sea, which cuts through Italy and the Balkans Peninsula, is home to some 3.5 million people. I visited the Balkans side, traveling from Slovenia down to Albania, Greece's northern neighbor. Below are highlights from the coastal journey.
Albania: American Odes and Colorful Cities
Stretching along the Adriatic coastline with long sandy beaches, Shengjin in Albania is a token Balkan resort town with an American twist. I was surprised to see a statue of former U.S. president Woodrow Wilson on the main pedestrian walkway, which was adorned with planted palm trees and grills selling giant hamburgers, pizza slices and coke. Wilson triumphantly stood up for tiny Albania's independence after World War I and, as a result, many babies born post-1919 were given his name. Shengjin, too, goes by the alternative name of Wilson.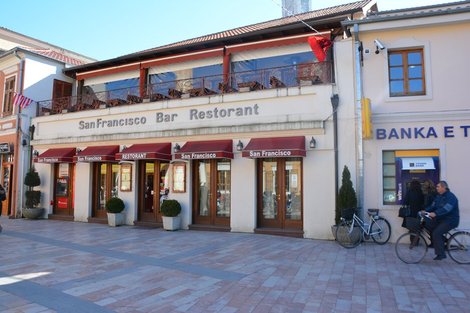 The ode to America echoes into the nearby Shkodër, the second largest city in Albania positioned by the sparkling Skader Lake. American flags are among the trinkets that street vendors display, and a restaurant called San Francisco serves seafood salads and fries. Centered in the city's bustling main drag, it was a perfect spot for people watching. Down the street is a statue of another Albanian hero, Mother Teresa, the famous Catholic nun who was born in Macedonia to Albanian parents. An apt reflection of Albania's religious diversity, it sits next to the grandiose Ebu Beker mosque.
We trekked up a steep hill to the ruins of the Rozafa Castle, which reveals a sweeping view of the city, lake, and Albanian Alps. Multi-colored buildings, part of a local governmental initiative to artistically paint over the old drab and grey Soviet buildings, looked vibrant below. Later we visited another stunning castle in Krujë, the first capital of Albania when it became an autonomous state in the Middle Ages.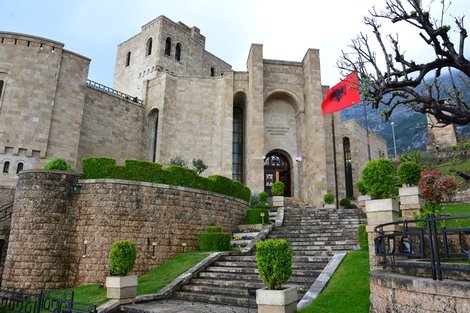 The most heavily bombed city in Bosnia and Herzegovina, Mostar is now a lively and beautiful destination that's an easy day-trip from Dubrovnik, Croatia. Its starkest symbol of resilience is its Stari Most (Old Bridge), which stood firmly over the crystalline Neretva river for 427 years until it was destroyed by Croat forces in 1993. Yet it was rebuilt in 2004, in part through original pieces gathered from the river.
Both sides of the bridge lead to the charming Old Bazaar, where vendors display a colorful array of scarves, handcrafted jewelry and brass elephant knick-knacks said to bring good luck. For over four centuries, brave souls have lined up to jump 27 meters in an annual bridge diving competition. One local man plunges daily for anyone who pays him 40 euros.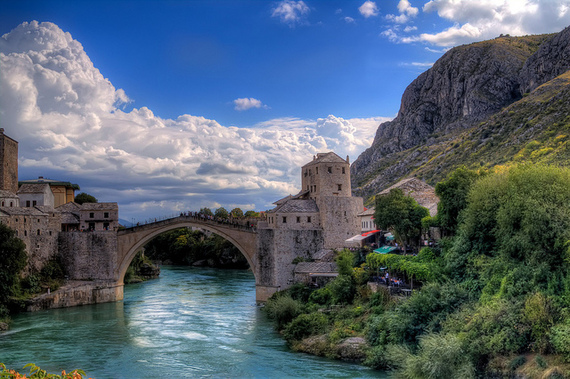 We sauntered through the cobblestone streets, listening to a chorus of mosque bells chiming at dusk. Bosnian Muslims make up 40 percent of the country's population, a result of the Ottoman conquest in the 15th and 16th centuries. The Turkish influence is also apparent in Bosnia's food and drink, such as the meat or spinach and cheese filled burek. For a pick-me-up, try the intense Bosnian coffee, an espresso-sized concoction with a robust flavor -- which to some will equate to being bitter and thick as mud. Most restaurants will carry the country's national dish, Ćevapi, or meat and lamb kebabs served with onions, sour cream, ajvar, and somun, Bosnian pita bread.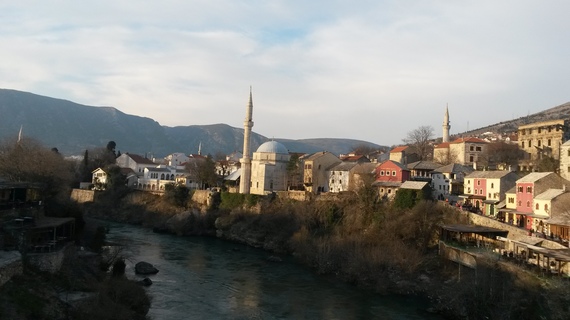 Montenegro: The lesser-recognized beauty of the Adriatic
I felt like I had been planted in a postcard when I first saw Kotor, a breezy Mediterranean port with Venetian style buildings that looks out to a fjord and lush mountains in the background. The feeling only magnified when I climbed 137 steps to an old fortress with a sweeping view of the Bay. I descended into the Old Town, a charming walled city and UNESCO World Heritage Site.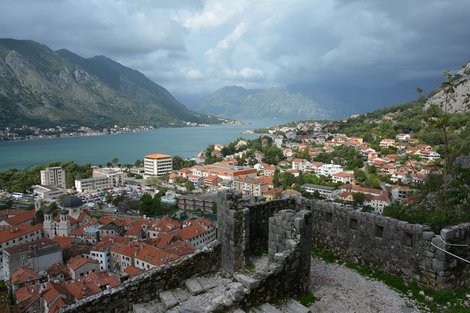 When we visited in March, nearby Budva seemed like a peaceful enclave, with a sparsely populated Stari Grad (Old Town) and idyllic wind-swept beaches. Yet come summer, party-goers descend upon its sleek all-night clubs, and the uber-rich rent out rooms in Sveti Stefan, a private island and resort where suites go for at least 800 euros a night.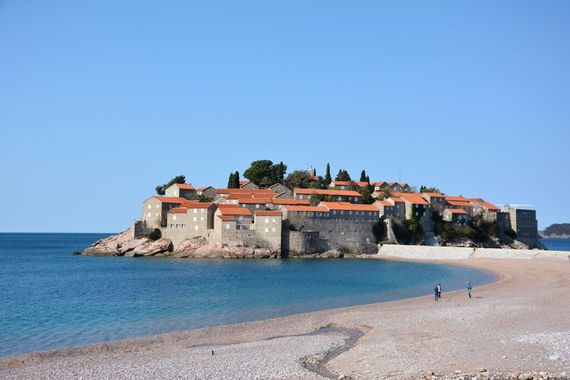 Budget-travelers can still bask on the surrounding scenic beaches in the summer, or sip a cappuccino or fresh-squeezed orange juice on its neighboring cliff-side cafe. We stayed at the Montenegro Hostel, which offers beds in spacious rooms for as low as eight euros a night, and has centrally-located branches in Kotor, Budva, and Podgorica, Montenegro's capital.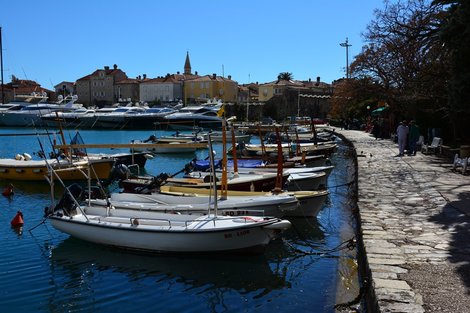 Istrian Peninsula: Seaside Slovenia and Croatia
The longest Peninsula in the Adriatic Sea, the Istria slopes down from Slovenia to Croatia. It's easy to confuse Piran, a medieval postcard-esque town jutting into the sea, with its neighboring Italy. Its narrow cobblestone streets wind past Venetian-style buildings and shops selling salt produced from the nearby Sečovlje saltpans. Restaurants dotting the iridescent coast serve handmade pasta topped with the Isria's famed truffle mushroom and decadent gelato in flavors ranging from pistachio to dark chocolate lavender.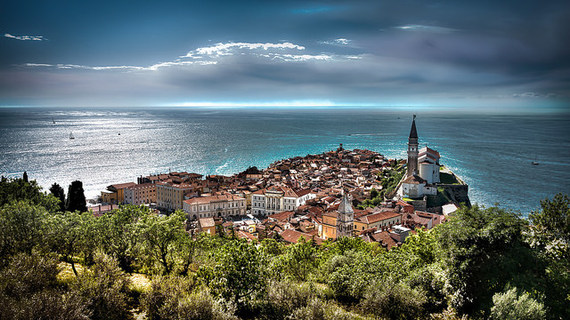 Head to the tip of the Istrian Peninsula to the Croatian town of Pula, a wind surfer's paradise famed for its wine production, seafood and extensive Roman ruins. Its Arena is one of the largest Roman amphitheaters. Not far away are abandoned Austro-Hungarian fortresses, which were constructed right before World War II when Pula was Europe's more fortified city. Ferries leave from neighboring Fažana to Brijuni National Park, a series of islands so stunning that former Yugoslavian leader Josip Tito made them his Official Summer Residence.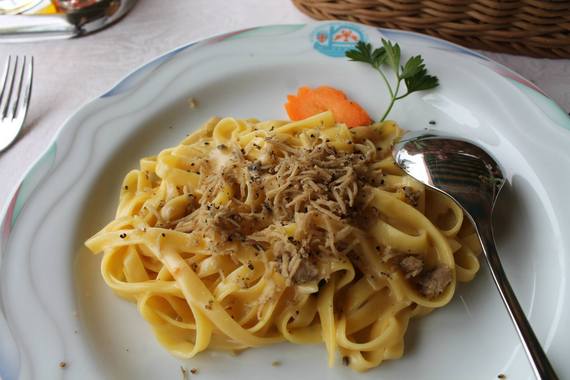 A version of this post originally appeared on the travel website Gogobot.

Photo credits: Albania: San Francisco restaurant and Kruja castle by Dean from Montenegro Hostel Travel Agency. Bosnia and Herzegovina: Stari Most by Clark and Kim Kays, Old Town by Rachel Stern. Montenegro: View from Kotor fortress and Sveti Stefan by Stephanie Lowe, Budva dock by Dean. Slovenia and Croatia: Istrian pasta dish with truffle mushrooms by Rachel Stern, Piran View by Bernd Thaller.