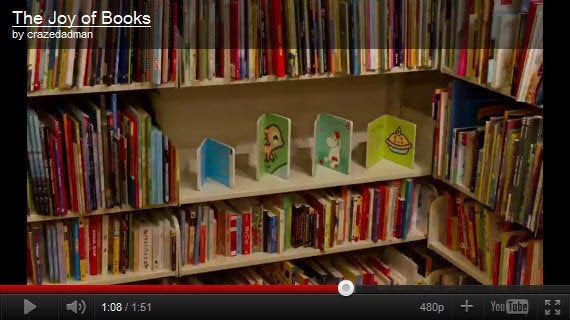 In early January Frommer Guides arranged for a New Orleans literary group to lead a band of booksellers on a "Literary Pub Crawl" of the Big Easy. The guide's spiel got more and more colorful after each watering hole. When asked about local eccentrics, he responded thus:
There are different ways of looking at eccentrics. In New York, they ignore them. In Los Angeles, they arrest them. But in New Orleans, we encourage them.
In a way, that was a metaphor for the independent booksellers who were gathered that week in New Orleans for the annual Winter Institute of the American Booksellers Association. If "eccentricity" can be defined as having a vision that departs from the conventional wisdom, then independent booksellers have it in abundance. An unexpected optimism was in full bloom among the booksellers at that meeting.
But how could that be? Independent booksellers have been written off for years by experts who sit in their offices and watch Main Street America from a distance. And there are plenty of statistics that seemingly support the doomsayers. In the 1990s the growth of chain bookstores led to a doubling of the amount of bookselling space in America without any growth in the number of readers. That -- along with a rash of unfair pricing tactics -- left many independent booksellers fallen by the wayside. A few years later, the growth of online bookselling had an even greater impact. Once again, there was an increase in cut-throat competition -- again with no real increase in the number of book-reading customers. But this time the casualties included the giant book chain Borders, which came crashing to the ground in 2011. And all of that occurred before the full advent of e-books.
So, why the optimism? What accounts for an upsurge in confidence among independent booksellers? In part, it's because of an increase in sales in many of these stores within the last quarter. Dollars coming through the door will do wonders to raise the spirits. There also seems to be a growing counter-trend in the U.S. of people shopping locally. A study by the Institute for Local Self-Reliance seems to bear this out. Many readers are apparently becoming "locavores" even when they're only buying food for the mind.
But another big reason for optimism is the influx of new stores and new owners into the business, bringing a spark of energy and new ideas. While we still cringe as older stores close their doors, many have taken heart from the talented and determined bunch of booksellers that are now coming into the business. Some of this new talent represents a new generation of owners arising from within the organization in stores like Bookshop Santa Cruz in Santa Cruz, California, Changing Hands Bookstore in Tempe, Arizona, or Northshire Books in Manchester Center, Vermont. In other cases the influx of energy comes from skilled and resourceful people who have purchased established stores like Harvard Books in Cambridge, Massachusetts, or Politics & Prose in Washington, D.C. And, in still other cases, there are visionary, intrepid owners who have had the courage to start new bookstores from scratch, like McNally Jackson Books, in Manhattan, the Avid Bookshop in Athens, Georgia, or Greenlight Bookstore in Brooklyn.
What do these and other booksellers see that spurs them on? They probably sense a growing return-to-their-roots attitude among many readers. While about a third of all books sold in America come from a narrow group of "best-sellers" stacked in piles in warehouse clubs, there are many more readers who crave a far greater selection than such clubs can offer. And the online world doesn't really fill that need. A book recommendation spewed out by a mindless, often senseless algorithm ("if you like this, then you'll like... ") tells you nothing of value. What these new booksellers see is that in a world awash with unfiltered data and anonymous opinions, readers have an increasing need for a face-to-face, honest relationship with a knowledgeable bookseller who might actually know who they are and what they like to read.
So maybe these new booksellers aren't eccentrics after all. Perhaps they've just taken to heart the words of the late John Updike in June 2006:
Booksellers, you are the salt of the book world. You are on the front line where, while the author cowers in his opium den, you encounter -- or "interface with," as we say now -- the rare and mysterious Americans who are willing to plunk down $25 for a book. Bookstores are lonely forts, spilling light onto the sidewalk. They civilize their neighborhoods.
REAL LIFE. REAL NEWS. REAL VOICES.
Help us tell more of the stories that matter from voices that too often remain unheard.