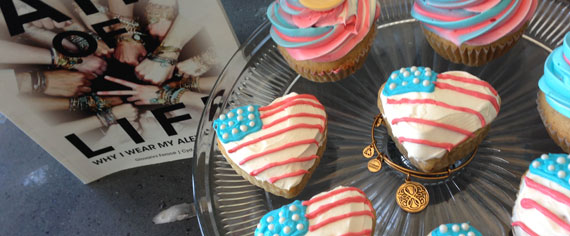 It all began a few months ago when some of the girls on my team started to wear the latest craze in bangles. I noticed the bangles immediately because they were not only visually interesting, but also made a pleasing-to-the-ear jingling sound. I was intrigued so I set out to learn more, which brought me to discover Alex and Ani.
Off I went to the nearest Alex and Ani store where I found, quite literally, a bangle for everyone -- from religious medals and inspirational words, to signs of the zodiac and your favorite sports team. The beauty of the bangles, beyond the obvious, was that you can create your own combination -- choosing charms that speak to you, pull at your heart strings, or give you courage or inspiration. As if that wasn't enough to make them appealing, each bangle came tagged with mini charms indicating Made in America with Love, Positive Energy, and Recycled Materials. I liked everything about all of this, and that's why I spent time looking through the entire collection and started to build my own personal statement with Alex and Ani bangles.
All of the bangles were complemented in the store by a display of books entitled, Path of Life: Why I Wear My Alex and Ani. I picked up the book to flip through it quickly and found it conveyed everything I was experiencing while choosing my bangles. With book and bangles in tow, I headed to the register.
I wore my new bangles to work and they came up in conversation. I work on an event in the book publishing industry called BookExpo America (BEA) and learned Alex and Ani was exhibiting at BEA next week. While talking about the unique bangles and the sentiment behind each one, a colleague turned to me and said, "We should do an Alex and Ani cupcake video!" (BEA launched a series of videos that pairs books with cupcakes. My team reads the book and our resident cupcake baker creates a unique cupcake inspired by the book.) So, we reached out to Alex and Ani with our cupcake video idea and they were excited and on board. We proceeded to set up the video shoot with CEO Giovanni Feroce at the Alex and Ani headquarters in Cranston, RI.
Check out the video below. I think you will enjoy learning more about the bangles, the book, and the cupcake! I like to think of them as an unusual trio that may inspire you in an unusual way. (If you want to meet the Alex and Ani team at BEA, you can do so on Power Reader Day at BEA, Saturday, June 1, Javits Center, NYC when BEA opens its doors to the public.)
REAL LIFE. REAL NEWS. REAL VOICES.
Help us tell more of the stories that matter from voices that too often remain unheard.