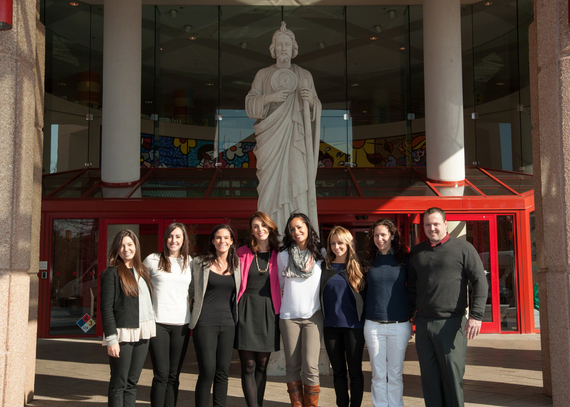 In the heart of Memphis, Tennessee, stands St. Jude Children's Research Hospital. The nonprofit was founded in 1962 on the premise that, "No child should die in the dawn of life," and is committed to finding cures and saving lives of children with cancer and other life-threatening diseases. Each day, countless families arrive in their darkest hours, searching for a way back into the light. To these children, their parents, and the doctors who treat them, St. Jude isn't simply a hospital, it is a beacon of hope when seemingly all is lost.
 
It was hope that one family from Massachusetts was looking for in November 2009 after having had their daughter Jordyn undergo several rounds of treatment for acute lymphoblastic leukemia (ALL), the most common form of childhood cancer. After failed attempt after failed attempt to cure Jordyn's disease, doctors said she was out of treatment options and should return home to live out her final weeks of life in peace.
 
"There's got to be something else." Jordyn's mom remembers thinking. One day, Jordyn's parents saw a commercial on TV for St. Jude Children's Research Hospital that featured Jennifer Aniston and a little girl who looked to be Jordyn's age. St. Jude had helped save that little girls life, and Jordyns mother was determined for them to do the same for her daughter.
 
Thanks to St Judes revolutionary transplant procedure, Jordyn's father was able to donate cells to his daughter making the bone marrow transplant a success.
 
"St. Jude has given us the gift of life," said her mom. "We're truly grateful." Today, Jordyn visits St. Jude for regular checkups. Now 13 years old, Jordyn continues to thrive.
 
Treatments invented at St. Jude have helped push the overall childhood cancer survival rate from 20 percent to more 80 percent since St. Jude opened more than 50 years ago, making stories like Jordyn's less of a rarity and more of a reality.
 
Its stories like Jordyn's that inspired members of Boston's financial community to host the upcoming 5th annual Invest in Hope Gala for St. Jude Children's Research Hospital.
 
After six event committee members toured St. Jude Children's Research Hospital last week, I was given the opportunity to interview them and hear their stories.
 
"The hallways are painted from floor to ceiling with the most beautiful murals and in those passageways you see the hopeful faces of patients and parents. I say hope because that is what is in their eyes - not fear. Children come to St Jude Children's Research Hospital with the rarest forms of catastrophic diseases and are welcomed with open arms. A support team of doctors, specialists and counselors offer their commitment that everything that can be done will be done to treat these children without requiring one dollar of payment from their families. It is the unwavering dedication that truly inspires me and has made me a St Jude supporter for life," said Diana Wood of Sanford C. Bernstein.
 
It is inspiration that Patty Santorella of Clough Capital Partners shares with fellow co-chair Diana Wood. "What takes place within the walls of St. Jude Children's Research Hospital is nothing short of remarkable.  Where I thought I'd find sadness, I found hope; where I expected to see fear, I saw courage; and where I was certain to find despair, I instead found inspiration," she said.
 
Last year's St. Jude Invest in Hope Gala attracted nearly 400 guests and raised $550,000 to help ensure families never receive a bill from St. Jude Children's Research Hospital for anything - treatment, travel, housing or food. The motivation to continue to support the hospital's lifesaving mission remains strong. Money raised will help fund the research and treatment offered at St. Jude - giving countless children more hope for tomorrow.
On Thursday, Feb. 12, join Boston's associates and myself in the fight to give the children of St Jude a chance to see the dawn of a new day.

"Do not go gentle into that good night, old age should burn and rave at close of day; rage, rage against the dying of the light." -Dylan Thomas
Calling all HuffPost superfans!
Sign up for membership to become a founding member and help shape HuffPost's next chapter