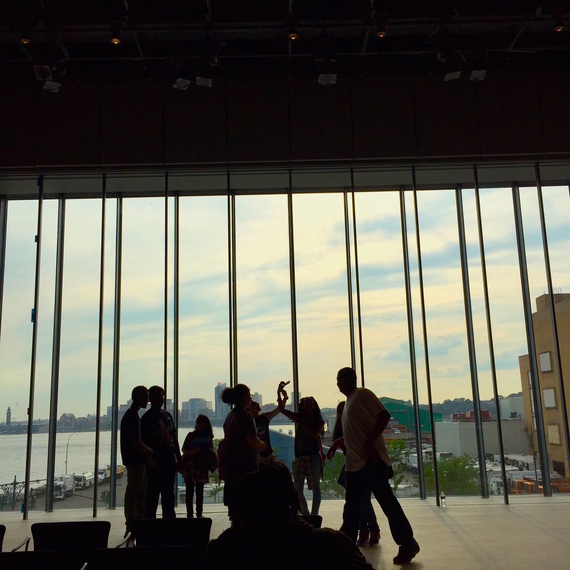 "What does the skull say to you,?" asked Justin, a New York City high school student.
"It's got some hair coming down over his eye, it looks evil and scary," answered a middle aged man.
"There's something funky about that nose," a young woman said.
"That's actually a mustache and I'm glad you brought it up, but I'll get back to that in a minute," said Justin tapping as he tapped a small stack of index cards with his thumb..
"You sir?", Justin asked, pointing to an older looking gentleman standing with his arms across his chest.
"With those horns sticking up from the helmet, it looks like the devil himself," said the man who slowly emphasized the "devil himself."
"Mmm hmm, Satan," said an older woman sitting next to me.
Justin speaks at a gentle pace, enunciating each syllable with humble yet assured determination. Dressed in pressed black slacks, a crisp blue button down and shiny black shoes, Justin has clearly mastered the art of leading a thoughtful Q&A. Justin is a sophomore at the Gotham Professional Arts Academy, a small arts-themed, college-preparatory public high school in Bedford Stuyvesant Brooklyn.
His academic exercise one night this past May focused on a piece of art hanging at the new Whitney Museum in Manhattan's meatpacking district. Justin's work fulfills a requirement that's part of the school's alternative curriculum.
Earlier that evening, around 40 Gotham students, assorted parents and friends such as myself, gathered with faculty members and students around the painting by the artist Hugo Gellert called Religion of Darkness.
With its purplish helmet, red horns and a mustached skull with a bloody looking ax to boot, at first glance, the work has the feel of a 90's goth band CD cover.
But as Justin explained, the screenprint and lithograph was created during a dark period for the western the world, the height of World War Two's most scarring atrocities.
Today, Religion of Darkness is part of the Whitney Museum's permanent collection where it hangs in one of the museum's galleries at its splendid new inviting downtown location.
It was breezy outside the museum that day. As the afternoon turned to evening, the sun was casting the last of its golden rays over the cobblestone paved neighborhood. Conversations blent with clicking plates and glasses as well heeled outdoor diners and drinkers partook in spring convivialities.
Cabs dropped off style conscious patrons who slipped into crowds at seen and be seen places such as the Standard Hotel. Selfie picture poles craned up along the tourist heavy High Line. And all throughout the new two hundred thousand square-foot Renzo Piano designed Whitney, an inviting and open palace of art that has further anointed New York City's cultural shift downtown from uptown, it was packed with patrons.
And as always tends to happen when a crowd gathers for any reason whatsover in New York City, a secondary group paused and listened just to see what was going on around Justin.
So by the time he told the group that Hugo Gellert had been born in Hungary in 1892, several other museum goers were listening in. Gellert actually moved with his family to the United States in 1906. He was a committed socialist who blended politics with art. His murals and illustrations, the work he is best known for, stirred praise and controversy.
Justin told us that when Gellert created Religion of Darkness in 1943, Hungary was occupied by the Axis powers. Historic estimates put Hungary's World War Two losses at around 300,000 dead soldiers, with another 450,000 civilians, a vast majority of those jews, killed by nazi atrocities.
"As the questioner said the horns on the head get collaborated with religion, the horns bring up the devil," said Justin.
Justin then told the group that the helmet"s short horns, were also similar to those worn by the germanic norse vikings. He said vikings were typically portrayed by as invaders .
And then he asked the group, "Why do you think Gellert chose to use a helmet that is associated with less civilized people."
"Maybe he's trying to say that history repeats itself, " said one of Justin's classmates.
Gotham Professional Arts Academy Requirement
Six students from Gotham Professional Arts Academy were at the Whitney that night leading inquiry investigative discussions on individual pieces of art. Three were fulfilling a requirement called a PBAT, or performance based assessment test, a required step towards graduation. Three more Gotham students, including Justin, were doing prerequisite work, a step towards taking on the PBAT.
The school has had an ongoing special relationship with the Whitney since Gotham's founding eight years ago according to Pauline Noyles, director of school programming at the Whitney.
Through the Gotham partnership, The Whitney also seeks to connect talented and underserved students to an educational and career path in the arts. Using the Whitney as a starting point, the museum supports students, staff, and the school community in developing ownership of their city's cultural resources.
Gotham students are granted access to the art, as well as museum educators who teach the students how to conduct research and develop a more critical eye. Gotham also has its own full time art teacher who teaches students to decipher the bigger message within the art as well as the historical color and facts that influence it.
For the PBAT presentations, the students settle on one piece of art in advance.
Although it's a public school, Gotham Professional Arts Academy has a Regents waiver which means teachers don't teach to standardized tests. Instead, the students must complete five performance-based tasks like research papers, original science experiments, applied math problems. Graduates do receive regents diploma.
The small school is located on one floor of the PS 40 building at 265 Ralph Ave. in Bedford Stuyvesant Brooklyn. The school as an advisory system to support students on their path to graduation, and to ensure that students can access academic support when they need it.
"Classes are centered on an inquiry approach to teaching and learning: students read and write and discuss and debate on their path to mastery," said my old friend, the founder of Gotham Professional Arts Academy, Alex White.
He said the school literally uses the city as its classroom taking frequent field work trips as part of classes.
White says the partnerships with cultural organizations like the Whitney, Bailey's Café, and Reel Works provide students with extracurricular opportunities to expand their arts education.
Before the presentations started, Alex told me what would happen that night.
"They aren't going to tell you what to see, they are going to invite you to participate in a collaborative investigation," said White.
He said they won't be lecturing as the traditional teacher student role commands, instead, they'll be questioning the group.
As Justin continued his discussion on the Gellert piece, someone once again asked about the mustache.
"I personally believe, Gellert was attempting to mock Hitler," Justin said of Gellert, an artist who historians say was deeply opposed to war.
Justin also told us that he had chosen the work at first, because its strong colors, the blue hues, the reds and grays.
But as he began to better understand the work's darker message, he also couldn't help but personalize its significance.
"Once I realized the Hitler message, it made me think of my Grandfather who fought in World War Two against the nazis," Justin explained, his voice cracking slightly.
It made the fear and anger someone might have felt back then more real to me, Justin said.
Later, another student, a senior named Tiffany, led us through a discussion about a piece that's literally more close to home.
"Before I present, I'd like ya'll come up and see it. Try to not to get up to close, but closer so you can see what's going on," said Tiffany, a senior doing her PBAC.
And older woman asked "what is that?"
"Luna Park," Tiffany explained with calm certitude and infectious charm. Then, with a sweet drawl, she asked everyone what they saw in the painting's geometric shapes, and its wildly popping colors.
She told us that Luna Park is a 1913 depiction of the Coney Island Amusement Park. It was painted by the futurist artist Joseph Stella.
In 1913, the light bulb was relatively new, having just been patented in 1880. In 1913, some people considered Coney Island to be one of the brightest places on earth.
"The colors grab your attention, they pop at you," said a student in the group.
.
"So when y'all look at all of these colors, how does it make you feel?," asked Tiffany.
One person said, "happy."
"I think he picks up on the excitement of the period," White said, jumping into the discussion.
The school's founder said he doesn't see the work as a literal interpretation, but instead, more of a representation of the feelings people were having about the future back then.
"Modern technology, energy, this work was sort of an homage to light, energy maybe technology," said White.
Born in Italy in 1877, the artist Joseph Stella came to New York City at age 20 to study medicine. Instead, he pursued art, earning notoriety for his Futurist works that portray icons of the city in fantastical, "kaleidoscopic" colors.
Quite simply, Stella recognized the excitement and potential of the future.
"What do you think was Stella's message or emotion,?" Tiffany said.
"Luna Park might have been one of the first places he came to in NYC after living in a small town in Italy," said a woman in the group who added, "Luna Park might have been a special and exciting place to him, maybe it was one of the first places he saw in New York and all the opportunity the city held back then."
New York City and the Promise of Public Education

Later, during an elevator ride back to the third floor auditorium where everyone would gather for the closing of Gotham's night at the Whitney, Alex White talked with me more about the concept of the futurists, describing the excitement that motivated their work, the idea that all was possible, that technology and innovation would enable a world where electrification would be common, where cities would glow as beacons of hope and promise.
Gotham Professional Arts Academy clearly has its challenges. In 2014, Sixty two percent of its students graduated within four years compared to 73% citywide according to Inside Schools, a project from the Center for York City Affairs and the New School.
One hundred percent of Gotham Professional Academy's just over 200 students are free school lunch eligible. Gotham's student body largely reflects its surrounding neighborhood; around 83 percent black, 16% Latino and one percent Asian.
Despite a years long drop in crime citywide, the school is located in what is still considered one of New York City's more dangerous neighborhoods.
White told Inside Schools that many of his students come in ill-prepared to do high school work. Most attend a short summer bridge for an introduction to school routines and an assessment of their reading and math skills. The pace of instruction can be slow, but understanding concepts takes precedence over plowing through the curriculum.
"One of the things we're most proud of is the tone in the school." "Most students hug each other when they come in, they hug the safety agent," he told Inside Schools.
On the Inside School's Learning Environment Survey, students say they feel safer inside the school than outside. The surrounding neighborhood is crime-ridden, White said. "We've worked very hard to make it a safe space in the neighborhood."
And that in itself is beyond commendable.
Truth be told, for all the wealth, influence and power that's concentrated in New York City, we have yet to correct the unfortunate, unfair and broken state of many of our public high schools, most especially those located in poorer neighborhoods. The culture of poverty is alive and well in many of our city's less affluent neighborhoods, the ladders of opportunity simply aren't as available in those communities and ultimately, that's a shame on us all.
But on this night as everyone settled into their seats in the auditorium at the Whitney, as the sunset's remaining hint of gold light slipped away from Manhattan's view, the students and family members from this small school in Bedford Stuyvesant Brooklyn celebrated their achievements and the promise of our big city filled with futurists. It is still an exciting time.
REAL LIFE. REAL NEWS. REAL VOICES.
Help us tell more of the stories that matter from voices that too often remain unheard.