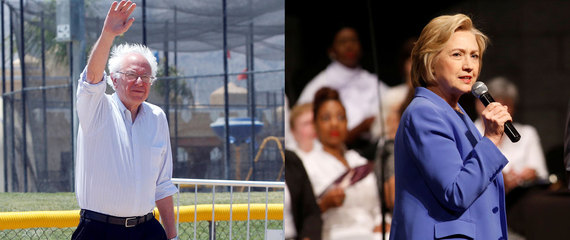 Considering Clinton handily won the 2008 California primary against Barack Obama, she was clearly hoping for a repeat performance as she likely becomes the presumptive Democratic nominee on June 7th (although superdelegates do not officially vote until the convention in July).
The crosstabs of the poll reveal interesting details--Sanders is performing well in his usual demographic of young voters, but he is also doing much better than usual with minority voters. In fact, he is winning nonwhite voters 47 to 46 percent, although losing Latino voters overall by nine points.
This indicates an extremely good performance with Asian-American voters and an above-average performance with African-American voters. The San Jose Mercury News explains that this is likely due to California's low median age: "It's counterintuitive based on what we've seen from other states, but that is what is so interesting and different about California," notes PPIC President Marc Baldassare. "If you connect all the dots here, we're a diverse state with a youthful immigrant population, and Sanders has such strength among youthful voters."
California's median age is a relatively young 33 years old--and we know Sanders has done very well with voters under 45 for this entire election.
As with most primaries, if Sanders can generate enough youth enthusiasm to get out the vote, and if high numbers of Independent voters participate, he could undoubtedly pull off a win in California.
This would be terrible for Clinton and demonstrate exactly how divided Democrats are between the two candidates, even this late in the game. Sanders has swept much of the Midwest, Pacific Northwest, and West Coast, while Clinton has had successes primarily in the South and Northeast.
The ideological divide between Democrats in the U.S. is unmistakable when you look at a map of their respective wins--and it's not a positive sign for Clinton's general election chances.
For someone who has been losing ground to Trump in many recent polls, it's become obvious that she needs Sanders voters who are simply not coming on board.
According to analysis by the New York Times, "The most recent wave of national surveys shows Mrs. Clinton winning just 55 to 72 percent of Mr. Sanders's supporters. She's faring far worse among young and liberal voters than one would expect."
If Clinton cannot gain the support of all the Democrats, along with a moderate number of Independents for the general election, she will fare very poorly against Trump.
A Sanders win in California would truly unearth the weaknesses that lie in Clinton's candidacy; she has difficulty with crucial blocs of Democratic-leaning voters, and that should be a troubling reality for Clinton-backers.
Calling all HuffPost superfans!
Sign up for membership to become a founding member and help shape HuffPost's next chapter