How time flies! It feels like just the other day that we united in celebration of the new global development framework - Agenda 2030 - which would become our road map to a better future for all. This new agenda placed achieving sustainable and universal development firmly on our agenda, and our to-do lists become a lot fuller. Governments around the world joined in their commitment to this framework and we all congratulated this incredible achievement. The world was emboldened by this ambitious, progressive agenda for global change. Yet here we are, a year on, and it's the time to realise these commitments and keep our promises.
For us here at End Water Poverty, and all those within the water, sanitation and hygiene (WASH) sector, we had several reasons to celebrate this momentous occasion. Not only did we secure a dedicated goal on water and sanitation - Goal 6 - within the new agenda, but we also made significant and progressive achievements in several other key areas. Hygiene has now been registered as a vital component in improving people's lives and included in the targets within Goal 6. And the Sustainable Development Goals (SDGs) are also directly aligned with the human rights to water and sanitation standards and principles. In fact, human rights form the basis for the whole of Agenda 2030, which is a fundamental transformation from the Millennium Development Goals (MDGs) of the past.
"We envisage a world of universal respect for human rights and human dignity, the rule of law, justice, equality and non-discrimination ..." Transforming our World: the 2030 Agenda for Sustainable Development, A/RES/70/1, United Nations.
Once the excitement settled down following the United Nations General Assembly (UNGA) in September 2015, it has been a period of adjustment to understand our new reality, and the scale of our commitments. This is an ambitious agenda and we can see the world we want ahead. In order to achieve this however, we all will have to work together.
The significance of water and sanitation is evident throughout the new Development Framework. There is a dynamic interdependence between water and sanitation and so many of the other goals; including ensuring healthy lives and well-being for all (Goal 3), achieving gender equality (Goal 5), through to making cities inclusive, safe and sustainable (Goal 11) and combating climate change (Goal 13). For example, protecting people from water borne diseases not only contributes to Goal 3 of good health, but also increases society's overall productivity, and therefore contributes to Goal 8 of economic development. Given the essential nature of safe drinking water, sanitation and hygiene for an adequate standard of living, the elimination of inequalities in accessing these services, and moving towards universal access will be critical to the achievement of our new Agenda.
Through the MDGs, we made significant strides towards the ultimate goal of improving people's lives. Despite this progress, not enough has been done. We still face the reality that more than 650 million people don't have access to improved water, and more than 2.3 billion people around the world lack access to improved sanitation facilities. That's one in three people. Progress has also been very unequal, and for the world's most vulnerable and marginalised people, very little has changed. We still live in a world where women and girls struggle every day to safely manage their menstrual hygiene and health; where too many children still die as a result of undernutrition. This has to stop. We have to end poverty and inequality in all forms, and equitable access to water and sanitation is central to this aim.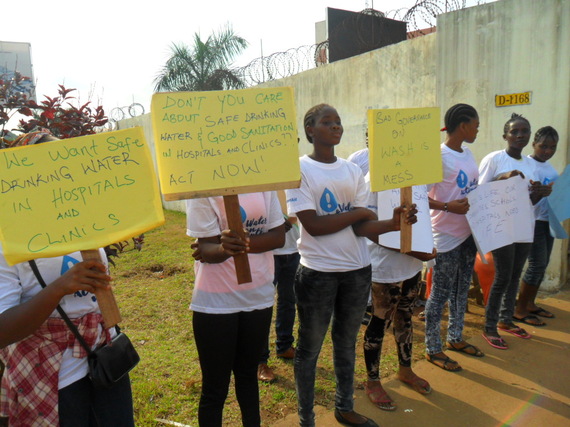 Humans are capable of incredible things, and achieving this new agenda can be one such feat. There is no doubt that humanity in the future will look back to this ambitious decision and say 'yes, we were right!'. Implementing progressive plans, with effective monitoring systems, will be of critical importance for national governments to be able to achieve the goals.
Under the theme of 'The Sustainable Development Goals: a universal push to transform our world', this year again we come together for UNGA, an important time for governments to discuss and plan how they are working towards achieving their commitments. This serves as a reminder of the urgent action that is required. Now is the time to push for greater civil society participation, as including a wide range of stakeholders will be fundamental to achieve the change we want to see, within the timeframe we have left.
This new agenda must be for the people, and owned by the people. Citizen power and partnerships will be critical for a revolution, and a revolution is what we need. We have had a good, but slow start. Change must not just be on paper - the global goals must be achieved. Now is the time for 'business unusual'! We have to target the most marginalised and vulnerable from the very beginning. Early and effective implementation, with practical action on the ground needs to be prioritised. The energy and momentum seen over the past year must be maintained, as we are up against a ticking clock. Fourteen years will go by quickly. Now is the time for action and to ensure that we truly leave no one behind. Together, for a better future!
Established in 2008, End Water Poverty is a global civil society coalition advocating to end the water and sanitation crisis. We are united by our dedication to ensuring universal access to sustainable water, sanitation and hygiene for all. Join us in March 2017 for Water Action Month as we call for a better future for all! For further information visit us online and follow us on Twitter @EndWaterPoverty and Facebook
This post is part of a series produced by The Huffington Post to mark the occasion of the one-year anniversary of the adoption of the Sustainable Development Goals (SDGs, or, officially, "Transforming Our World: the 2030 Agenda for Sustainable Development"). The SDGs represent an historic agreement -- a wide-ranging roadmap to sustainability covering 17 goals and 169 targets -- but stakeholders must also be held accountable for their commitments. To see all the posts in the series, visit here.
Calling all HuffPost superfans!
Sign up for membership to become a founding member and help shape HuffPost's next chapter