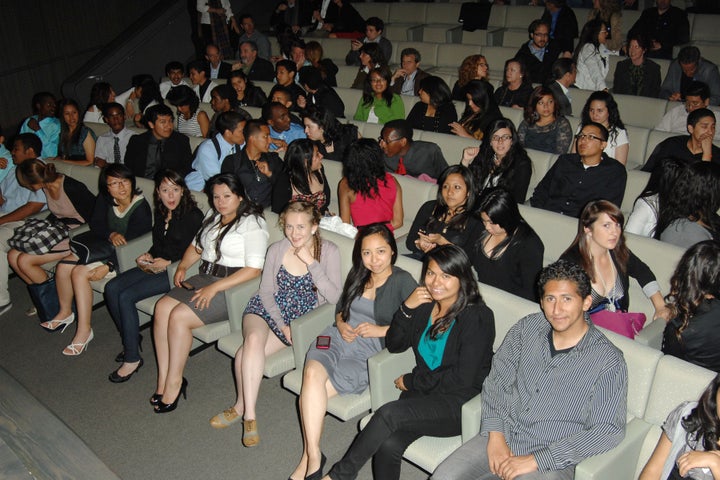 "A Better Life," directed by Chris Weitz, chronicles the struggles of an undocumented landscaper in Los Angeles trying to protect his teen son from gangs, poverty and a broken education system. When first screened yesterday evening at the Museum of Tolerance in advance of its Los Angeles Film Festival debut, the audience included Mayor Antonio Villaraigosa, the director and actors Demian Bichir and Jose Julian -- and 75 high school seniors.
The film hit home for many in the graduating class of Gertz-Ressler High Academy, who were the honorary guests of producer Jami Gertz (the school is named after Gertz and her husband Anthony Ressler).
Weitz directed the film as "love letter to Los Angeles" and depicted a side of the metropolis often not seen in Hollywood. Set in neighborhoods like South Central, Boyle Heights, and Bell, the film offers a sentimental and often nostalgic perspective of Los Angeles' oft-ignored South and East sides.
Jax Grande, a student who lives in the Crenshaw district of South Central, said she felt "honored" that she was invited to the screening but feared that the film would be rife with "stereotypes and generalizations" about immigrant communities in South LA. Grande ended up identifying with the teen son in the movie and pointed out, "you don't have to go to a ghetto school" to see a kid rebelling against his father.
When Grande was in ninth grade, she threatened to run away after her mother enrolled her in the academically rigorous Gertz-Ressler High Academy. She explained, "I didn't want to be apart from my friends and I wasn't the type of person to really care about school." Now she's bound for the University of Redlands and says, "I'm really grateful my mom forced me to come to this school ... I think about what I would have been if I hadn't gone there."
One student told HuffPost, "I haven't seen a movie this good in years and years." Citing a personal connection to the issues in the film, he admitted, "I'm afraid if I don't say 'I love you' to my Mom or my Dad while they're getting ready to go work, it could be the last time I'll be able to say it to them."
Like the main characters in "A Better Life" and about four million children in the United States, the student, who spoke on the condition of anonymity, lives with at least one undocumented parent -- and all the pressures and fears that come along with that status. Bound for UC Berkeley after graduation, he knows that any day could be the day his parents are detained and deported by U.S. immigration officers. He said of the film, "it's like [the director] is playing my memories" -- or more ominously -- filming "some kind of future that could happen to me."