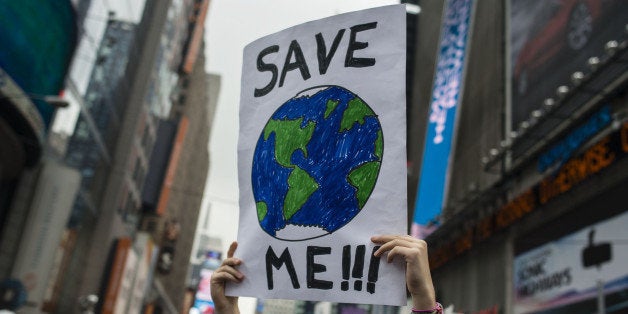 Native Americans have a saying: "We don't inherit the world from our ancestors. We borrow it from our children."
Ask any parent what we want for our children, and invariably we say "a better life." To that end, we give our time, our sleep, our money, and our dreams, much as our parents did before us. We all want a better life for our children. But what we want for them ceases to matter if we leave them an unlivable world. On Sept. 21st, a record breaking gathering of 400,000 people from all walks of life took to the streets of New York City demanding bold global action on climate change, not just for ourselves, but for our children, and the countless generations of children to come. The 400,000 who marched in New York and the hundreds of thousands who joined around the world, did so ahead of the U.N. Leaders Summit on Climate Change.
This summit is an opportunity for world leaders to focus on how to slash carbon emissions worldwide so we can avoids worst-case climate disasters, and find ways to cope with the impacts we can no longer avoid. Previous summits have fallen far short of these goals. We can't afford another failure. Not now. We already know that the planet we leave to our children won't be the same one our parents left us. Our children -- and theirs -- will have to pay for the economic benefits and lifestyles cheap energy has afforded many of us.
Even if we stopped burning fossil fuels tomorrow, the world would continue to warm for centuries. But we have chosen to bring future generations into this world of rising seas and warming temperatures, droughts and floods, heat waves and wildfires, a world in which one in four mammals and one in eight birds are at risk of disappearing forever. While the damage we've done is irreversible, that doesn't give us the right to do nothing. What we owe future generations is the subject of growing debate by economists, philosophers, ethicists, public policymakers, and academics of all stripes. But for me as a mother, the moral implications are very clear. We owe them clean air and fresh water, a healthy planet and a secure future. We won't be able to give them any of that unless we fully address climate change. That's why the historic event of The People's Climate March was such an important opportunity to demonstrate our commitment in a show of strength and resolve that no government can ignore. Now we need government leaders to step up for what we want for our children: A better life. Nothing less will do.
REAL LIFE. REAL NEWS. REAL VOICES.
Help us tell more of the stories that matter from voices that too often remain unheard.