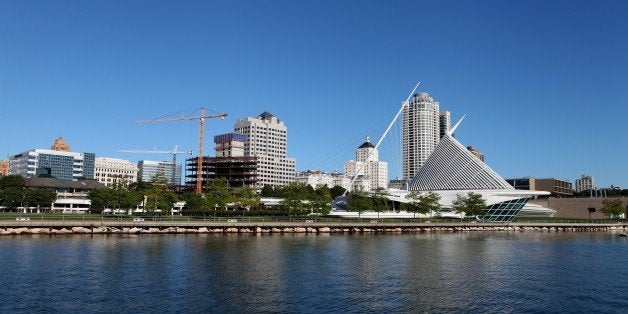 I was meant to serve. As the child of a police officer and a paramedic and the grandchild of war veterans, service was in my blood. Caring deeply about others was in my soul. My first word was even "justice." (This is likely because my German Sheperd puppy was named Justice, but still.)
As a child, my neighborhood friends included retirees Toni and Lynn; I'd ride my big wheel to their front door and stop in for a weekly chat or help out with their rummage sale. I was five. In school, I wanted to raise the most money and bring the most canned goods to help others. As a high school junior, I led a tutoring program at a Waukesha elementary school. I volunteered every summer at a camp for children with muscular dystrophy and started a statewide fundraiser to benefit MDA. I was a community service chair for student council in high school and my sorority in college. I knew how to serve.
And yet, despite all of this, it wasn't until I was a year out of college that I learned about AmeriCorps. I was 23 and nearing a point of desperation, holding a college degree but no job to show for it. It was this desperation that drove me 1500 miles from my collegiate home in Lincoln, NE to accept an AmeriCorps position in Providence, RI. It was the best thing to happen to me, but I still don't understand how a community-minded, service-driven young person didn't know about the option to serve full time until stumbling across a position buried in a job search engine listing.
What if my high school counselor had suggested I attend a university that matches the AmeriCorps education award?
What if the college career services office had listened to me say "I'm interested in the Peace Corps, but would rather stay in the country" and responded with the option of national service?
What if every job description I read listed "AmeriCorps or national service alumni highly preferred" under Qualifications?
What if, instead of asking me where I was going to college, people asked where I was going to serve?
Each year, 14,000 college graduates leave Milwaukee. We're a city that wants to be known for revitalization, innovation and transformation, but we're losing the talent that could get us there. As a college graduate, I was searching for work in Milwaukee, closer to my hometown, but had to move across the country for the opportunity to serve, and not for lack of need. Milwaukee is one of the most segregated American cities with one of the largest income disparities between black and white households. The unemployment rate among African-Americans is reported to be 17.6 percent. We keep searching for a solution to these problems and are overlooking the opportunities that lie in national service.
Nearly one million Americans have served our country as AmeriCorps members. They've spent a year in full-time service working to support education, alleviate poverty, respond to natural disasters, provide access to healthcare, improve literacy, and build communities. In Milwaukee, there are small but mighty examples of great work being done by AmeriCorps members at organizations like College Possible, City Year, Habitat for Humanity, the Sixteenth Street Community Health Center and dozens more. These AmeriCorps members are college graduates who otherwise would have moved away; a local high school graduate seeking professional experience. They are talented young people gaining skills and experience that arguably accelerate them beyond their peers in comparable entry-level positions who are also providing necessary services and interventions to our city's most vulnerable communities. National service isn't creating volunteers, it's creating engaged citizens, and we need more of them.
I am on a mission to help make a service year a civic right of passage for every young person in our community, and to resource this mission, I am serving as a Franklin Project Ambassador representing Milwaukee. The Franklin Project envisions a future in which a year of full time national service a cultural expectation for every young American. There are 45 ambassadors representing 35 American cities, all working together to make our homes a place where service is common and impactful. I believe the service experience will cause brain gain; our college-educated talent will understand their role in making our city better. The service experience will create opportunity; our high school graduates can serve to earn funds for continued education and build skills necessary for career readiness.
We all have a role to play in supporting the next generation of Milwaukeeans. Today it can start with your organization signing on as an Employer of National Service. It can start with your university matching the Segal AmeriCorps education award. Or, more simply, it can start with a conversation. Turn to a young Milwaukeean and before you ask where they're going to college... first ask "Where will you do your service year?". The impact of this question can make a significant difference in our community and in the lives of those who serve.
This post is part of a series produced by The Huffington Post and the Aspen Institute's Franklin Project in conjunction with Giving Tuesday. The series, which will run for the month of November, features pieces written by Franklin Project Ambassadors, local leaders who are working with community stakeholders in 25 states toward the Franklin Project's vision of making a year of national service -- a service year -- a cultural expectation, common opportunity, and civic rite of passage for every young American. For more on service year opportunities and organizations, visit https://serviceyr.org.
Calling all HuffPost superfans!
Sign up for membership to become a founding member and help shape HuffPost's next chapter