Jackie and I have been flying on British Airways for years and years. When we travel from New York to Europe – and sometimes to Asia – we use London as our hub and spend some time in that great city going to museums, the theater and opera, seeing friends, and eating out in interesting restaurants.
Thanks to our travel (and our profligate spending on a BA-themed credit card), we have lots of frequent-flier miles to use for upgrades, so we've flown across the Atlantic in business class – Club, as they call it – many times: my first written mention of BA's then-novel flat beds was 16 years ago. With Asian and Middle Eastern airlines now vying to offer the most unimaginably luxurious seating, it's easy to forget that BA was the first to introduce flat bed seating in long-haul business class, back in 1999.
Like other early adopters (I think of me and my Epson QX-10 computer, ca. 1983), BA used first-generation technology for a time and was overtaken by other carriers. In the mid 2000s it improved looks and comfort with sleeker décor and more comfortable (i.e., less lumpy) beds. And now there are plans to install entirely new seats starting in 2019. In the meantime palpable interim improvements are being introduced. Happily for us, these have already been deployed on the New York-London route, and on our recent overnight trip we experienced a real difference.
On our previous business-class ride across the ocean, in September, we covered ourselves with a not very cozy quilted blanket and did our best to knead a skimpy pillow into a shape that would keep our necks from cricking. The other night, we found new bedding from The White Company on our seats. Other nearby passengers (and the cabin crew) were all agog. I'm not making this up: the guy across the aisle – a captain of industry as best we could tell – could hardly wait for the seatbelt sign to be extinguished so he could try it out. We lay on mattress pads that, while thin, softened and evened out the seat's somewhat muscular surface and made it feel something like a real (if narrow) bed. Our heads and necks were supported on full-size, full-loft pillows that were big enough that they completely eliminated the discomfort about the shoulders that I'd always suffered with the doll-house sized pillows we used to get. The new "duvets" were not really thick enough to deserve the name, but they were of a silky microfiber-type fabric that was pleasant to the touch, and they were sufficiently long and wide that once covered I stayed covered. There's also a soft woolly satin-edged blanket in a heathery gray if that's your preference (or if you feel the cold more than most people) and a smaller pillow for when you're sitting up.
As a result, our usual decent night's sleep (enhanced with light soporific medication) became considerably better.
On a flight lasting less than six hours, there's no time for both eating and sleeping, and we chose to sleep. But if you opt to lie (or sit) awake, you'll find that the meal service too has been renovated. Most important, there is a new caterer on some routes, including transatlantic flights between Heathrow and JFK: Do & Co., an Austria-based company that also operates restaurants, bars, a hotel and the venerable Demel pastry shop in Vienna. While we didn't eat dinner on this sleeper flight, we had explored the menu on our previous trip, and the new food is very good, especially in the realm of airline catering. And it is served with some elegance: practices such as the elimination of carts for the delivery of main courses make for lots more style. The mixed nuts that came with my aperitif were served in a little bowl, not a bag (this is welcome news for people like me, who have a hard time opening those bags).
In London we sometimes stay at an old-fashioned "gentlemen's" club near St. James's Park. The public areas have always been gorgeous and impressive; the bedrooms used to be distinctly dated and dowdy, but we were fond of them. The club has been renovating the rooms, and most are now similar to those in a nice hotel. There's a certain nostalgia for the sagging mattresses and tired wallpaper, but the fact is that the club is now a far more comfortable and pleasant place to sleep. So is the improved British Airways business class cabin.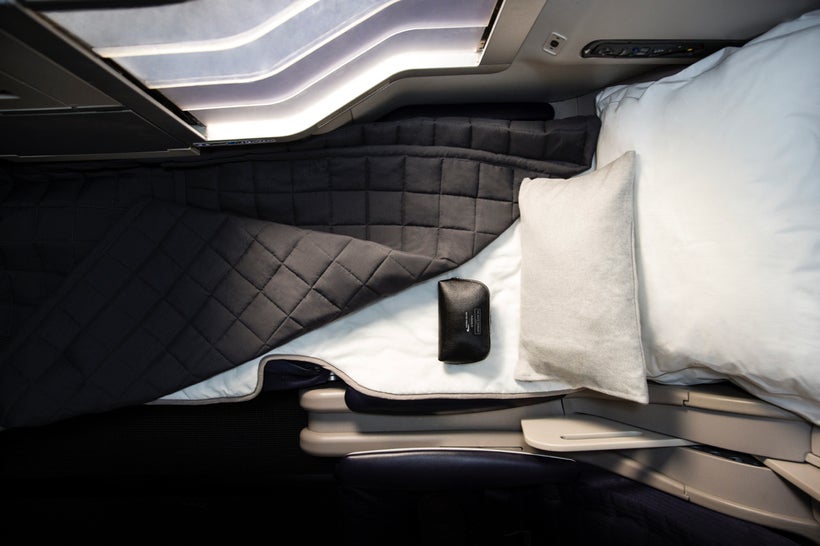 REAL LIFE. REAL NEWS. REAL VOICES.
Help us tell more of the stories that matter from voices that too often remain unheard.
This post was published on the now-closed HuffPost Contributor platform. Contributors control their own work and posted freely to our site. If you need to flag this entry as abusive,
send us an email
.