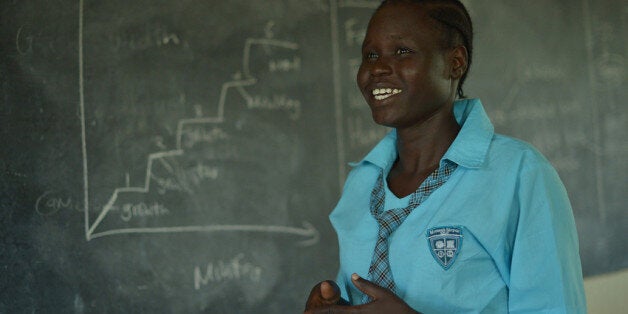 Esther Nyakong, 18, is a student at Morneau Shepell Secondary School for girls in Kakuma Refugee Camp, Kenya.
Listening to refugees is a sobering experience. Last week, the number of refugees uprooted from South Sudan - in less than three years - surpassed the one million mark. Three weeks ago, I met some who had just crossed the border to save their lives. As in many other countries that I have visited this year, they told me a harrowing story of loss - of family, of home, of homeland, of hope.
I listened to men who told me of abductions; to women who spoke of rape and killings; to children separated from their parents; to mothers crying over acutely malnourished babies. While their stories differ, for refugees the world over, their common plight is the loss of home and homeland - sometimes for years, and sometimes forever. The time has come to shine a global spotlight on the plight of people whose needs have too often been ignored or neglected.
Record numbers of people have been forced to flee their homes - 65.3 million - at the end of 2015, the highest level in decades. People are moving more quickly, in a broader range of ways, and for more complex reasons, than ever before. Far to many are living in limbo for years, if not decades, on end.
Today we have an extraordinary opportunity to change gear and recognize that forced displacement is not just a humanitarian challenge. The vast majority of refugees - 86 per cent - are hosted in impoverished communities in low and middle-income countries, often themselves affected by conflict and instability. A meaningful response requires a full range of engagement in the political, security, humanitarian and development spheres. This has been clear for some time. So what's different now?
The difference is that the New York Declaration adopted today marks a political commitment of unprecedented force and resonance. It reaffirms that refugee rights are immutable. It fills what has been a perennial gap in the international refugee protection system by recognizing that supporting refugees should not just fall to a small number of countries, but that the responsibility should be globally shared. It calls on those countries that can to resettle or reunite many more refugees. Those belonging to the richer world should recognize their responsibility to provide timely and dependable humanitarian funding while robustly investing in communities that host large numbers of refugees. Host countries should increase opportunities for refugee adults to work and children to go to school. A global campaign to tackle xenophobia will be launched. Finally, the declaration commits governments to better address the drivers and triggers causing record numbers to flee.
The Declaration establishes a Comprehensive Refugee Response Framework that, for the first time, creates a blueprint for a stronger system. With such a blueprint in place, we expect to be able to count on more reliable funding for all refugee situations and quickly trigger the engagement of a much broader range of actors at the very start of a refugee emergency. From the outset, this should enable refugees to restart their lives through the promise of education and the dignity of economic opportunities, connections to the communities and societies around them, expanded possibilities for resettlement and other forms of admission, and investing in possibilities for return.
This can be done. In Uganda, for example, the government maintains an open-door policy and has mobilized a broad range of partners and institutions. It offers refugees a chance to restart their lives through the provision of land, the chance to work and education for children.
The world - shocked by images of people fleeing in huge numbers and dying at sea - does not want these intentions to remain words on paper. We need practical action and results. I am encouraged that President Obama is convening a Summit meeting about refugees the day after the UN Summit, at which attendees are expected to make concrete pledges - additional funding, new resettlement places or more opportunities for refugees in host communities. Meeting the growing and complex needs of the world's refugees is a daunting task, but I am convinced global leaders are committed to act.
This post is part of a series produced by The Huffington Post to mark the occasion of two critical conferences at the UN on the Refugee and Migrant crisis: the UN Summit for Refugees and Migrants (Sept. 19th, a UN conference) and the Leaders Summit on Refugees (Sept. 20th, hosted by U.S. Pres. Barack Obama, at the UN). To see all the posts in the series, visit here. To follow the conversation on Twitter, see #UN4RefugeesMigrants.
REAL LIFE. REAL NEWS. REAL VOICES.
Help us tell more of the stories that matter from voices that too often remain unheard.