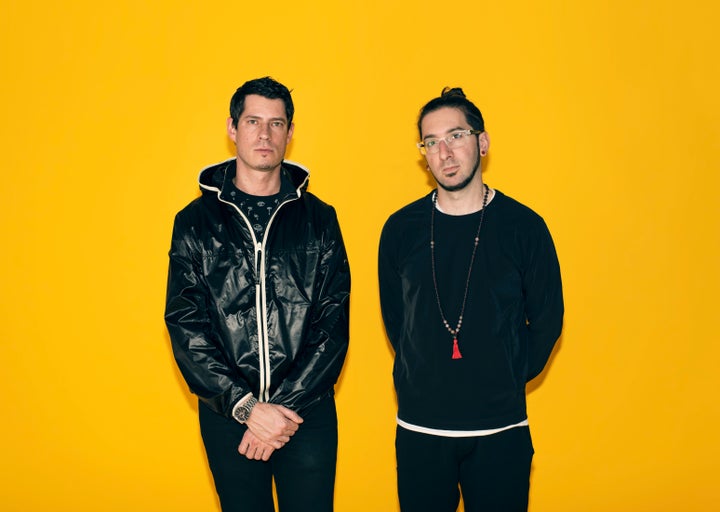 Peace, love, unity, and respect. These four words have been the backbone of the electronic music movement began in the 80s and 90s. That sentiment has echoed through the scene, and is still prominent in today's electronic music communities. One of the groups working hard to continue that movement is Boulder, Colorado's bass-driven funk duo: Big Gigantic. Just wrapping up a tour promoting their new album Brighter Future, the pair of producers are building a following that strives for change and positivity in the form of charitable contributions via the "Big Gigantic Difference Foundation."
Big Gigantic strives to create a difference, not only in the electronic music world, but in the world at large. The pair began their activism with the Conscious Alliance, an organization that supports communities with "emergency food relief to communities across the United States, empowerment programs for youth in impoverished regions of the country, and nutrition, exercise and gardening education for youth in economically isolated Native American reservations." Even before they had the platform they do now, they were committed to improving communities and working as instruments for positivity and change.
I recently spoke with the pair, and got some insight on how this all came to be:
"A Big Gigantic Difference has kind of been a part of our band literally since the beginning. Our first show was a benefit for Conscious Alliance, a nonprofit we both have worked with prior to Big Gigantic. We didn't have a name for the movement back then but we knew we wanted to use our platform we have onstage to help others in any way possible. we started doing these 'do-good' events with fans to help others in their community. We encouraged fans to do literally anything that would help someone in need, whether it be collecting canned goods to donate, cleaning up a dirty neighborhood, feeding the homeless, planting trees, etc."
The duo has a massive following, and spent much of 2015 touring the country and spreading their message of love and positivity, a wave that continued into 2016 with their album Brighter Future. "Those emotions are exactly what the new album is about and the conscious intent that was put into it. Our world is at such a crazy place right now and we just want to fill it up with as much love as we possibly can!"
"For our Brighter Future tour we really wanted to take it a step further and started an actual nonprofit called A Big Gigantic Difference Foundation. The foundation will be more of a central hub for collecting funds and distributing them to different organizations. A portion of every ticket sold on tour will actually be donated to a local charity in the town we play in!"
This past Saturday, the tour wrapped up with a show at Port Chester, NY's Capitol Theater with the last set of a 22 show run. That means that in 22 towns across America, Big Gigantic made donations to 22 different charities. Over the course of their tour, they managed to raise over $20k in total.
Although there's a lot of fear, anger, and division taking place in the United States right now, if more artists continue to become involved in giving back, I think we'd all see signs of a brighter future.
Support HuffPost
The Stakes Have Never Been Higher
Related
Popular in the Community