Colleagues of the former newspaper editor turned nonprofit leader call him "ambitious" and "courageous," while the kids his organization's serves throughout the nation's fifth largest city simply call him "Mr. Tim."
Passionate about journalism and telling "a good story," Tim Whitaker -- formerly associated with the Philadelphia Weekly, once known as the Welcomat -- is firmly written in as the Executive Director of Mighty Writers. Aiming to get kids as excited as he is about scoring big with a narrative and driven by a person goal to help youth think clearly and write with clarity, the fearless entrepreneur who founded the vibrant and engaging brand in 2009 tells me he exited the newspaper business because "it wasn't fun anymore."
Speaking exclusively to Techbook Online during the grand opening of his third location -- this one in the heart of University City at 3861 Lancaster Ave -- Whitaker elaborates on the impact he's hoping to have on his new neighbors.
"Each center is designed to offer different elements of storytelling; I suspect the center will focus heavily on journalism given Annette John-Hall's background."
An award-winning journalist who earlier this year won a lifetime achievement award along with legendary singer Valerie Simpson of Ashford & Simpson, John-Hall brings what Whitaker calls, "an instinct for news and a love of reporting" that will add value to the Mighty Writers brand and its steadily growing community.
With community on the top of the list of things to build at their newest residence, Whitaker points to traditional newsrooms as an example of a real-time community and says he's confident that John-Hall will leverage her unique set of experiences to build a dynamic model that promotes civic engagement and this with the fundamental purpose of journalism.
John-Hall says her vision for the "safe space" created in the historic Powelton Village is that it will attract and help shape a community of writers.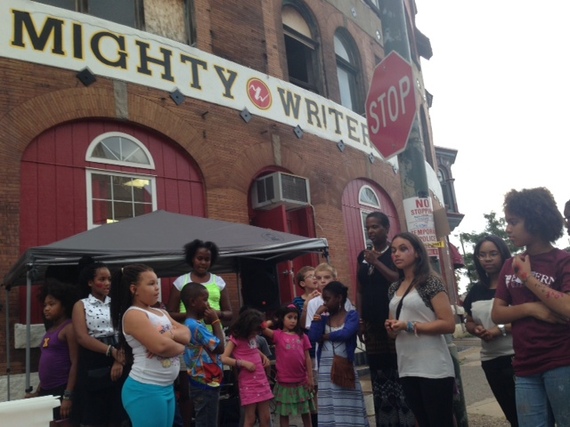 "Although it's branded Powelton, Mantua is right across the street, and that's a section of the city that's been underserved for so long that if you told them they were cut off from the resources they wouldn't believe you. So what I'm going to do is boots-on-the-ground-journalism and introduce myself. I want to let the parents know that their kids are welcome here. If they're not good writers -- or not writers at all -- we will teach to them to be good writers. If they're good writers and want to be better writers, we can assist in that also."
John-Hall suggests that the craft of journalism is getting out and engaging with people and the finished product is telling the person's story. Although she doesn't write the story anymore, John-Hall explains that her form of hyper-local journalism will "engage residents in a writing program that will enable them to tell their own story."
While students will be able to learn a marketable skill that will enable them to communicate clearly in any career field, the veteran journalist tells me, "More important than learning how to write and tell stories, journalism will teach and encourage those engaged in it not to be afraid to speak to individuals who don't look like you to embrace diversity!"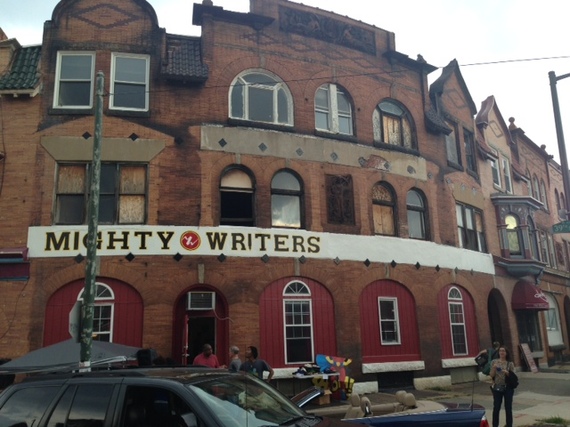 In a section of Philadelphia where poverty and violence lives three blocks down from twin Victorian homes, John-Hall credits Whitaker for creating yet another "safe space," adding, "when you feel safe in a space you can do your best and most honest work."
An honest day's work is what James Owk is all about. Youth Coordinator for Mighty Writers by day and a graphic designer, screen printer and talented lyricist by night -- performing just days ago at a legendary local jazz club with his mic and a DJ -- Owk is purposeful to avoid weapons of mass distraction as he admits he's inspired by Whitaker.
"Watching how aggressively and tirelessly he works to build his brand has made me think about becoming an entrepreneur and believing myself to impact others through my passion."
Describing Whitaker as a "laid back entrepreneur," the millennial musician warns that while humble, generous and mellow, Whitaker is "about his business" and is serious about scaling it for impact -- not for his ego, but for the kids in the city of Philadelphia.
"The education system in this city is at a crossroads and has been so for some time now. With teachers now overwhelmed with enormous class sizes and burnt-out from petty politics, we're proud to offer a refreshing alternative. The adults at Mighty Writers believe strongly in our children and we make it known to them daily."

Lyn Groome, MW's Chairman of the Board, backs up Owk's claim about the cities school system, but goes further by saying, "The school system is broken and the need for kids to learn how to write in a way that makes them clear thinkers is critical."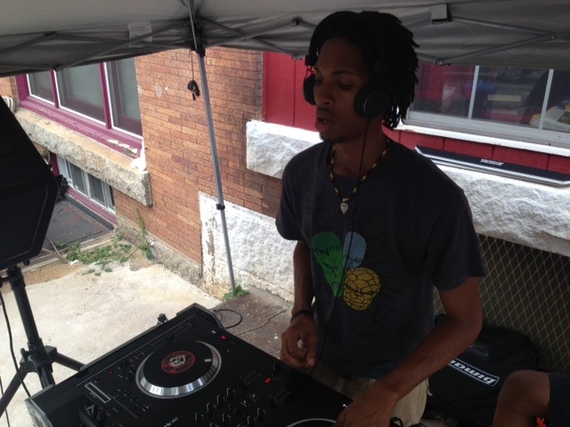 Over the music being played by 2013 BMe Leader Rashuan "DJ Reezey" Williams, Groome reflects to when she met Whitaker and tells me:
"Watching the grand-opening of the third location is the dream. We aim to expand in a way that makes us accessible and available to most of the city's children. We strive to provide a climate that makes kids comfortable enough to express themselves and Tim does an amazing job at establishing and maintaining a loving environment, he's so connected the children."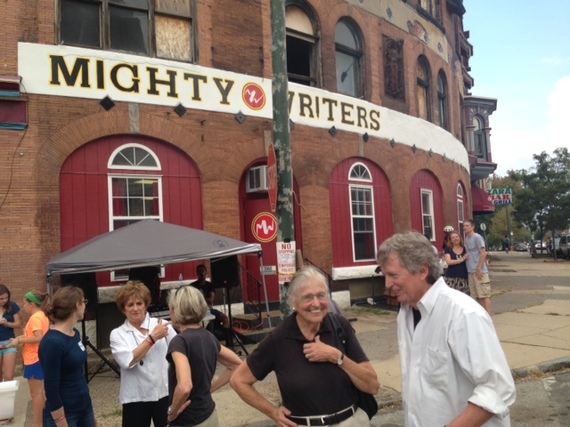 Everyone I talked to agreed that Whitaker is just one those genuine and authentic leaders that you just want to follow and help build something larger than yourself.
"As a leader, one of the things Tim has shown me is the importance of taking initiative and working hard," says Rachel Loeper, Program Director, Mighty Writers (South Philadelphia location). A former educational software writer, Loeper -- who has helped build Mighty Writers into the successful organization that exists today -- says now that they are expanding their services, Whitaker is challenging her to expand her thought and question the things that they've been doing organically, and put together a set of best practices that will guide volunteers and new hires on how to run a successful community writing center.
According to everyone I spoke to, Mighty Writers represents more than just a writing program or a colorful logo, it represents a dream whose time has come.
"Mighty Writers, to me, is a message to never stop dream chasing," says Owk.
REAL LIFE. REAL NEWS. REAL VOICES.
Help us tell more of the stories that matter from voices that too often remain unheard.