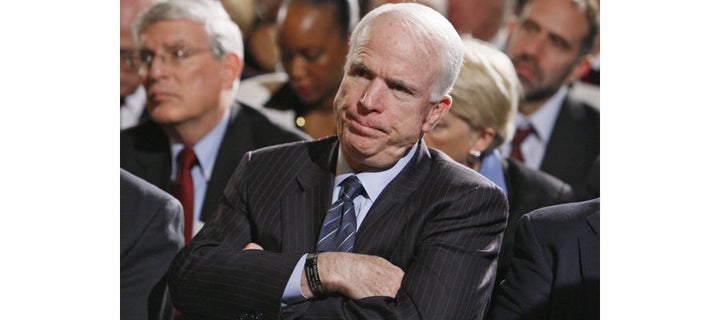 At a panel discussion last week in the shadow of the U.S. Capitol, the elements of a potential deal on health care reform began to come into sight. The moderator honed in on the pressure points on either side. He asked Karen Ignagni, President of America's Health Insurance Plans, whether the insurance industry would be willing to guarantee health insurance for everyone in return for an individual mandate. "The public is telegraphing that they don't want to have a system where people are falling through the cracks and they can't pay for health care," she said.
The moderator turned to Andy Stern, President of the SEIU, and asked him the flip side of the question, "Could Democrats and Progressives accept an individual mandate if doing so would require the insurance industry to provide a nationwide guaranteed issue requirement?" "Yes, if it's affordable," said Stern. "In the end you can't have a system unless everyone's part of it."
And there you have the bones of a deal.
In the spirit of full disclosure, the moderator of this panel also happens to be my husband, Ron Brownstein, political director of Atlantic Media. The panel, part of National Journal's Policy Breakfast series, also featured Senator Robert Bennett (R-UT), sponsor of the bipartisan Healthy Americans Act (known on Capitol Hill as the Wyden-Bennett bill); Liz Fowler, senior counsel to Senate Finance Committee Chairman Max Baucus (D-MT), who is positioned to oversee health care reform efforts in the Senate; and National Journal reporter Marilyn Werber Serafini.
And while there are plenty of critics who are not currently on board with the idea of reforming the health care system, the panel expressed some very persuasive economic reasons for doing so. "We cover everybody now," said Sen. Bennett. "Let's look at the reality. It's just done in the most inefficient, expensive, stupid way we possibly can because anyone can walk into an emergency room, get treated, and say, 'Well, I haven't got any coverage,' and walk out and the cost is shifted."
"The President is right to signal we need to spend money on health care," said Ignagni. "We can't afford not to do it. The most expensive thing is to just sit and do nothing at all and let things continue to get worse."
All of the panelists agreed on the three core principles Fowler identified as essential for comprehensive reform: universal coverage, controlled costs and increased quality of care.
So while many in Washington are ramping up for an all-out war over health care reform, there is a slight chance that they might not get it. Yes, there is no shortage of obstacles to agreement - starting with ideological division over Democratic proposals to create a government competitor to private insurance companies and continuing to difficult choices about how to control the growth of health care costs without generating an uprising from providers or patients. Yet, to an extent that hasn't been fully acknowledged, interests on all sides of the debate are displaying more flexibility than in 1994, when Bill Clinton's universal coverage plan failed. Good will isn't enough to guarantee progress, of course, but the appetite for action is not only greater, but more widely shared than 15 years ago. That's an important tailwind for President Obama.
At last Thursday's White House Health Care Summit, Obama urged his audience not to get too entrenched in political ideology. "I think it is so important that all of us make decisions throughout this process based on evidence and data and what works, as opposed to what our dug-in positions may have been in the past."
Republicans agreed that such bipartisan cooperation is necessary. "I hope that all of us from both parties will be willing to kind of take a fresh look," said Congresswoman Jo Ann Emerson (R-MO). "All of us have to be willing to kind of give a little."
At this gathering of industry stakeholders, legislators, doctors, business and labor leaders, both Republicans and Democrats sounded surprisingly willing to work together - even if it entails making some sacrifices - in an attempt to produce health reform, a goal the president has said he'd like to see realized by the end of this year.
"The real key here really is for us to all stay at the table, keep an open mind," said Sen. Baucus. "Clearly the attitude is here, that is, the frame of mind is here, the desire is here to do this in a very cooperative way."
"We know it's very difficult to get done," said his counterpart on the Finance Committee, Ranking Member Chuck Grassley (R-IA). But, he said, "Max Baucus and I have a pretty good record of working out bipartisan things. Neither one of us or neither one of our parties get everything we want."
"By bringing people together," said Henry Waxman (D-CA), the House Energy and Commerce Committee Chairman who will oversee reform legislation in the House, "with different stakeholders and the people representing different interest groups, and Democrats and the Republicans, all of us together - I think you've given us an opportunity not to insist that we get all that we want, but to realize that we're part of a process.
"And I think it leads all of us to recognize that we have to work together, we all need to recognize that there are going to be trade-offs. But if we don't get the trade-off exactly the way we want it, we've got to recognize there's a broader public goal and purpose. "
On health care, in a sense, it's spring training, when everything seems possible. These promises of flexibility and pragmatic compromise may not survive first contact with the conflict of the legislative process. But the signals from last week's events is that they might - which is why the vital signs for reform look better than many people now assume.

REAL LIFE. REAL NEWS. REAL VOICES.
Help us tell more of the stories that matter from voices that too often remain unheard.