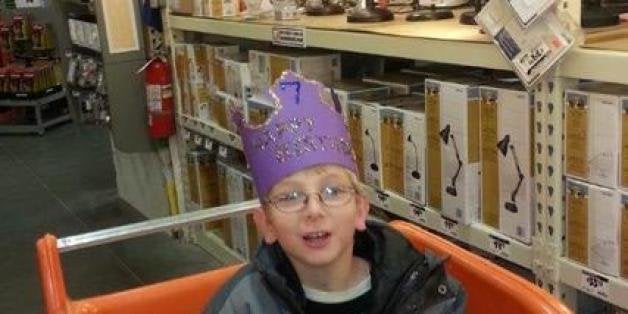 When my son Evan turned 6, he had a birthday party. We sang happy birthday. The kids were indulged with overly-stimulating activities. They ingested way too much sugar and they left with goodie bags overflowing with useless crap, including more sugary treats.
In most ways, it was a typical kid's birthday party. However, this kid had very specific and very atypical rules for his party.
Rule 2: No cheering after singing "Happy Birthday"
Rule 3: No turning off the lights to sing "Happy Birthday"
Rule 4: See and follow rules 1-3 or my party will be ruined
Because Evan has autism, certain things like candles, cheering and turning off the lights can really bother him, so we adapt the best we can.
When Evan was younger, birthdays were always hard for us, because we were looking for milestones that didn't come at the marking of each passing year. At the age of 1, he had just learned to crawl. At 2, we were still waiting for his first word. By age 3, we were wondering if our sweet child would ever tell us he loved us.
His earlier birthdays were also hard because we didn't know what presents to get, who we should invite to birthday parties or what special birthday outing we should do with the birthday boy.
Evan didn't have many words, so he couldn't tell us what he wanted for his birthday. He had little interest in playing with toys or other kids, so he didn't have any real friends and we didn't know what toys would rise to the level of birthday gift.
In our house, it is a tradition that the birthday boy or girl gets to go out to dinner alone with mom and dad on the night of his or her real birthday. Unfortunately, restaurants are not Evan's favorite place to be, so going to one would be torture, not a treat. Plus, Evan has so many food allergies that when we go out to eat, we always bring his food with us. When he turned 5, we took him to our favorite sushi restaurant because it had ceiling fans. He appreciated it, but it didn't rise to the level of a super awesome birthday dinner.
When his sixth birthday rolled around, he was going through a phase where restaurants were too loud, too dark or too much fire (it's amazing how many restaurants have candles, pizza ovens or openly visible grills). The pressure was on to come up with something special for this birthday boy. What did Evan love that we could do on a weeknight after my husband Jon came home from work?
For the last four years Jon, Evan and I have celebrated Evan's birthdays in the lighting and fan aisles of our local Home Depot. The first time we went, Evan was 6. He sat with his hands on the steering wheel of a car-shaped shopping cart, wearing his birthday crown from school. We walked up and down the light and fan aisle for 45 minutes while Evan ate his dinner and talked nonstop about the chandeliers, the "fancy schmancy chandeliers," floor lamps, table lamps, hanging lights, ceiling fans with three blades, ceiling fans with four blades and sconces (those are lights that are mounted on the wall in case you didn't know because I sure didn't until Evan taught me).
While Evan looked up at the lights and fans, I kept glancing up uncomfortably at the cameras and wondering when security was going to ask us to buy something or leave. They never did. And the other customers weren't in the aisle long enough to realize we weren't there to shop. I don't think anyone knew that we were at Home Depot celebrating our son's birthday and he was having the best one ever.
Related