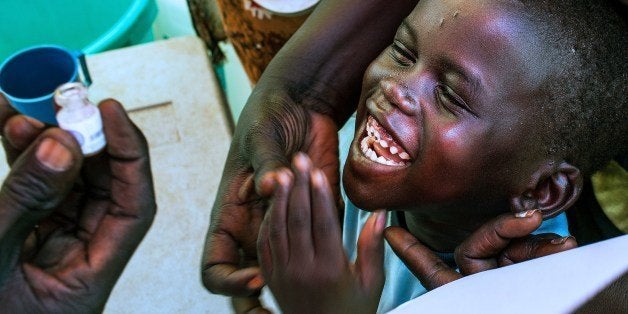 For most people a birthday is a cause for celebration, and today, 15 years after Gavi was first born -- right here at the World Economic Forum. in Davos -- is certainly no exception. But for millions of children living in the poorest parts of the world a birthday means so much more, and is a truly life-changing milestone. That's because growing up for example in sub-Saharan Africa, you are 15 times less likely to live long enough to see your fifth birthday, compared to children in wealthier parts of the world.
There are a number of reasons for this, but one of the main causes of death is infectious disease, often completely preventable. Ebola, malaria and HIV are well known problems, but in terms of numbers it is pneumonia and diarrhoea that are the biggest killers. These are diseases that no longer cause severe illness in wealthy countries like Switzerland, but which, along with measles, Haemophilus influenzae type b (Hib), hepatitis B and others, continue to kill millions of the poorest children every year. And while vaccines exist that are capable of preventing these and other killer diseases, often they come at a price--particularly when they are new--that puts them beyond the reach of children in poor countries, which is one of the driving forces for the creation of Gavi.
Indeed, in recent years, huge progress has been made in improving the odds for these children, with child mortality halving from 12.6 million deaths a year in 1990 to 6.3 million today. Much of this has been achieved through improved access to vaccines, such that today no other health intervention reaches so many children. Every second, more than 30 vaccine doses are administered somewhere in the world. But with one in five children still not receiving all of the most basic vaccines, such as diphtheria-tetanus-pertussis (DTP), we need to do more to reach every child.
Saving the life of a single child should be reason enough to prompt urgent action, let alone saving millions, but it turns out there are even broader benefits that go beyond health. Vaccination, for example, can improve a child's educational prospects and long-term future, not to mention improving the economic health of their family and wider community.
We know that children who are healthy do not require medical treatment or care, both of which cost time and money. By avoiding illness, infants have a greater chance of growing into healthier children who are able to attend school and become more productive members of society living up to their full potential. Meanwhile instead of caring for a sick child, parents can go out to work, increasing their ability to earn. So rather than spending money on medical bills they are boosting their income and spending capacity, both of which can help the economy grow.
There is a growing body of scientific evidence to underline the positive social and economic impact of immunization. It's been shown, for example, that vaccinated children don't just do better at school. Through the prevention of damage that can be caused by infectious diseases, they also appear to benefit in terms of cognitive development. Similarly, vaccination has also been shown to lead to wage gains across populations, while improvements in child survival lead to people having fewer children. And in terms of the wider gains, one study found that a five-year improvement in life expectancy can translate into a 0.5 percentage point increase in annual growth of income per capita.
What this all means is that the impact of immunization only begins with a vaccine shot. Where sickness impoverishes, health empowers, and not just individuals but economies too, helping to lift them out of poverty, potentially reducing dependence on foreign aid and opening new markets.
Despite all this positive evidence, we still have a long way to go. Routine immunization coverage is now above 80 per cent. However, as Europe, North America and Asia has seen recently with measles, even when you have reasonably high vaccination rates, with some diseases it is still possible to have outbreaks. What's more when you factor in the number of children globally receiving all 11 antigens recommended by the World Health Organization (WHO) -- diphtheria, tetanus, pertussis (whooping cough), measles, rubella, polio, BCG (tuberculosis), hepatitis B, Hib, rotavirus and pneumococcal -- that figure falls to below 5 per cent.
Working with partners, such as the WHO and Unicef, Gavi now aims to use its unique public-private partnership business model, aimed at accelerating access to new and underused vaccines to the world's poorest children, to boost this number of fully immunized children to above 50 per cent by 2030. In its 15 year history the Global Alliance for Vaccines and Immunization, now called Gavi, the Vaccine Alliance, has helped immunize half a billion children against a range of deadly diseases, preventing 7 million future deaths in the process. We now plan to ramp up our efforts and immunize a further 300 million children between 2016 and 2020, which would save a further 5-6 million more lives leading to $80-100 billion in economic benefits.
The bottom line is that vaccination is about providing children with a lifetime of benefits. So while reducing mortality is already reason enough to want to have every child on this planet vaccinated, now we have the added motivation that we are not just saving lives but also helping to improve many more lives in the process. We thank the World Economic Forum for helping to bring such a diverse group of public and private actors together to make these accomplishments and welcome more partners as we seek to help us reach the unreached. So as Gavi blows out its birthday candles it's worth remembering that it is not alone, because vaccines are giving millions of the poorest children, and ultimately adults, more birthdays and more reasons to celebrate too.
This post is part of a series produced by The Huffington Post to mark the World Economic Forum's Annual Meeting 2015 (in Davos-Klosters, Switzerland, Jan. 21-24). Read all the posts in the series here.
Related