To say I felt deeply conflicted following Windy City Playhouse's super solid production of the dark social comedy Becky Shaw may be a bit of an understatement.
It wasn't until the play's final third did a sinking feeling creep over me: I found myself empathizing with the grubbiest character in the play – Max, the rich, misogynistic brother of this uniquely dysfunctional family (deftly played by Michael Doonan).
When I confided in my theatre companion as we headed into the crisp November air, she gasped and told me I should be ashamed. To her, Max represented the quintessential slimy, domineering male. Of course. Yes. But to me he also served as a sort of a foundation for world of the play – as horribly skewed as that foundation may be.
Let me back up. And there may be some spoilers, but it's hard to talk about the play's inner workings without digging in a bit.
The 2009 Pulitzer finalist, on the surface, is an exploration on relationships — including the sacrifices one makes to maintain a commitment – peppered with biting commentary on social class.
All this comes to a head when Max, a wealthy and strong-willed estate manager, is set up on a blind date with Becky, a broke intern, by Max's high-strung sister Suzanna (Amy Rubenstein) and her overtly earnest new husband Andrew (Michael Aaron Pogue).
Becky (a captivating Carley Cornelius) is a string of contradictions. She's deeply transparent, yet a mystery. She's awkward in conversation and carriage, but has moments of brutal clarity. She seems overly self-conscious, but arrives in an ostentatious party dress. She discloses she's a victim of horrible trauma in a past life, but reveals it in a way that some might view as manipulative.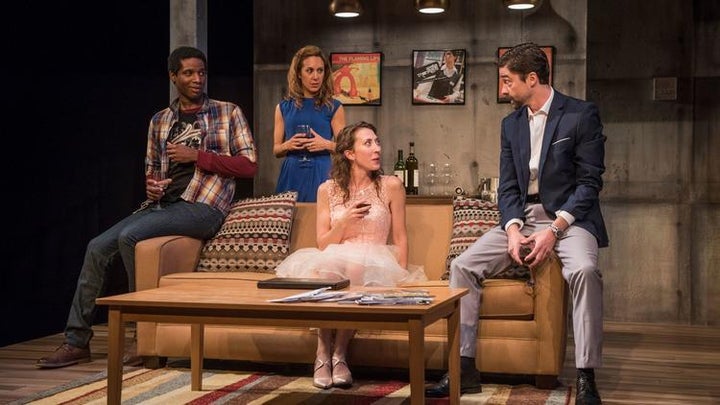 Ah: And here is the rub and why Gina Gionfriddo's subversive work gets under your skin – especially considering recent events. Among many themes presented in this tight work (aside form a meandering first scene that almost lost me), she forces us to explore some dangerous, heady territory.
Questioning a victim's validity seems horribly tone deaf, no doubt. But, somehow, Gionfriddo's smart script, under Scott Weinstein's steady direction, makes it work. And, in a roundabout way, wryly comments on the dangerous instinct to dismiss such validity due to class and social standing.
Andrew feeds into Becky's backstory. Suzanna is focused too much into her own issues to really care about Becky. And Max, a victim of circumstance in his own right, is skeptical from the moment Becky opens her mouth.
Now, this isn't the reason I connected with Max. What struck me is this: Max is consistent and uncompromising. He knows who he is and what he stands for, and makes sure everyone around him understands. He gives them all the information, and it's up to them to decide if they want to engage.
And, in the case of Becky, she does. The reasons for that are up for interpretation. But, as Gionfriddo hints at in the final scene, Becky perhaps views him as a kindred spirit?
The other characters mold into whatever situation befits them. And they squirm in that space, struggling to negotiate within the world they created. Max does to a degree, but he fully owns his predicament.
The play concludes with a lot of unanswered questions, but what struck me was the matriarch's final comments to Becky, as delivered by the Kathleen Turner-esque Suzanne Petri. I'm paraphrasing here, but she essentially says it doesn't matter if Becky is who she says she is. What matters is that, at the end of the day, we can gather together -- regardless of situation or circumstance -- for a lovely dinner.
"Becky Shaw" plays through December 10 at Windy City Playhouse. Learn more here.