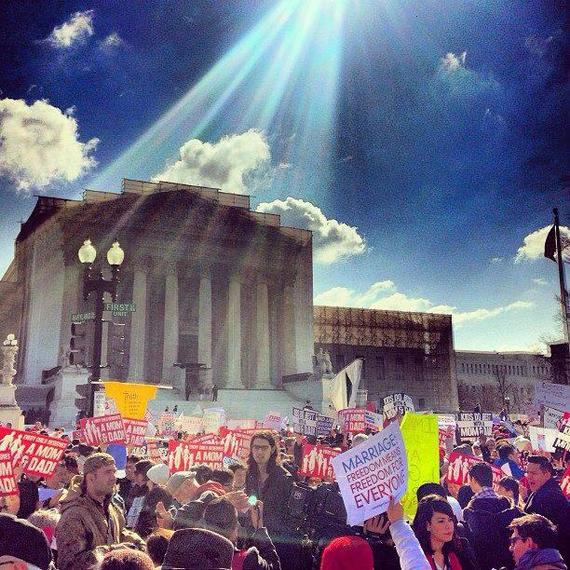 I remember June 26, 2013 vividly: what I was wearing and who I was with, the toasts made and hugs exchanged.
It's hard to forget days you gain rights.
As a young, gay American, the dismissal of California's Prop 8 and overturning of the Defense of Marriage Act were intimations of a brighter future. It was my country accepting how I was born and who I am -- affirming that my love, as the President tweeted minutes after the decision was announced, is the same as any other.
Months earlier, I took the morning off work and joined thousands advocating for marriage equality in front of the Supreme Court. It was a defining moment for the gay rights movement, and for my generation. A similar rally is planned for this Tuesday, when the Court will hear arguments in a series of cases that could legalize same-sex marriage across the country. But this time, I won't be rallying.
Don't get me wrong, I want the freedom to marry as much as ever. Michigan's anti-gay laws were one reason why I left my home state after finishing undergrad. But as nationwide same-sex marriage becomes increasingly inevitable, there's a host of other, more critical challenges facing the LGBT community. And the Supreme Court's likely decision this summer may, in fact, delay progress in areas like employment discrimination, access to health care, and the over-criminalization, underrepresentation and disproportionate rates of poverty facing gay, lesbian and transgender Americans.
Ultimately, Republican politicians will be forced to evolve their views. If not by 2016, the GOP will eventually give up the fight they've long been losing. Same-sex marriage will be law of the land, absent from party platforms. It will simply become a non-issue - and soon.
But with this progress brings two significant, if overlooked, consequences.
First, Republicans will broaden their appeal -- which, if you care about LGBT rights, is a bad thing. In the 2012 election, for example, President Obama won the gay vote nearly three-to-one; among straight people, he earned only 49 percent. Had gays followed the same voting patterns as their straight counterparts, Mitt Romney would be our 45th president.
As Republican candidates move to the center on gay rights -- regardless of whether that move is forced by legal rulings -- they effectively open their tent to a pool of new voters, particularly young Americans who disagree with the party's views on social issues. Even a small swing among the five percent of voters who identify as gay or lesbian could have serious and far-reaching electoral implications.
And many Republicans know it. Top GOP strategists frequently assert that the party's stance on issues like marriage equality are alienating voters of all sexual orientations. In the most comprehensive post-2012 election autopsy, RNC Chairman Reince Priebus conceded that the party needed to "stress messages of inclusion" to Americans. It's telling that when President Obama endorsed same-sex marriage in 2012, the response from Republican leaders was relatively muted.
Why is that so important? Because Republicans, as a whole, are no friends of gays. As a party, they are intensely oppositional to any law that would improve the lives of LGBT Americans. Even today, some state party platforms include provisions stating that homosexuality ought to be criminalized.
Of course, the end of the fight for marriage equality isn't the end of the fight for gay equality. In 29 states it is legal to fire someone solely for being gay. Legal discrimination, a lack of family recognition, and unsafe educational environments put LGBT individuals, particularly those of color, at risk of lifelong poverty. Trans Americans are consistently abused, discriminated against, harassed, and assaulted. The list goes on.
But on these issues -- those arguably more important to the health and well-being of gays and lesbians than the right to marry -- there is little evidence that Republicans are evolving.
Consider the recent surge in so-called "religious freedom" legislation. Conservatives won't suddenly stop discriminating against gays when marriage equality is law of the land; they'll just find other ways to do it, other legislation to block, other programs to defund. What matters more than whether a Republican lawmaker would hypothetically attend a gay wedding is how they vote on issues impacting the gay community. And no Supreme Court ruling will change that.
Ultimately, this summer is likely to bring a civil rights victory for gay and lesbian Americans. I and millions others will become a little more equal in the country we call home.
But the true impact of the Supreme Court's decision on gay rights won't be seen in June. It will be decided in the years to come -- by the policy fights conservative lawmakers choose to wage and, more importantly, how LGBT voters and future generations rethink their relationship with the party in the wake of the marriage debate.
If Republicans successfully masquerade as a party open to gays, if voters no longer punish candidates for their anti-marriage equality positions, then the highest court's decision may not be a landmark civil rights victory after all.
That's no reason to not welcome it, but it's enough to keep this gay American home.
Calling all HuffPost superfans!
Sign up for membership to become a founding member and help shape HuffPost's next chapter