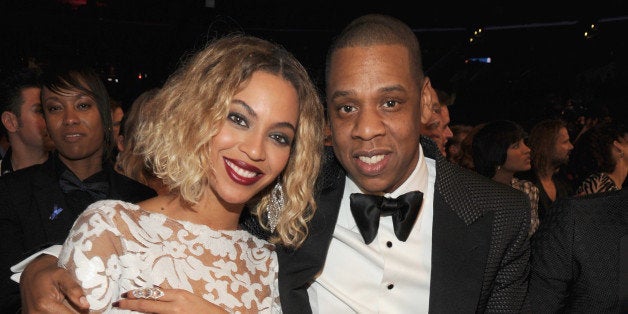 What lessons can Beyoncé and Jay Z offer us as we enter Black History Month?
The recent criticism of this influential pair can help move us toward a more complex understanding of how race, class, and gender intersect in contemporary popular culture.
We've asked some seemingly disparate questions about these two: How can Bey reconcile her "Gender Equality Is a Myth!" essay and her sample of Chimamanda Ngozi Adichie's "We Should All Be feminists" TEDx talk with her hypersexualized look? Does she qualify as a feminist when "Drunk in Love" includes an apparent nod to domestic violence when Jay Z raps, "I'm Ike Turner ... baby, no, I don't play / Now eat the cake, Anna Mae" (referring to a scene from the Tina Turner biopic What's Love Got to Do With It in which Ike Turner force-feeds Tina, born Anna Mae Bullock), and, "Beat the box up like Mike" (with "box" referring to a vagina, and "Mike" to convicted rapist Mike Tyson). Should Jay Z have pulled his clothing line from Barney's when the department store was under fire for allegedly racially profiling black shoppers? How can he balance his identity as a son of Brooklyn's Marcy Projects with his support for the Barclays Center, widely critiqued for displacing poor residents?
These contradictions put Hova in the crosshairs of peers, including performer/activist Harry Belafonte and Brooklyn-bred rapper/actor Yasiin Bey (aka Mos Def). When Belafonte accused Jay Z and Beyoncé of turning their backs on social responsibility, Jay's infamous response -- "[M]y presence is charity. Just who I am." -- signaled a failure by the artist to fully comprehend his potential social role.
Similarly, Queen Bey's album fueled heated clashes over generational and racialized notions of feminism, with those who are aghast that she is masquerading as a feminist on one side, and those who are convinced of her "modern-day feminist" status on the other.
Beyoncé explained her self-titled "visual album" this way: "I see music. ... When I'm connected to something, I immediately see a visual or a series of images.... And they're all connected to the music." Following Bey's lead, our understanding of this pair's personae and politics would benefit from a visually nuanced approach -- a 3D exploration, if you will -- to reveal the multiple, intersectional social problems at play.
What surfaces are our most contested discourses on how society views black families and black women's bodies, how black men and women are regarded as they navigate a still-racially-stratified American landscape, and how power and wealth can create chasms between the haves and have-nots. These issues crystalized in the New York Times series "Invisible Child: Dasani's Homeless Life." In a heartbreaking moment, Chanel, Dasani's mom, dreams about living as Jay Z's dog, saying, "Just let me be the dog." And Dasani's teacher, a success story in the piece, grew up in the Marcy Houses like Jay Z. We are troubled when Jay Z seems so far removed from Marcy because for the nearly 47 percent of New Yorkers living in poverty, his astronomical wealth is not only beyond their grasp but beyond their wildest dreams. We want Beyoncé to couch her feminism in more than equal pay in part because there is a double pay gap for women of color (while women on average earn 77 cents for every dollar a man makes, African-American women and Latinas earn only 64 cents), and also because we know that gender oppression is about so much more than pay. We're disturbed when Bey juxtaposes a loving relationship with references to domestic violence because research has shown that young, poor and black women experience domestic violence at higher rates than other groups.
The outcry over Jay Z and Beyoncé is a call for understanding the intersectional ways in which racial, gender, and class identities are socially constructed and experienced. Following scholar Kimberlé Crenshaw, our lens should be framed around multidimensional analyses of power relations.
Beyoncé's "Flawless" quotes Adichie defining a feminist as "a person who believes in the social, economic and political equality of the sexes." Jay and Bey have shown their capitalist stripes, so I have no doubt that they support the economic component of this definition. Unfortunately, however, their work has neglected to demonstrate an understanding of how the social and political are inextricably linked to the economic.
The couple revealed their myopia on these intersections when their daughter Blue Ivy was born and they were the subject of ridicule for partitioning off the neonatal unit at Lenox Hill Hospital to ensure their privacy, which allegedly barred some new parents from visiting their own newborns. In commandeering the wing, Jay and Bey used power and wealth to privilege their own interests. So I was not surprised at the Grammys when, accepting his award for Best Rap/Sung Collaboration, Jay Z held up the miniature gramophone and said, smiling, "I can't wait to tell Blue, 'Daddy got a gold sippy cup for you.'" Indeed, Blue Ivy was born with a silver spoon in her mouth and now drinks from a gold sippy cup. While she should not be the focus of our critique, perhaps her parents can start to unpack the inequalities on which their images and empires are built.
Of course, Jay Z and Beyoncé have given back. Jay donated all proceeds from his Barney's line to college scholarships and led a company council on racial profiling. Bey's list of charities is wide-reaching, ranging from a foundation to help victims of Hurricane Katrina to a program for women recovering from alcohol and drug addition. But we want more from them. Can their philanthropy be truly transformative when their artistry signals a one-dimensional worldview?
If, as Beyoncé suggests, music forges links to the world around us, then these connections, including the union between a man from Brooklyn's projects and a woman from an entrepreneurial Texas family, could help us see income inequality, racism, and gendered oppression in much more meaningful ways.
Calling all HuffPost superfans!
Sign up for membership to become a founding member and help shape HuffPost's next chapter