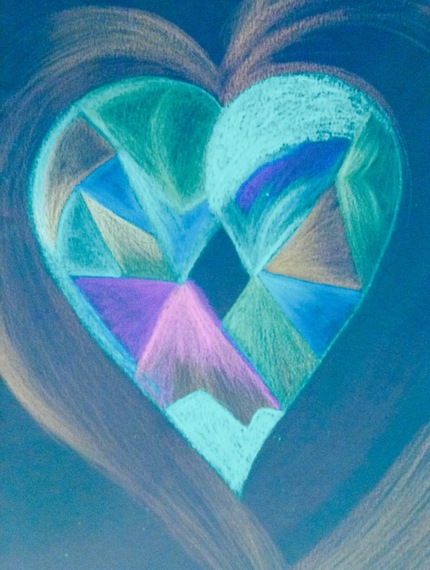 Before I start dipping into the ink of my soul...I would like to thank you for being here...for savouring these written words, a mere expression of my heart's truth which I collected as different colour pieces in this drawing few nights ago...
I reach out wishing you peace. Peace everywhere you go...Peace in the middle of a busy street, busy thoughts, busy body, mind, spirit and soul...I wish you a peaceful heart...
I also wish you excitement and fun to break the noise of monotony we all have the ability to experience from time to time...Just because we are all human...
I wish you the gift of beauty...The gift of being able to honour yourself...to gift yourself something beautiful and to be able to see your reflection in it...Whether it is a walk in nature or a pretty flower , or even a beautiful new object...or an ever expanding dream....Just know that you are so worthy...Just know that guilt only takes from us and is no longer welcome on the path of joy and love you are choosing for yourself....as our consciousness is rising higher...
I would like to wish you courage....So you can honour fear and see it as a gateway to freedom....As without fear we will know no courage...without fear...we will not know how strong and magnificent we truly are ...and we will be clueless about the depth of our desires...
I am wishing you acceptance of both light and darkness....I am wishing you to see darkness as a magnifying glass...a tool and a guide..an angel dressed in a slightly different colour, which is here to help you channel some of the most powerful manifestations of your deepest desires...
I wish you love...New love, old love, self love...I wish you love...To re-discover it, re-connect with it, to recognise it when it knocks at your door ....and to never miss it in your heart...as your heart is it....
I am wishing you hope and wisdom so you can truly see and believe in your own divinity. In your own truth. In your own magic...
May we all be given the grace of happiness, light and joy! May we all be blessed with gratitude, kindness and compassion...May we all feel love....and be love!
Sending you love and holding you dearly in each colourful piece of my heart ...
Daniela Xo
art by Daniela Nikolova
@2015
www.facebook.com/NikolovaHealingArts
Calling all HuffPost superfans!
Sign up for membership to become a founding member and help shape HuffPost's next chapter