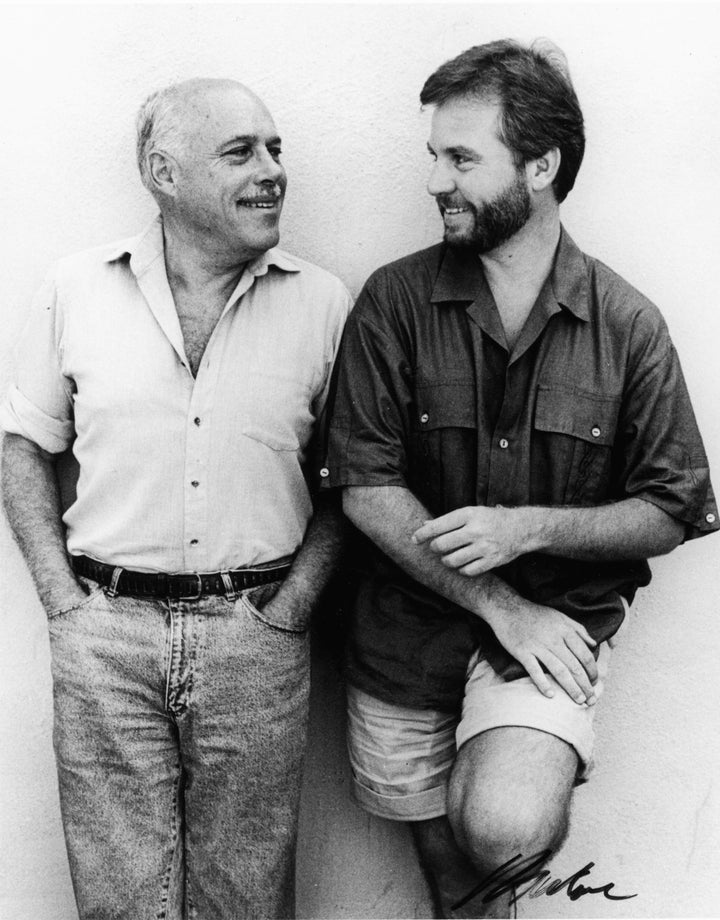 Malcolm Boyd, a regular contributor to these pages, also happens to be my life partner of 28 years. Recently, he decided to write about the most significant cultural "game changers" he has witnessed in his life. Little did he imagine that we would play a major role in one of them.
When we began our union nearly three decades ago, the concept of gay marriage was unimaginable. Even the mere sanctification of a committed gay relationship was a controversial choice in many quarters. But there we were together on May 16, 2004, literally tying the knot -- with the blessing of a bishop, no less! It was a day I will never forget. So, with Malcolm's permission let me explain how it came to be.
"Get married!" I nearly shouted. "And in a church? You've got to be out of your mind!" I vehemently told my partner the night he came home from work with his grand announcement. As a four-decades-long gay civil rights activist, the thought of one day actually saying "I do" to the man I loved had never seriously crossed my mind. There were just too many other concerns to worry about -- from reforming antiquated and damning laws, to finding a cure for AIDS, to fostering the belief in LGBT youth that their lives were worth living, to ... to ... well, the agenda was a long one. Besides, as a "Stonewall era" gay man I wasn't even sure if getting married was on my list of politically correct activities. But then I thought, who ever wrote that stupid list in the first place?

My hubby, a pleasant but stubborn man, quickly rejoined to my every protest. "Well, first it won't be an actual marriage because that is still not legal in California. It will be a blessing of vows." Then he waited a moment before dropping the headline news. (And headlines it made too, on the front page of the Los Angeles Times the very next day!) "It won't be in a church. The ceremony will be performed as a large public event in the Cathedral Center of the Diocese of Los Angeles by none other than our dear friend and spiritual leader The Rt. Rev. Jon Bruno." I could feel the blood rushing from my brain.
All this meant it would be an historic event and a very political one, too! For it would be the first time in the United States that a sitting bishop would officially bless the union of two quite publically open gay men -- and in his own Cathedral Center. It was a lot to think about. Being a gay man, and a rather meticulous one at that, my very next question was, "But what am I going wear?"
Malcolm just laughed at my obvious panic. "Don't worry, everything will be alright. Bishop Jon really wants to do this. He'll take care of everything. All you need to do is show up."
And so I did show up, along with about 150 of our closest friends, including my younger brother, John, who served as my best man. I looked splendid in a new blue suit, but I don't think I had ever been so nervous in my life. I was certain the crowd could see the swarm of butterflies buzzing around my head. The date had been selected to commemorate the 20th anniversary of our union, so accordingly the pomp and circumstance was finely applied.
There were hymns sung, and incense pots swung. We exchanged our vows before the assemblage and then my brother stepped forward with a carved wooden box containing an antique silk scarf that Malcolm's mother had painted with the image of two crane birds several decades before. Although Beatrice was no longer alive, I could feel her spirit in the room as a palpable witness. The Bishop careful removed the delicate cloth from the box and then clasped our hands together with it. With that act complete, he then declared our union blessed in the eyes of the Holy Spirit and the Church.
The applause was thunderous, the exit music sublime as we all made our way into the adjoining Great Hall for a feast fit for a lifetime. Love was truly in the air that day -- as it should always be no matter whom you chose to cherish as your one-and-only amigo, comrade in arms, soul mate and eternal treasure.
Related
Popular in the Community