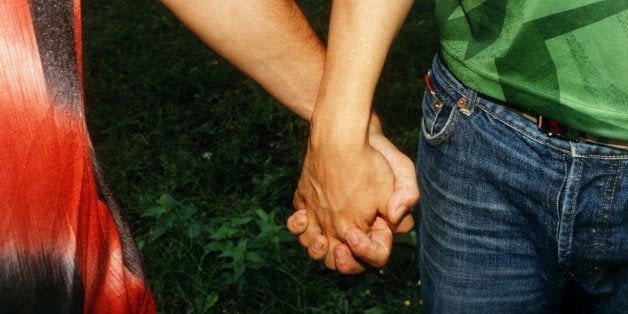 Seven years have passed since I lost my sight, and I'm now doing things that seemed impossible when I was newly blind. I live alone in Oakland, California, rely on my guide dog, Oslo, for mobility, and work as a writer full-time. I also go out on dates and have been engaged twice. But while I have learned to do everything the blind way, I always find myself teaching others how to interact with me -- something I've become better at with time. And, one of the main themes I battle with, especially in the gay community, is the importance of beauty.
For instance, I met Jacob at a bar. His jokes and comical punch lines had won me over. Our dates always ended with my stomach hurting and my eyes tearing from so much laughter. We had taken a two-week break while I retired my first guide dog, Madge, and completed the two-week training with my second dog, Oslo. Jacob had stopped by my place to meet my new set of eyes.

"He's adorable!" Jacob cheered. "You two look great together."
I leaned my head on his shoulder and told Jacob I thought we looked good too, feeling his arm tense up.

"What's wrong?" I asked, hearing him sit up and walk on the linoleum floor.
He drew a big breath. "I sometimes wish you could see me," he shared. "I wish you knew what I look like."
"I do know what you look like," I replied. "I've touched your face plenty of times."
"It's not the same. I'm really average looking Belo, and people always give me a knowing look when we are out," Jacob sighed.
It wasn't the first time insecurities around his appearance came up, but it was the first time he mentioned others.
"Knowing look?" I inquired, my voice dry. "What do you mean?"
"The look that says 'if you could see, you wouldn't be with me.'"
I felt my throat tighten. Even though I live in a pitch-dark world, I still lived in a seeing universe ruled by laws of physical beauty. And no matter what I would say, I could not give him the validation he sought. Not wanting to argue, I changed the conversation and suggested we grab dinner in San Francisco.
The drive over the Bay Bridge did us well. We were laughing and cracking jokes the entire ride. It was an unusually warm San Francisco evening and we opted to eat on the patio of a Castro Street bistro to give Oslo more leg room. Like his predecessor, Oslo kept receiving compliments for his great looks by people passing by. One guy even asked to photograph my eighty pound black lab. The stranger handed me his card and said, "I'm Steve and I'm an amateur photographer. I would love to shoot your pup next weekend."

Thinking nothing of the gesture, I took the man's card and agreed to call him soon.
"You know that was a ploy to pick up on you," Jacob hissed, munching on ice. "He looked at me and then gave you a look. You just couldn't see it."
"Oh come on!" I shouted, reaching for his hand and squeezing it. "That's not true."
Jacob remained quiet the rest of the evening and seven days went by before I heard back from him. I was sitting at my desk, working on an article when his email came in. As the screen reader read his note in the phonics voice, I grew restless. His words were simple. The message said he couldn't date me anymore because I needed someone more like me.
"More like me?" I mumbled. "What does that mean?"
I began to reflect on insecurities. In losing my sight, I was forced to face all of my worries at once, helping me learn how to deal with them. And while dating a guy who wasn't hot may have been an initial concern, it no longer bothered me. I did a quick web search for "ugly laws," hoping to find an inspirational article. But, instead, I found the contrary. My search yielded "The Ugly Laws of the United States," which were enforced from the 1860s to the 1970s. During this time, several American cities had regulations that fined anyone with a physical disability that was considered too hideous, if they were seen in public. As I continued to read, I felt lucky not to have been around in that time.
Then something clicked in my head. "The Ugly Laws" haven't been abolished. They are still around and even more prevalent in the gay community. These are the same rules that make many gay men join a gym and seek the latest fashions. Although I enjoy nice things, it felt good to have my blindness keep me free from "The Ugly Laws."
Support HuffPost
Every Voice Matters
Popular in the Community