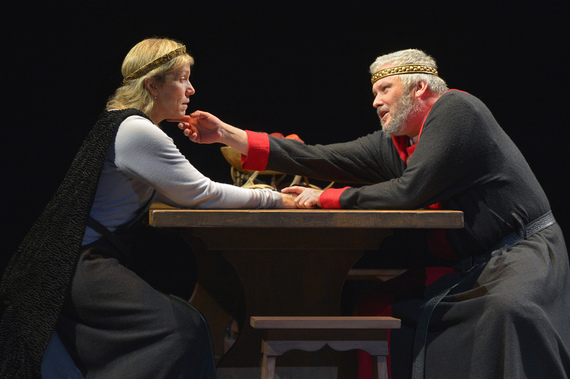 Here in the Bay Area, we get lots of Shakespeare during the summer months, from the excellent California Shakespeare Theatre, in the East Bay, to assorted offerings in San Francisco and Marin County. Since it's barely March, it's wonderful to have a chance to see a production of Macbeth right now--at Berkeley Repertory Theatre--especially because this production is very, very good.
It stars Conleth Hill (who is probably most famous for his role on Game of Thrones, but has worked in many theater productions in England and Ireland, twice winning the British equivalent of the Tony Award) and Frances McDormand (who may be most famous for her Oscar-winning role in Fargo and more recent Emmy as Olive Kittridge, but has also worked onstage, winning a Tony for Good People--whose director, Daniel Sullivan, also directed this Macbeth). Their names may be what initially sold tickets; but the good acting, clear, accessible script, and great sets and sound design should keep folks coming to Berkeley for the entire six-week run.
The play opens with the three Witches (the one with a beard is McDormand) in a fog-shrouded wood, discussing their ominous business by a gnarled, looming tree to which a bloody soldier is tied. This is where they convey to Macbeth and Banquo, his colleague in arms, their fateful predictions. As the scene ends, the tree is pulled above the curtain, its long roots dangling like ensnaring spider legs. This touch--as a prop, the tree didn't need to have roots--adds a touch of the real to the supernatural atmosphere, the one aspect now interwoven with the other, which makes what follows even more unsettling.
Hill is a good Macbeth, though I'd wish for a little more emotional transition as he moves from "Nope, I would never kill the king" to "Okay, I'll do it" to "Now I've got to murder all these other folks" to "I'm going mad because of what I've done." I found McDormand's descent into despair more textured. But the play rarely ceases to be engrossing. Local treasure James Carpenter is a kingly Duncan, an entertaining drunken Porter, and a solid Doctor, backing off when he sees Lady Macbeth sleepwalking, because there's no way to deal with what he hears her say. Christopher Innvar is a magnetic Banquo. In a smaller part, it was great to see Eddie Ray Jackson, who made such an impact as Cassius Clay/Mohammad Ali a couple of years ago in the Marin Theatre Company production of Fetch Clay, Make Man, as Donalbain.
When Korey Jackson, as Macduff, learns that Macbeth has murdered his wife and children ("All of them? And my wife? And the children? All of them?"), the theater is utterly silent in shared heartbreak. Outstanding in another small but important role is Scott Coopwood as Lenox. With his shaved head and craggy features, he is a compelling presence from the start; when Lenox starts to figure out what Macbeth has done--you can see it in his face--he offers the play's most subtle acting. (Full disclosure: he goes to my gym!) Coopwood is also Hill's understudy.
As for the sets, Douglas W. Schmidt's fabric hangings overlaid with Alexander V. Nichols' imaginative projections, with Pat Collins' lighting, take us from the Macbeths' rough-stone castle and medieval banquet hall into the gloomy woods. Dan Moses Schreier's soundscape makes you feel those cawing ravens are not just careening above the stage but in the balconies and box seats, maybe even over your head. Spooky! Clearly, every aspect of this production was considered and created with care. This is a Macbeth you'll want to see, maybe more than once.
Through April 10, Berkeley Repertory Theatre, 2025 Addison St., 510.647.2900, berkeleyrep.org.
Photograph:Frances McDormand and Conleth Hill; photo courtesy of kevinberne.com.
Calling all HuffPost superfans!
Sign up for membership to become a founding member and help shape HuffPost's next chapter