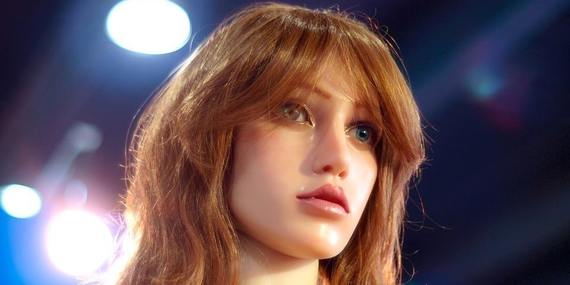 By Gabe Bergado

Bradley Charvet wants to change men's morning routines. The sex industry entrepreneur already caught the attention of people earlier this year with his plan to open up a fellatio cafe in Switzerland. Based off Thailand's blowjob bars, the idea is that a guy can come in to order a cup of joe and an escort. The wrinkle at the center of Charvet's vision: The escorts are robots. That means he can open in London and expand aggressively in countries with less permissive sex work legislation.
The cafe will be open from 6 a.m. to 11 p.m. and serve coffee, sex, and pastries. Charvet points to scholarship, including Dr. Debby Herbenick's famous book (for women), Because It Feels Good, that supports his claim about ejaculation being a good way to start the day. With talking sex robots with warm genitals on their way, Charvet thinks the pump is primed, as it were.
Inverse spoke to Charvet about his vision, the diminishing importance of privacy, pricing, and the robots he's looking to hire.
So what was your inspiration for the fellatio cafe in Switzerland? What made you want to open a sex robot cafe in London, and why specifically that city?

The London public is willing to engage with the idea and, like Geneva, London is one of the world's most popular cities for business. You can find tons of escorts and mistresses everywhere.
Do you think that means that the public there wants robots?

Brothels with human workers in London are not legal. Robots were not a choice. And it's not ridiculous to think about this idea right now. You could not imagine how many people are ready to give sex robots a try in 2016. We asked thousands of potential customers and they were very curious and eager. There is an opportunity in being the first to provide that service.
Have you started looking into buying the robots already? What companies are buying from and how much are you investing in each robot?

We are in discussions with a company called MySiliconeLoveDoll to do a test quite soon. We are thinking about a rental service. Prices are between $1,000 and $3,000.
From what I've read, you're only going to have female sex robots. What are your plans for male sex robots to serve customers of other genders and sexualities?

At the moment, we don't have an expected date for that, but it is in the works. FaceGirl is going to develop the first Café Pipe. Bumpix is going to develop the second one in London. It's going to be huge.
We would like to open it in Paddington. There will probably be decisions to make on that front soon. Well see if it happens.
You're pricing a caffè americano and 15-minute session for £60.00. How did you come up with these prices?

We did not want to change anyone's routine; we just wanted to introduce another idea, another concept. Our goal was not to compete with London's escorts so we settled on a price in keeping with that market.
Sex workers are suffering because so many people offer low price services. We respect them and don't want to oppose their interests.
How are you setting up the cafe so that there's privacy for each customer?

We'll create two box-like areas, but most of the time clients will get a blowjob at the bar.
What do you expect the clean up process after each robot is used to be like?

We are discussing a solution with the doll company. It's going to be more or less like escorts are doing at the moment.
This interview has been edited for brevity and clarity.
Photos via My Silicone Love Doll, Facebook
Popular in the Community